Ketu in 4th House – Impact On Your Career, Marriage & Personality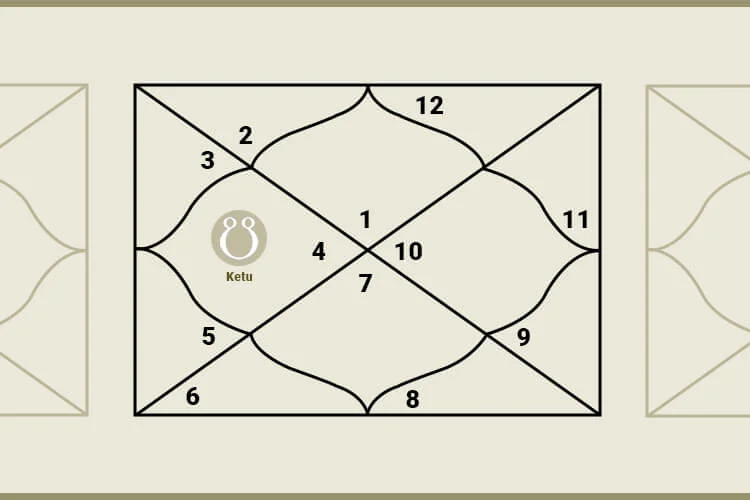 What? Ketu is in the 4th house in the navamsa chart, we guess the planet must have lost its footing. Otherwise, who would have dared to enter the house of the mother? Anyways, to analyse this combination, we called up the elite team of astrologers who can get to the bottom of it. The malefic Ketu sitting in the 4th house could have positive as well as negative impacts on you.
The shadow planet could be the only thing standing between you and your mother. And therefore, you should be careful about your relationship with your mother. On the bright side, the imaginary planet, Ketu, is the significator of spirituality, ambition and open-mindedness. It would be helping you to become a magician or investigating officer.
---
What Happens If Ketu Is In 4th House?
Ketu in the fourth house may not cause any major issues in your life but would harm your mother's relationship. It means that Ketu may send you to foreign countries to cause serious damage to your mother's relations. And for that, you can blame Moon. This can be possible due to Ketu's unfriendly relations with the governor of the 4th house, Moon.
If Ketu enters the house of its enemy, Moon, it may result in the separation between the mother and her child. Moreover, you may suffer from property loss, and you may become aggressive, which may affect your mother's health.
Not only with your mother, but you may also spoil relations with your friends and family. On a positive note, it makes you realize the importance of your mother's relations. You may get benefits from your mother's inherited property.
Influence Of Ketu In The 4th house
Wealth & prosperity
Lifestyle
Spirituality
Mother's Relationship
---
Impacts Of The Ketu In The 4th House On Your Personality
The south node, Ketu, may cause disturbance mentally and psychologically. The shadow planet may also affect your thinking abilities and analytical mind. You may not be able to decide in haste. You may slowly lose your interest in spirituality.
If Ketu is forming a conjunction with Moon in the fourth house, it may negatively influence your psychic abilities, prosperity, and intelligence. Due to the Ketu transit in the 4th house, you may feel lonely and aloof. You may have hypertension and negative thoughts in mind. However, you may stay active in social works, and other's may seek your advice. As a result, you may form an admirable personality.
---
Impacts Of The Ketu In The 4th House On Your Marriage
Ketu's appearance in the 4th house means that you may have a lacklustre love life. This combination of Ketu and the 4th house may keep you away from your spouse. Here, you are likely to part ways or break up with your partner due to a lack of support and trust in your relationship. Also, you may not enjoy an intimate relationship with your spouse. The 4th house Ketu is likely to cause issues during childbirth.
Female natives may not maintain stable health. Ketu's placement in the 4th house may give few favourable results if you have arranged marriage. Whereas you would be on the back foot if you perform a love marriage. Ultimately, Ketu in 4 houses may spoil the relationship with your mother as well as your spouse.
Is Your Partner a Perfect Match For You? Reveal with your Free Compatibility Report!…
---
Impacts Of The Ketu In The 4th House On Your Career
'The tail of the dragon', Ketu placed in the 4th house of natives may form career hurdles. But it may help you to complete your education in foreign countries. So, as a native of 4th house Ketu, you may travel abroad for higher studies. Moreover, you may plan to settle abroad to earn a higher income.
Ketu's presence in the 4th house may not affect your primary education, but later on, you may find it challenging to complete your graduation in college. You may become a chief executive or boss in the MNC company. You may pursue your profession in the publishing or information department.
---
Ketu In 4th House Remedies
Below are the remedies for Ketu in 4th house to reduce its negative impacts:
Donate warm garments to poor and needy people
Follow the guidance of your mentor or Guru
Nurture pet animals like dogs and cats
Offer fresh yellow flowers in your home temple

Wear silver in any form to reduce Ketu's malefic effects
---
Wrapping Up
We understood the positive and negative effects of Ketu in 4th house. The benefits of Ketu in 4th house are that it may help you complete your foreign studies and make you attentive towards your mother's relations, and may give you positive results in your arranged marriage life.
And drawbacks? You may not form sweet relations with your mother and face more hurdles in your career and profession. Being a malefic planet, Ketu is not as malicious as the north node, Rahu since it has some positive traits. Hope you found this blog informative and got relevant answers to your queries.
---
---