Mars in The 1st House: Know Good & Bad Things of Red Planet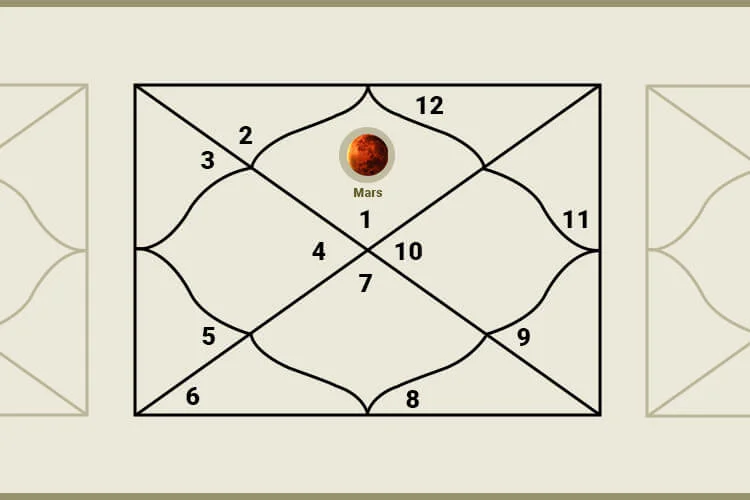 ---
Introduction
Watch out, astrology lovers! If you have Mars in your Lagna house, you may suffer from its negative effects. True, because Mars will make you mumble, fumble, and then you may jumble. Natives having 1st house occupied by Mars are likely to be reckless, may not realise their true powers, and are not aware of others' feelings. This first house is the core of astrology which is related to natives itself.
If planet Mars is placed in the Lagna house, it makes native strong and courageous but turning the tables; it may also make you short-tempered and furious. Here, the Native's personality may be characterised by energy and enthusiasm. Let us understand what happens when Mars enters the 1st house.
---
What If Mars Is In Lagna House?
The red planet, Mars sitting in the ascendant house may give you challenging times. You may need to cover the extra mile to convert your dreams into reality. You may not know what you are capable of, but it would make your job easier if you realise your strength. Your actions may speak more than your words. As a native of Mars in the 1st house, you are a tad insensitive, so little push from either side may hamper your relationship status.
You may possess an easy-going attitude because of 1st house Mars. This may help you make more friends, but you may still prefer to work alone. Affiliated Mars may create hurdles in your path, and you may be prone to roadside accidents. This placement of Mars may infuse a lot of confidence in you. You may get frustrated if things don't go well, and your impatience may provide you with negative results. No matter what, if you keep working hard, you may achieve your desired goals. Mars in 1st house marriage life could be influenced by this placement as you will become Manglik.
Areas of Life Affected By Mars In The 1st House
Professional life
Relationship
Social image
Attitude
---
Impacts Of Mars In the 1st House
Mars in the 1st House Effects: Positives
Mars sitting in the ascendant house may come up with several life challenges, but at the same time, it may light up the dark work. It may give you the energy to tackle any difficulties in your task, enhancing your dedication towards your work. So once you are focused on your work, you may not stop until you have finished it. They may possess the potential to achieve their ambitions, but they should be careful while pursuing, or else you unintentionally hurt others.
Natives who are job professionals may get more responsibilities to deal with new projects that they will be doing with pleasure. This placement may increase the excitement level in your life. Natives may also increase their work accuracy and proficiency. Natives may deal with unexpected consequences of their actions only due to the presence of Mars in the Lagna house.
This positive impact of Mars may help you increase your social prestige and work with a positive mindset. Also, it will help you to make important decisions relatively quickly.
Mars in the 1st House Effects: Negative
The placement of Mars in the 1st house may give you more negative results. Its presence in the ascendant house means that natives may not be serious about their future. These natives may find it challenging to clear hurdles in their path. They may not be a good team player because of their poor decision-making skills. So, it is suggested that they should listen and allow others to put their opinions too.
They may not know how to approach other people. Moreover, Mars presence in 1st house means that natives may need to work in an organised and planned manner. Otherwise, you may have lost your position at your workplace. Agreed, you may have good skills to decide in haste, but you should refrain from it, or else it may give you negative results.
Experts say that natives should make a decision only after receiving advice from elders. These natives indulging in group projects may give them extra headaches. Natives of mars in 1st house Vedic Astrology say you are likely to go on adventurous trips, but it could land you in trouble, so it's better to be attentive. This can be possible because the first house belongs to the first zodiac sign, Aries. Besides, Mars in first house woman natives may not experience a successful marital life.
---
In A Nutshell
Mars's presence in the 1st house may give you energy and a mysterious aura, but you may not know how to use it correctly. In astrology, the first house represents the self, and if Mars is passing through the Lagna house, natives may act hurriedly without having a second thought.
All in all, we found that you are stubborn, impulsive and inattentive. However, if you stay honest with the people around you, then you may impress them. With this, we hope you got the answers to your queries in this informative blog.
Stay updated with the upcoming Astro event For that, Sign up now!…
---
---