Mars in The 7th House: Know It Impacts on Areas Of Life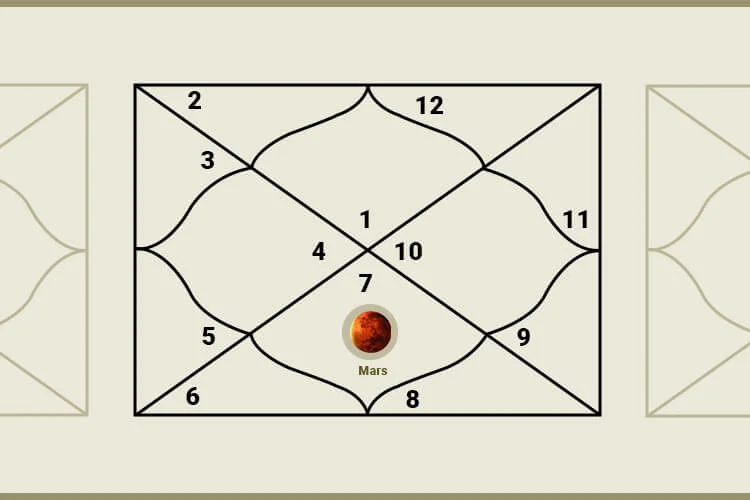 Hats off to Mars! The one thing that all of you will agree on is that Mars does its job perfectly. You guessed it right; it restricts the native to marry their desired life partner just because of its presence in the marriage house. The red planet, chilling in the 7th house, is in no mood to show mercy on its natives. WYD, Mars? Besides negative traits, it may bless you with determination, concentration and courage to achieve your ambitions. If mangal in seventh house of a native, he or she may join the list of 'Mangliks'. This placement of Mars creates Mangal Dosha in the individual's chart. If it's associated with malefic planets, natives may not live a happy married life. Stay glued to check its impacts on natives' lives, but before that, let us shed more light on Mars in the 7th house.
---
Result Of Mars In The 7th House
Natives having Mars in the 7th house synastry may not have likes of easy-peasy relationships. Moreover, it could be worse if Mars is under the aspect of Rahu or Ketu. Thus, it becomes necessary for natives to find a match-making partner to reduce the effect of Manglik Dosha. If they fail to do so, then ego clashes, confrontations or arguments may become part of their routine. Later on, it may lead them to separation or divorce from their partner. Apart from this, the 7th house is related to career, earnings and business. So, it may have impacts on these areas of life as well. Whichever planet occupies the 7th house can directly aspect the Lagna house, influencing the natives' lives.
Influence of Mars in the 7th house
Relationship
Marriage
Love Affairs
Partnerships
---
Effect of Mars in 7th House On Your Personality
Natives who have Mars in the 7th house may not be aware of others' opinions. Your most significant strength is to offer trust and love. Therefore, it's easy for you to develop long-lasting relations with everyone. You treat others with great kindness and admire their thoughts. But others may not realise your qualities, and they may not ask for your help. Also, you are a good listener. You only indulge in quarrels if you have a valid point to prove. That's why it is rare to see you arguing with others. Natives of Mars in the 7th house are likely to be passionate, loyal and faithful throughout their life. You may not give respect to those who fail to take their stand.
Get personalised insights into how the planet Mars may impact different areas of your life with Free Janampatri…
---
Effect of Mars in 7th House On Your Marriage
The 7th house is itself the house of marriage, and if Mars is sitting in the house, it may keep you far away from marital bliss. You will show more frustration and aggression in your relationship. It would be tough to have equal footing with your partner. There is a chance that your partner may have a love affair outside your marriage relationship. However, being a native of mars' 7th house spouse appearance, Mars, you are likely to share every moment with him or her as you have realistic expectations.
If Mars is in the 7th house of your spouse, it may cause serious damage to your relationship. Mars in 7th house woman natives may lose their sexual energy and love tendencies. Here, a lack of understanding with your partner or the formation of weak bondings may result in a separation between you two.
---
Effect of Mars in 7th House On Your Career
Native with Mars in the 7th house may give desired success in the field of the automobile sector. Those who are associated with the real estate business may earn profit as Mars will be favourable to you. Aspirants who have Mars in the 7th house of navamsa may get success in the engineering field. You will have an excellent chance to become a civil engineer or mechanical engineer. mars in 7th house Vedic astrology states that you are likely to build a successful career in the information & technology sector. Due to aggressive Mars, you may see the rise and fall throughout your career. However, you will manage to find success at a slow rate.
---
Mars In 7th House Remedies
To reduce the negative impact of Mars, you should wear silver or keep a piece of silver inside your home temple
You should offer sweets or jaggery to brahmin women (Especially widows)
Donate food grains like red mansoor daal to poors.
Donate red clothes to brahmins or needy people on Tuesday
---
Wrapping Up
Lastly, we learned that Mars in the 7th house might negatively impact significant areas of life. However, it may also give you favourable results if it is in the exalted sign or the red planet is under the aspect of benefic planets. Mars in 7th house marriage partners may not have a taste of a happy married life. Single natives may not find a desired and caring partner in their life. Being a native of Mars in the 7th house, you may have a marriage delay. On an ending note, hope you found the answers to your queries in this blog.
Before you go, Make Sure to Read Your Daily Horoscope Sign up now!…
---
---