Rahu in 7th house: Find Out Its Significance and Impacts Of The Invisible Planet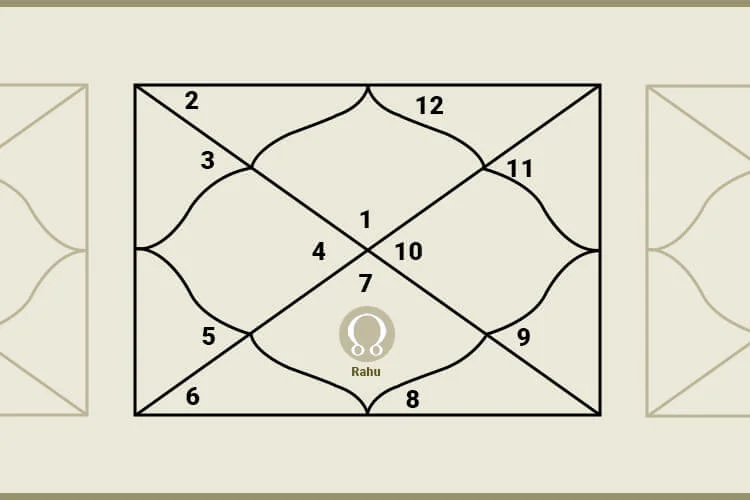 The 'Caution' sign may pop up if you find malefic Rahu unfavourably placed in your birth chart. The malefic planet Rahu is known for creating Trouble, hindrance and dissatisfaction in the individual's life. And therefore, it is extremely important to check its placement in your birth chart. On the one hand, the shadow planet helps you earn a huge profit, and on the other hand, you may lose control over money spendings.
The placement of Rahu in seventh house may directly impact your marriage relationship and affect the significant area of life. This 7th house Rahu may create issues in your love life, and so, you may get a delay in finding your life partner. Rahu lacks the physical significance like other planets, but the north node of the Moon can turn your marriage life upside down. The malefic Rahu symbolizes confusion, fear and misunderstandings in the human mind. And as a result, you may not have sweet relations with your life partner.
The 7th house Rahu in the horoscope may lead you to part ways with your spouse. Moreover, you may experience loss in your business, finance or career growth. Natives having strong Rahu in the 7th house are often good at import-export business. With this placement, you may earn monetary gains from foreign sources. Now, let us see what Astro expert say about this placement of Rahu.
---
What Does Rahu In seventh House Mean?
The 7th house is commonly known as the house of marriage. This house denotes marriage relationship, life partner, business partnership and foreign travel. If Rahu is present in the seventh house, you may have ups and downs in your marriage life. This placement signifies that Rahu is sitting in the 7th house from the position of Lagna house. In other words, we can say that Ketu is sitting in the ascendant house.
The malefic Rahu in the house of marriage may create obstacles in a marriage. Also, you may find it difficult to get desired life partner because of its presence in the 7th house. If Rahu is unfavourably placed in the birth chart, you are likely to have a marriage delay. This is one of the inauspicious positions of Rahu. If the planet is sharing space with other malefic planets, it may have terrible impacts on your love life.
Rahu of the 7th house may have adverse effects on your health. If Mercury, Venus or Ketu occupies the 11th house, you may complain of body pain or headaches. It may also badly impact the health of your family members. Besides, natives who are associated with business partnerships may need to take care of their work. Otherwise, they may lose more money.
Influence Of Rahu In The 7th House
Marriage relationship
Life partner
Business partnership
Wealth & prosperity
Find out which house is occupied by Rahu in your Kundali, access Free Janampatri
---
Impacts Of The Rahu In The 7th House On Your Personality
The presence of the north node in the 7th house means that you may often meet unusual circumstances. This combination represents that you would be dishonest and unfaithful to your partner. Rahu may cause unhappiness and disturbance in your life. You may feel helpless and loser while having one or more love affairs. You may lack physical and mental compatibility with your life partner.
This combination indicates that you may make a false promise to earn more profit in foreign lands. Your good image may get ruined because of your unfriendly relations with business partners. You may not find support from them, and it may hamper your reputation at a higher level. Be it personal life or professional life, you would lack the qualities of trust, honesty and faithfulness.
---
Impacts Of The Rahu In The 7th House On Your Marriage
Individuals who combine Rahu and the 7th house may not get help in their marriage life. The 7th house Rahu would be responsible for creating misunderstandings and confusion with your spouse. And therefore, you may not find harmony and peace in your marriage relationship.
This placement may give you sorrows, worries, pain, and hardship. The positive traits of this combination indicate that you may get physical satisfaction from your partner. Other than that, it would be a dry marriage life. This placement of Rahu in the 7th house love marriage may not be long-lasting.
This Rahu in 7 houses may keep you miles away from receiving love, trust, and support from your partner. This may lead to separation between you two. Your first marriage may not get successful, and you may plan to remarriage. You find a loving and caring partner in your second marriage, but a harmonious relationship will always be in question.
---
Impacts Of The Rahu In The 7th House On Your Career
Natives having the 7th house in their birth chart may improve their wealth status. You may earn financial gains and huge profits in your professional field. Conversely, you may not have stable profit in the long run. This could be possibly due to conflicts or arguments with your business partner. And so, this placement may not help you to achieve new heights in your career.
This combo of Rahu and the seventh house may work for you to achieve success in the political world. If you enter politics, you may earn wealth and prosperity in a short time. Mainly, natives having this placement may find career success after age 35. You are likely to accomplish your career goals in the electronics and communication field or as a researcher. Also, if you decide to establish a small business, you may get positive results.
Know whether you're on the right path in your career or not by accessing Yearly Horoscope
---
Rahu In 7th House Remedies
Below are the remedies to reduce the effect of Rahu in 7th house.
Visit Lord Shiva's temple and offer belpatra to shivling
Burn camphor to clean the inner environment of your house
Refrain from wearing black or dark coloured clothes (Especially on Saturdays)
Feed black dogs on Saturdays
---
Wrapping Up
We found that if Rahu is in the 7th house, you may not have any easy-to-peasy relationship. You may take more than usual in the initial stages to find your life partner. However, if you succeed in entering the phase of marriage, you may fail to take your relationship to the next level.
This placement also indicates that second marriage could be on the cards. On the professional front, Rahu may lend you a little support to develop your career. Natives associated with the partnership business may get unfavourable outcomes. I hope you had a lovely time reading this.
Know whether you're on the right path in your career or not by accessing Yearly Horoscope
---
---