Rahu In the 3rd House: Will Shadow Planet Give Positive Results?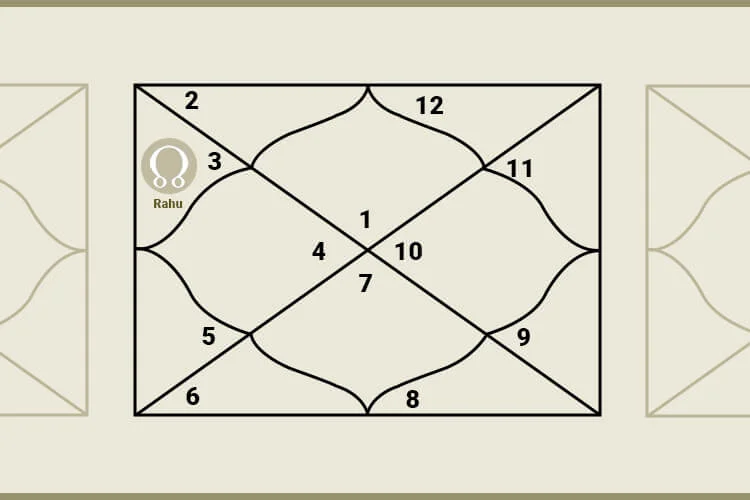 Rahu and Ketu are known for their malefic effects, which may create hurdles in natives' lives. It is believed that Rahu being 'the head of the serpent' is more effective than Ketu. Rahu's placement in the third house may bring you life obstacles. And you may not escape from it unless Rahu is under the aspect of benefic planets. Now, before you bite the dust, let us tell you that 3rd house Rahu may lend you support in life rather than creating hurdles.
Woah! That's undoubtedly good news for the natives of Rahu in the 3rd house. In case you are wondering what its impacts on the areas of life. Of course, we will shed more light on this, but before proceeding to it, let us know what happens when Rahu is in the 3rd house. So, tighten your seatbelt and read along with us about the placement of 3rd house Rahu.
---
What Does The Rahu In The 3rd House Mean?
In astrology, the third house is related to siblings, courage, and valour. If Rahu occupies this house, then you may achieve success in significant areas of life. This is because the 3rd house belongs to Gemini, which is friendly to the malefic planet. If 3rd house Rahu is under the aspect of any benefic planets, you may achieve great success in telecommunication or media.
This combination may help you to strengthen your financial status. And therefore, you may not borrow money from others to fulfil your needs. You may find interest in spiritual activities. Rahu of the 3rd house aspects the 7th and 9th house, which means you may plan for settlement in foreign countries or frequently travel for business purposes.
Influence Of Rahu In The 3rd House
Professional life

Relations with siblings

Spiritual life

Education 
---
Impacts Of The Rahu In The 3rd House On Your Personality
Individuals having Rahu in the 3rd house are good at resolving a dispute or debate between two parties. You will be curious to learn new things using the internet. You may learn to revive ancient history, and for that, you may keep yourself busy browsing. You may go beyond the limits to find the answers to queries hovering in your mind.
Also, you may love to keep more than one vehicle at your house. You would be ever-ready to help your friends and family. But, can't say the same for other peoples. Short trips will be a part of your routine life. You may have a sharp memory but a restless mind. This may help you to earn profits in your business.
---
Impacts Of The Rahu In The 3rd House On Your Marriage
In regard to your marriage life, you may have minor issues with your spouse. It would be mainly due to misunderstandings or ego clashes between you two. This placement of Rahu may harm your spouse's health. Your partner may suffer from depression, mental tension, or high blood pressure. Especially, women natives may face health troubles during the first progeny.
If you succeed in impressing your life partner, you may enjoy romantic love life. It is advisable that you fill-up the gaps in your relations, so you may not have any conflicts. By doing this, you would be more compatible with your partner. You may have a pleasant time under the covers.
---
Impacts Of The Rahu In The 3rd House On Your Career
The 3rd house Rahu may guide you to the right path in your career. You would be more dedicated to your work. You may find yourself busy chasing your career goals. However, you may have good knowledge and intelligence to tackle career-related hurdles in your life. You may take an interest in the political world, and later, you may become a good politician. Also, you may fulfil your desired career goals in the field of journalism, writing, or literature. You will be good at minting money, so there is a chance you may become a businessman.
---
Remedies For Rahu In The 3rd House
You should refrain from contacting things made of ivory

Wear silver in any form

Develop sweet relations with siblings

You should not take electronic gadgets from others
---
Wrapping Up
Here, we found that the Rahu in the 3rd house in astrology may have minimal impact on its natives. This combination will guide you towards your career success. It may help you to sharpen your interpersonal skills as well. You may earn money from multiple sources of income. And this is why you may have a stronghold over your wealth and prosperity.
Your marriage life could shake up with minor issues due to Rahu's presence in the 3rd house. However, if you continue to offer support and trust to your partner. You may live a happy married life. I hope, you found the answers to your queries in this informative blog. It's time for us to wind up today's edition, but you can read similar blogs if you wish.
---
---