The Hermit Tarot Guide – Upright & Reverse Guide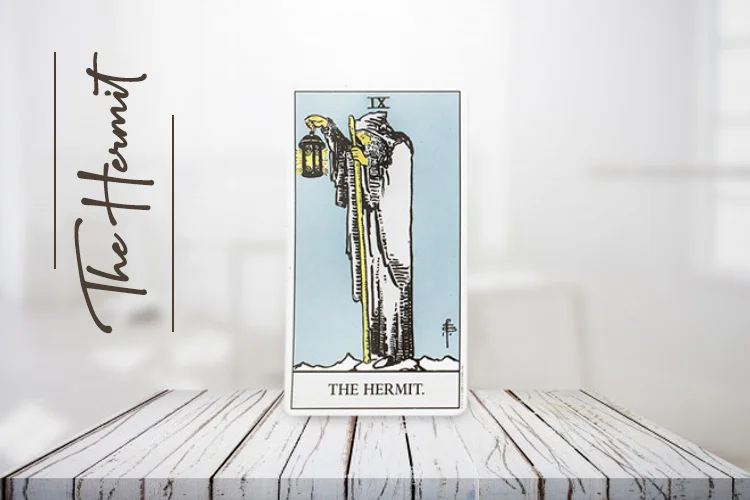 Human connection is one of the most significant aspects of life. However, there are moments when we ought to take a step back from others rather than towards them. So, speaking about the Hermit Tarot Card, most people assume it negatively. Although, it can be true in the case of reversed Hermit Tarot. But will talk about that later in this blog. Basically, a Hermit Card is something that slows down our stride when we are up for the work with a full charge. Tragedic! But sometimes, it means that we need to take a short break from our hectic schedule.
Element: Earth
Astrological Sign: Virgo
Planet: Mercury
Date: 23rd August to 22nd September
Upright Hermit Tarot Card: Spiritual enlightenment, Soulful, wisdom, solitude
Reverse hermit Tarot Card: Loneliness, sadness, paralyzed by fear
To know more, Ask an Expert Astrologer
---
The Hermit Tarot Meaning - Upright
The Hermit Tarot shows that you are taking a break from your everyday life in order to seek and date your own soul. You are in a state of realization that all the answer lies in your inner self rather this outer world. Hey, philosophical creature, carry on what you are doing; more power to you. Note, now is the right time to connect to your authentic self. It's your call whether to go on a trip with spiritual-minded people. Just giving you free suggestions. Find your light in the darkness, shine it on your soul and create your unique path for yourself. Bingo! You're going to see what is ahead of you–not miles and miles, but enough to know where to go next. Thankfully, you have got a good leader who'll help you discover yourself, and that leader is you.
---
Meaning of Reversed Hermit Tarot Card
The Reversed Hermit Card may go one of two ways: you don't take enough time for personal reflection, or you take too much time. If you are struggling to connect to yourself, then the Hermit Tarot is encouraging you to do so. It is time to go deeper into your inner self and to rediscover your greater meaning on this planet.
Yes, we know that this sounds similar to the Upright Hermit Tarot card. If you're already on a spiritual path, then the Hermit Card is saying to care about others' needs. Do not want to be so absorbed in yourself that your personal life gets shut, including your friends and family. The most complicated thing lies in the Reversed Hermit Card. Wanna know? So, one person may feel to back off from a relationship while the other one wants to be deeply connected. Strange but true. But either way, both are going to stay with each other only. So, no need to worry, smile please 🙂
---
Conclusion
Overall, the Hermit Tarot Card is not bad at all. It directly or indirectly teaches us a bucket full of things. Don't you feel the same way? So, as the Hermit Tarot says, now is the time to rediscover yourself. Keep on doing it, and have an awesome life!
---
---