The World Tarot Meaning – Upright & Reversed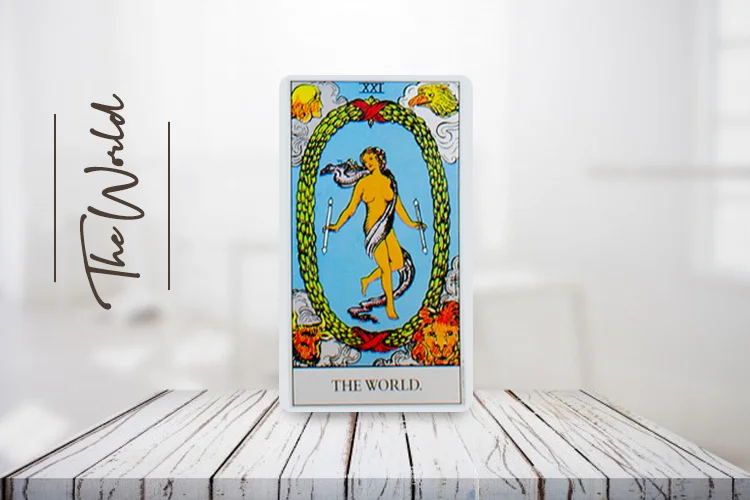 ---
The World Tarot Card Meaning
Prepare to have it all when the World is at your feet. The World Tarot reflects harmony and wholeness and is the final card in the Major Arcana or tarot trump series. It always comes before travel and complete fulfilment.
When this card appears in your Tarot reading, it means that your greatest ambitions are about to be realised, and it is time for you to prosper. Despite the challenges and struggles you've faced, you've remained solid and persevered. The seeds you planted are now blooming, and you are reaping the benefits of your efforts.
Element: Earth
Astrological Sign: None, it is being ruled by Saturn
Planet: Saturn
Date: No such vital days
The World Tarot Upright: Completion, integration, travel, unity, fulfilment
The World Tarot Reversed : Incompletion, delays, emptiness, short cuts
To know more, Ask an Expert Astrologer
---
The World Tarot Upright
As The World Tarot Card appears in a Tarot reading, you feel a sense of wholeness, accomplishment, fulfilment, and completion. A long-term project, time of research, relationship, or career has come full circle, and you are now savouring the feeling of fulfilment and accomplishment.
This card could symbolise graduation, marriage, the birth of a child, or the fulfilment of a long-held dream or aspiration. You have finally achieved your objective or target. All have fallen into place, and you are in the right place, doing the right thing and achieving your goals.
You have a sense of wholeness and completion. Also, this card reinforces Universal understanding and global awareness, and you will gain a new respect for people and cultures from all over the world as a result.
Everything will be found in the Horoscope Report, Click Here…
---
The World Reversed Tarot
The World Tarot in Reverse indicates that you are seeking a resolution to a personal matter. Maybe you're still emotionally attached to a previous relationship and want to move on. Or you fantasize about the day that you'll be able to slip back into your old skinny jeans, only to realize that your metabolism and body shape has changed in the last ten years.
Deep down, you know that you must let go of the past and move on to understand and appreciate where you are now. Finding closure can be a profoundly personal journey, which you can navigate by journaling, visualisation, energy work, and therapy.
The Reversed World Tarot can often trigger a frustrating pause in completing your projects. You could lose an important piece, and you won't be able to find a resolution until it's resolved. You need to be more inventive to cross the finish line.
---
The World Tarot Feelings
Do you want to know how your partner or future partner feels about you? For these types of readings, the World may have a positive or negative connotation. At best, The World might imply that they want to give you The World. If your lover has a strong desire to explore the world, marriage and engagement are not for them.
Hey, human creatures, we are telling you about the World Tarot meaning. That was an exciting ride, isn't it? So, make your world a better place & don't stop shining 🙂
---
---