Five of Cups Meaning – Upright & Reversed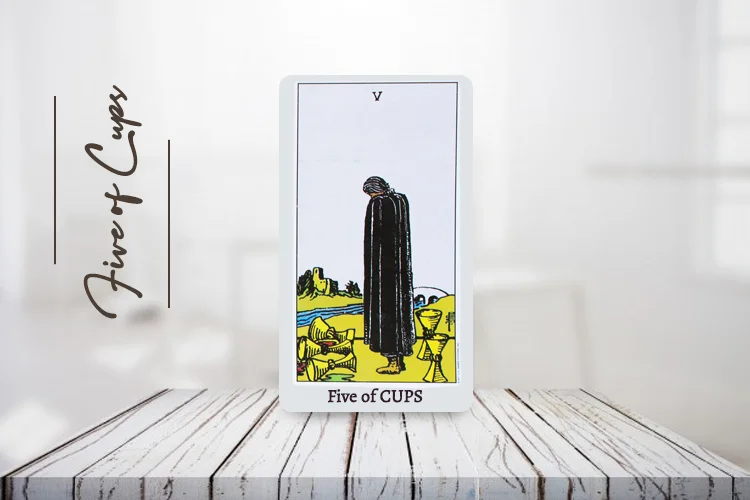 ---
The Five of Cups Tarot represents emotions of misery, loss, or sadness. These feelings arise as a result of the absence of something significant to you. It may be the death of a loved one or the dissolution of a special relationship. Five of Cups Tarot love also predicts the same way.
It might seem that all is lost, but the reality is that you are simply unable to see the positive. Hey, but why focus on the negative when there are tons of positivity out there. We totally understand that when we lose someone, the feeling is not so amazing.
But let's accept the fact that nothing is permanent here. Remember, even in the darkest times, there is always a beacon of hope. All you have to do is open your eyes and look around.
Element: Water
Astrological Sign: Scorpio
Planet: Pluto
Date: 23rd October to 2nd November
Five of Cups Tarot Upright: Grief, loneliness, despair, sadness loss
Five of Cups Tarot Reversed: Forgiveness, healing, finding peace, acceptance
To know more, Ask an Expert Astrologer
---
The Five of Cups Tarot Upright
The Five of Cups commonly appears in a Tarot reading when a situation has not gone as planned and you are unhappy, regretful, and disappointed. Rather than moving on with your life, you choose to wallow in self-pity.
Right now, what you can think about is what went wrong and how you lost. It's time to move on, sweetheart! The Five of Cups Card indicates that you are trapped in the past, unable to let go of things. When you think about what happened, old wounds and sour memories flood your mind. You can blame yourself or feel you are a victim of life's events. The choice is all yours.
And even if things aren't going your way, the Five of Cups tells you that new opportunities are waiting for you–but only when you're prepared. It's time to change your attitude and reflect on what can go better from here on. Instead of sticking to the 'glass is a half-empty attitude, view it from the 'glass is half full viewpoint. Your life will start transforming!
---
The Five of Cups Tarot Reversed
The Five Cups Tarot Reversed indicates that you have recently experienced a personal loss or disappointment. You may be afraid of being labelled as a "failure" and don't want to admit to anyone that you've made a mistake. Or maybe you aren't ready to admit it to anyone and tend to keep your thoughts to yourself.
However, now is the time to open up. The reverse of the Five of Cups Tarot Card acts as a reminder that you cannot reverse the past–what has happened is done. It is now time to let go of what no longer fits you emotionally and be open to new opportunities.
You're rediscovering how to be vulnerable and take risks, especially those of the heart. If you've had setbacks, you'll find that you're more optimistic about the future and want to connect with the exciting, innovative side of life again.
End of 'Five of Cups Tarot Card Meaning' class. Moving forward, we must tell you to stop thinking about the past. The future is in your hands; live in the present & just enjoy life. A perfect and straightforward formula of life!
---
---
---