Six of Cups Tarot Guide – Upright & Reversed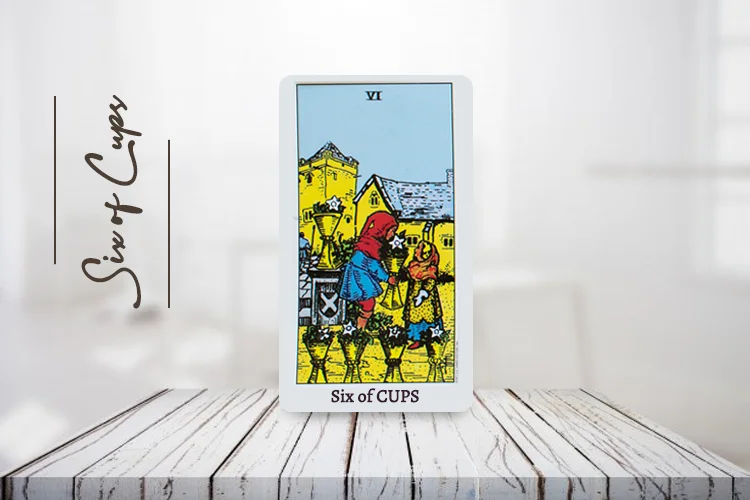 ---
Six of Cups Tarot Meaning
Six of Cups Tarot reflects innocence, nostalgia, and positivity. The card conveys a sense of nostalgia and childhood. It represents freedom and purity, as well as allowing your past experiences to lead you down new paths. When the Six of Cups Tarot appears, you will be feeling playful, thoughtful, and eager to support others. People with the Six of Cups Card add balance and harmony to every group. You can still depend on them when you're in a jam or just need some sound advice; if this isn't your current mood, your reading through means that it's time to get into this zone. What would you do to relax and have more fun?
Element: Water
Astrological Sign: Scorpio
Planet: Sun
Date: 3rd to 12th November
6 of Cups Tarot Upright: Joyful, nostalgic, playful, carefree
6 of Cups Tarot Reversed: Leaving home, boredom, maturity, independence.
Ask Tarot Reader for all the Answers.
---
Six of Cups Tarot Upright
The Six of Cups is a card that transports you to fond memories from your childhood, adolescence, or young adulthood. You could be simply replaying those memories in your head, or you could fly back to your childhood home or reconnect with childhood friends.
You could attend a high school reunion or catch up with an old friend. A high school sweetheart or a former lover could reappear. A high school sweetheart or a former lover could reappear. The Six of Cups Tarot invites you to reconnect with your inner child and rediscover the joy, independence, and innocence that comes with being a child.
You could draw an adult coloring book, dance like nobody's watching, play your favorite childhood games, or spend more time with (happy) children. They see the world as a beautiful place, and their hearts are open to the many pleasures that await them.
Everything will be found in the Horoscope Report, Click Here…
---
Six of Cups Tarot Significance
When you see the Reversed Six of Cups Tarot Reading, consider whether you're sticking to the past and losing contact with the present. It's OK to sit and think about the past as long as you realize that real and lasting change can only occur in the present moment.
Consider the Six of Cups Tarot a chance to make peace with the past so you can concentrate on the present. Learn from your mistakes, forgive others and yourself, and accept that life is always changing. Allow the past to go and focus your attention fully on the present. Make time if you find yourself saying, "Oh, but I don't have time!" Take time off. Go puddle-jumping or sandcastle-building.
The Six of Cups in Reverse might mean that you are going on a private ride down memory lane. You may be unable to tell someone that you are revisiting these old memories or relationships for fear of being judged.
So, time to live our childhood & kick start a new beginning in life. Because as we all know that Life is a one time offer, better to use it well. Cheers!
Finding it Hard to Tackle the Situation? Talk to Tarot Reader
---
---