Ace of Pentacles Tarot Guide – Upright & Reversed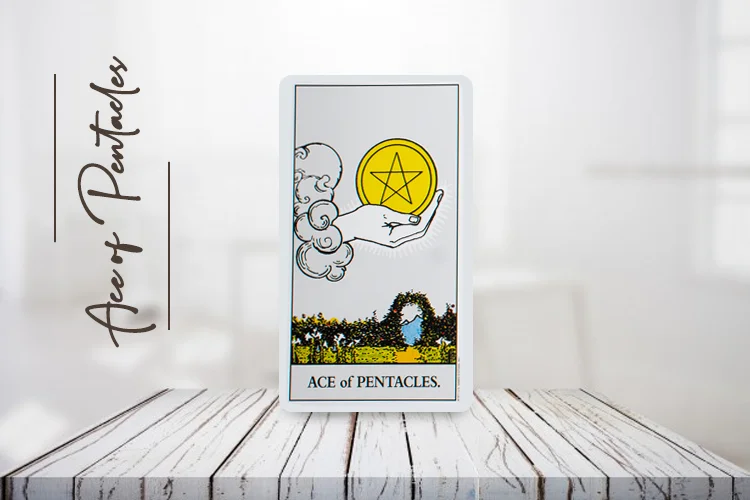 ---
The Ace of Pentacles General meaning
If the Ace of Pentacles is part of your tarot, you're lucky! Depicted as a hand coming out of a cloud carrying a gold coin, the Ace of Pentacles reflects both good fortune and new starts. Yes, this is a card that you were looking for. The pentacles are most closely associated with the material world. Sounds indeed interesting, isn't it?
However, this ace represents overall prosperity and new opportunities in every field of life. The same goes for the Ace of Pentacles love. The love life will be filled with good fortunes. We are not done yet. There is a bucket full of exciting things to read about the Ace of Pentacles tarot guide. So without any ado, let's get started.
Element: Earth
Astrological Sign: Capricorn
Planet: Saturn
Date: No as such key dates
Ace of Pentacles Upright: New beginnings, stability, prosperity, gain
Ace of Pentacles Reversed: Frustration, poor planning, negativity
Vanish Every Negative Thing From Life
Consult An Astrologer
---
The Ace of Pentacles Upright
Knock knock, Ace of pentacles are here! You may get a new job offer, an incredible amount of money, a new company or an investment opportunity. Woohoo! No matter what the occasion is, the Ace of Pentacles signifies a sense of wealth and prosperity in the material or financial aspects of your life. It definitely comes as a welcome invitation – but it's not a free trip.
The Ace of Pentacles also indicates money, not just for your bank account but also in a holistic context. You could even discover opportunities to generate a new source of income or to obtain a financial benefit. Or you may have a chance to build wealth in a broader sense – happiness, accomplishment, potential, and love.
Enjoy it! Feel grateful and thankful for all that falls in your way.
---
Significance of Ace of Pentacles Reversed
When the reversed Ace of Pentacles appears in a Tarot reading, you may feel hesitant about going forward with a proposal, invitation, or opportunity in life. Frank advise, don't move forward until you're prepared for it. Look at the value and potential outcomes of your proposal. Life will be super easy.
The Ace of Pentacles reversed could also be a warning that an unlikely financial opportunity will come to an end. As the famous saying goes, "Don't count your chickens before they hatch!" So, when you get an offer, wait until the money is in your bank account before you use it.
If you really are looking to start a new company, Ace of Pentacles will alert you of a severe risk due to a lack of preparation and foresight. Better be safe than sorry. Do not move ahead without validating whether the market needs your services or not. Then, you are ready to rock. And yes, once you start, there is no going back.
---
Conclusion
Definitely, a welcome card to be found in any spread; abundance is the name of the game with the Ace of Pentacles. We hope this Ace of pentacles tarot guide may prove helpful in your life in any way. Remember, Good things lie ahead of you!
---
---