Ten of Swords Tarot Card Meaning, Love, Feelings, Upright & Reversed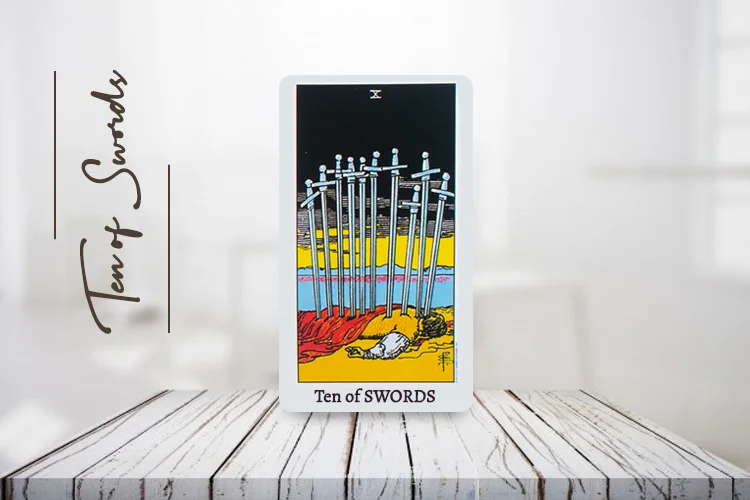 ---
Ten of Swords Tarot Card Meaning
The Ten of Swords Tarot appearing in a reading is not a good omen. This suit's number ten reflects being backstabbed, hitting rock bottom, and witnessing disappointment and betrayal. It can foretell a nervous breakdown and failure to deal with life's circumstances.
While the Ten of Swords Tarot is not positive consequences, worrying constantly is not the solution. The imminent crisis will only be temporary, and you have the resilience you need to survive the hurricane. It will be challenging, but not impossible, and you will succeed!
Element: Air
Astrological Sign: Gemini
Planet: Mars
Date: 11th June to 20th July
Ten of Swords yes or no: No
Ten of Swords Upright: Mental breakdown, betrayal, enemies, failure, financial ruin
Ten of Swords Reversed: Persevering, rising above enemies, building something new, finding new ways to cope
Ask Tarot Reader for all the Answers.
---
Ten of Swords Upright
The Ten of Swords Tarot represents a difficult yet unavoidable conclusion. For e.g., a partnership may end abruptly, employment may be terminated, or a contract may be breached. It's as if this ending came out of nowhere and rocked life.
You never expected it to happen, but it has, piercing the heart and making you feel as if the universe has crumbled around you. You're mourning the anguish of this devastating tragedy and worrying whether you'll ever marry, find work, or trust again.
The good news is that the Ten of Swords Tarot signifies the conclusion of your suffering – no more agony will come from that source. The hour is darkest before sunrise, and you must feel the full force of what has occurred before you can step on and begin again. Is it going to be simple? No, it does not. Will this ordeal, though, continue forever? No, it does not.
Everything will be found in the Yearly Report: Get a Free Yearly Report!
---
Ten of Swords Reversed
The Ten of Swords Reversed means that you resist an unavoidable shift or ending, and you are not prepared to face what is happening. However, the more you hesitate, the more this condition can last, so it's time to take off the bandage (however traumatic it may be) and get this over with so you can start again.
Trust that all happens for a cause! Even though it's tough to grasp what's going on, remember that it's all contributing to your personal development and growth in the long run. Finally, the Ten of Swords Reversed can be viewed as a welcome indication that the suffering and sorrow you've been enduring is coming to an end.
When turned upside down, the blades in the man's back seem to be coming out, freeing him from the agony and hurt he has been experiencing.
Organize Your Life In The Best Way Consult an Astrologer
---
Ten of Swords Love and Feelings
Talking about Ten of Swords Love, your partner is considering ending the engagement because nothing new is coming from it. They don't see a promising future with this relationship. Ten of Swords Feelings, Perhaps they do not think you are compatible.
If you are reading on a future partner's thoughts, the Ten of Swords Tarot can indicate that they are not currently focusing on a partnership. Other aspects of their life are not going well, and they do not have the patience or resources to commit to you.
Overall, the Ten of Swords Tarot, the 10th Minor Arcana card in the suit of Swords, is a shocking draw that depicts death, defeat, and rebirth. Although it can be scary in a reading, bear in mind that endings, even though they are unpredictable, carry them with hope and new possibilities.
For Astrological Solutions to any Problem, Talk to Tarot Reader
---
---