Three of Wands Tarot Guide- Upright & Reversed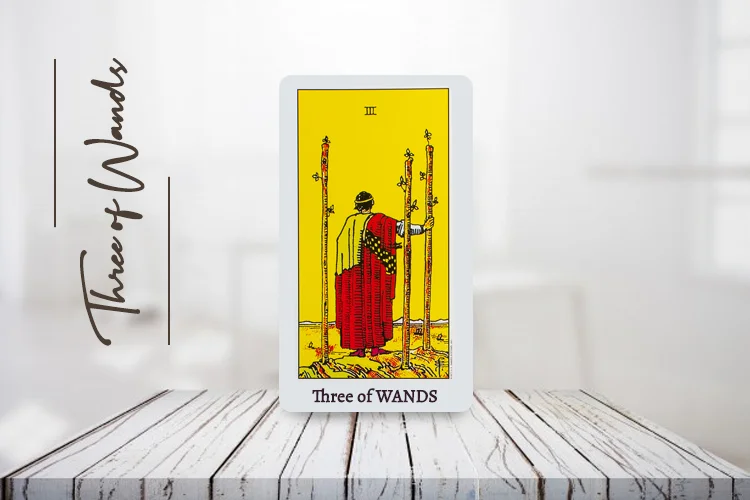 ---
3 of Pentacles Meaning
If this were a Disney tale, the faces would be John Smith and Pocahontas. The Three of Wands encourages you to go the extra mile. It makes no difference if the path is linked to business, finance, success, passion, or self-care. Courage, discipline, and extension are the keys to turning a dream into a reality.
Is there anywhere you've always liked to visit? Do you want to make a difference in your life? Is there something your higher self is urging you to investigate? Accept your inner chief and get ready to take off!
Element: Fire
Astrological Sign: Aries
Planet: Sun
Date: 31st March to 10th April
Three of Wands Upright: Leadership, moving forward, happy outcomes, exploration and travel
Three of Wands in Reverse: Self-doubt, regret, perceived failure, lack of forward planning, holding on to the past
Forget Past, Polish Your Future Through Astro Guide
Consult an Astrologer
---
3 of Wands Tarot Cards Upright
While the Two of Wands reflects future planning from a position of protection and security, the Three of Wands suggests that your preparations are now well underway, and you are exploring yet more ways to develop your new strategy and leverage your ultimate potential.
All is improving slowly and steadily due to your detailed planning and continuing support. Given the images of land and sea, the Three of Wands may often represent transport, especially overseas or over water.
It inspires you to be bold and travel to unknown places in order to learn more about yourself and to experience many interesting things along the way. You may also look at overseas career openings.
---
Three of Wands Reversed
The Three of Wands reversed indicates that you have the opportunity for development and advancement. However, you want to play it safe and remain within your comfort zone. As a consequence, you are restricting your ability and closing yourself off to new prospects.
What is it that is preventing you from moving forward? It's time to stretch your wings and take off. You may still be having difficulty putting your ideas into motion and are concerned that you have overcommitted yourself.
It is likely that you did not properly prepare for the difficulties that lay ahead of you or that you were overly optimistic about the uncertainties involved with your plans.
---
Three of Wands as Feelings
If you're not sure where you are with your partner or what they think of you, don't worry; all will become obvious quickly. In this scenario, the Three of Wands represents a possibility for clarity. Obviously, this doesn't tell you what will happen when you achieve this newfound clarity, but it will be revealed soon enough (Wands are quick cards).
Hey folks, now do you understand what three of wands tarot card mean? Of course, you must be! Overall, this tarot card represents travel, discovery, and the foresight needed to transform possibilities into realities. It's a good omen, suggesting progress in one's efforts.
---
---