Page of Cups Meaning – Upright & Reversed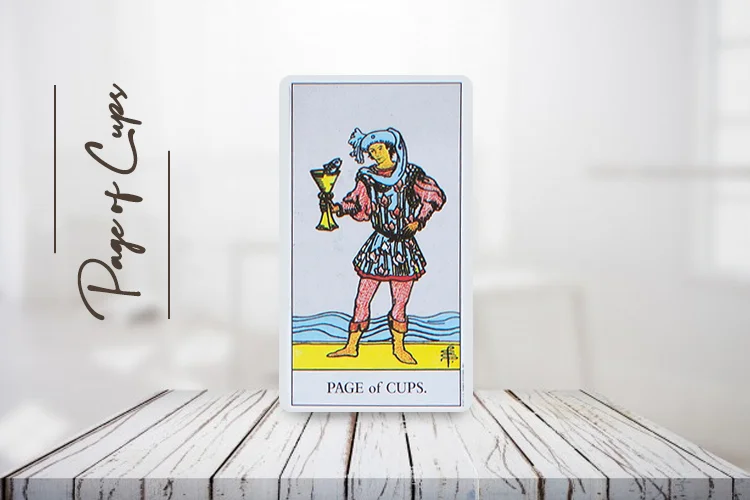 In a tarot reading, the Page of Cups tarot cards reflects our inner child, kinda like a Peter Pan. This card represents your subconscious attempting to connect with you, as all pages are messengers. This card is often correlated with our childhood feelings and memories and how they affect us now. Damn, these moments don't come back. Those times were 24 Karat gold.
Well, you may need to draw inspiration from the little girl or boy you once were. Talking about the page of cups love reading, possible romantic proposals, new relationships, and other messages are some of the most popular messages conveyed by this card. Ahem ahem, keep your dating outfit and perfumes ready.
Element: Water
Astrological Sign: Cancer
Planet: Moon
Date: Summer season
Page of Cups Upright: Good news, youthfulness, child, Idealism
Page of Cups Reversed: Broken dreams, childishness, envy, immaturity
Fulfill Your Dreams Through Astrological Guide
Consult An Astrologer
---
The Page of Cups Tarot Upright
The Page of Cups suggests a new idea or opportunity has come to you out of the blue. Your creative energy is flowing, and now the question is how you will express it. Will you snap up this new idea and turn it into something, or will you let someone else bring it to fruition? It is up to you!
Spend time exploring the idea to see if you want to move forward. Honest opinion? Don't waste time just thinking; start taking actions too! If you take a page of cups as advice, then it says that it's time to grow up. The Page of Cups encourages you to keep an open and curious mind. Be open to anything, including a fish poking its head out of a cup! You will explore new facets of life and yourself if you keep an open mind.
---
Reversed Page of Cups
The reversed Page of Cups indicates that you are keeping your artistic inspirations and ideas to yourself only. You will be worried that someone will steal your idea or tell you it will fail. Instead, you have decided to keep your plans private so that you can better improve them without the interference of others #NoMorePublic.
Ask yourself, "What do I have to lose here?" So what if the approach fails? Isn't it easier to do something and fail than to never do it and wonder what could have happened for the rest of your life? What if you did not fail? What if you were successful?
Too many questions for today. Again, listen to your instincts once more to determine whether fear is getting in the way and whether it's time to just give it a shot regardless of the outcome.
---
Page of Cups as Feelings
The Page of Cups shows that your partner likes you as it indicates how he or she feels about you. They do, however, approach love in a very childish manner, and they often become obsessed with anyone who gives them attention. As a result, while you are fortunate that your partner loves you, your relationship will not be stable.
Hey folks, we hope you got to know the page of cups tarot meaning. And yes, now that you know its significance, why can't you just act accordingly? Go, have a good life & create some fantastic memories.
---
---