Queen of Cups Meaning, Upright & Reversed – Complete Guide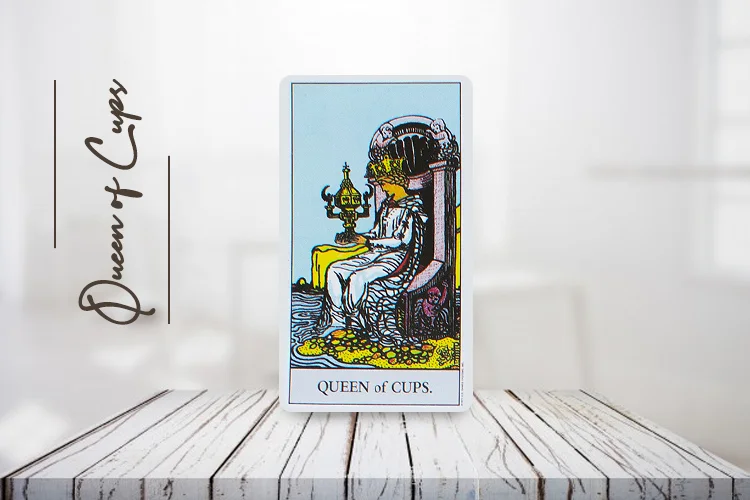 The Queen of Cups Tarot meaning is a bit similar to symbolizing intuition. Our intuition is so strong that we can feel the desires of those around us without telling us much about it. Ummm, sounds interesting, isn't it? She is feminine, caring, and kind, and she has the ability to communicate with people on an emotional level. If it appears in a reading, it could be a hint that you need to get her support or connect with someone to fix your problems. But wait. Before seeking help from others, the Queen of cups urges you to communicate and listen to your inner soul. Just as she does…
Element: Water
Astrological Sign: Cancer
Planet: Neptune
Date: 21st June to 20th July
Queen of Cups Upright: kindness, sensitivity, femininity, loving, warmth
Queen of Cups Reversed: Needy, unworthy of trust, insecurity, weak, shallow
Finding it Hard to Tackle the Situation? Talk to Tarot Reader
---
Queen of Cups Upright
When you see the Queen of Cups Tarot, you are free to imagine a nurturing mother. Talking about Queen of Cups Love, you serve people by listening with your heart, loving and caring for them. In short, you heal others by listening to them and making your presence felt when they need your support. The master of all! The queen of cups says to lead with your heart, not your mind. You know that something is 'off,' and you pay attention to it, even though it doesn't make sense of logic. After all, you are stronger than anyone, and you know it better than anyone.
Everything will be found in the Horoscope Report, Click Here…
---
Queen of Cups Reversed
When the Queen of Cups Reversed appears in a Tarot reading, you ought to pull your mind into focusing more on life. We know that you're the master in taking care of others, but – now is the time to take care of You. Queen of Cups Reversed says that you're emotionally drained because you're just supporting others, not yourself. See, there is a thing called in life 'Self-care'. You better understand this very well.
You may be giving too much of yourself away, getting too little in return. Ouch! Take the Queen of Cups Reversed as a warning to focus on yourself too. Hey pal, take yourself to some peaceful place, meditate, and just calm your soul. Your soul must be thanking us, lol. Overall, ask yourself, How are you really feeling? It doesn't matter whether you have positive or negative feelings. No excuses! The Queen of Cups Reversed asks you to discover your innermost thoughts and feelings in terms of understanding what makes you tick.
Uncover all Challenges and Unwanted changes in your Life Graph. Get Free 2023 Report
---
Conclusion
After some overloaded words of focusing on yourself, you can't deny giving it a try. At least you can give it a shot. Hope you understood the clear picture of the Queen of Cups Tarot meaning. Just to add, it will not require any money in giving a try. Come on; the world is waiting, and your soul is waiting for you to interact. Switch off everything and just turn on the spiritual path today!
For Astrological Solutions to any Problem, Talk to Tarot Reader
---
---