Autumn Equinox Astrology : Here's What It Means To You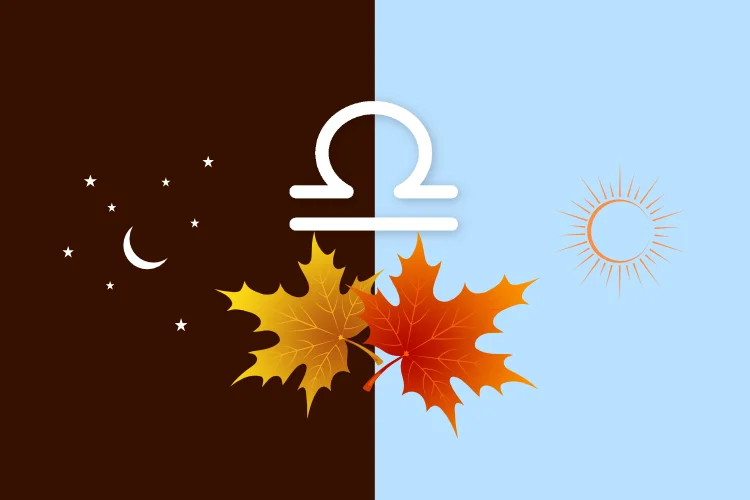 It has been almost six months since we passed through the spring Equinox. And now, it's time to witness the Autumn Equinox, which denotes the halfway mark of the astrological year. Equinox is observed on the day, which has equal duration to the night. In short, on the Fall Equinox, day and night will be of equal size. The upcoming Autumn Equinox will also mark the end of the summer season. So, we may get relief from the hot summer days.
---
Autumnal Equinox: Meaning And Facts
The Equinox occurs when the Sun intersects with Earth's equator. When the Sun inclines towards the north side, there will be Spring Equinox. And if the Sun moves to the south, the Autumn Equinox occurs. Hence, we see Equinox twice every year. Astro experts and pundits believe that it would be an excellent opportunity to reform the balance in our life. Such a phase makes us realise that challenges are a temporary part of our lives.
Generally, Spring Equinox takes place around March 23, while Autumn Equinox occurs around September 22. So, this year it will take place on September 23, when the Sun enters the Libra sign. Also, It will be the first day of Autumn. So, how it will affect your lives when Libra seasons begin. To know the answers read along with us to find what experts say.
---
Autumn Equinox 2022 Date And Time
Date:

23rd September 2022 – Thursday

Time:

around 12:50 AM

Sunrise: 05:25 AM

Sunset: 05:32 PM

Day Duration – 12 Hours 06 Mins 28 Secs
---
Expert's Predictions On Autumn Equinox 2022
Autumn Equinox would be the auspicious time to restore life balance. Those who are struggling with life challenges may get themselves back on track. At first, you may feel like nothing is going right for you, but as soon as you enter this phase, things may favour you. Below is what our best astrologers predict about Autumn Equinox 2022.
Aries Sun Sign
Business owners representing the Aries sign may come up with strategies to form new partnerships. It would be a favourable time if you want to sign a new contract with your clients or partner. On the other hand, your past grudges may come alive. There might be some challenges for you, and therefore, you may have to wait longer to accomplish your goals.
Read More About Aries Zodiac Sign
Taurus Sun Sign
This upcoming season, you may stick to your daily schedule. You may have mental tension or headaches, but you won't mind as long as you are on the right track. Moving forward, you should be attentive to your health by avoiding outside food and non-veg food.
Read More About Taurus Zodiac Sign
Gemini Sun Sign
Gemini natives would be on their toes to display their creative ideas to others. In this process, you may discover new ways to increase your income. Money might stay on your mind for a long time. Your creative ideas would be key to unlocking new treasures in terms of finance.
Read More About Gemini Zodiac Sign
Cancer Sun Sign
Cancerians may shift attention to their family well-being. You may have a get-together with your family members. This may distract you from achieving your career goals. You may give priority and more time to your family rather than being busy with your work or studies.
Read More About Cancer Zodiac Sign
Leo Sun Sign
Leo individuals may need to improve their communication skills. You may discuss your future plans with your siblings or close ones. You may boost your confidence and may have an optimistic approach. Others may lend you support to form a good self-image and reputation. 
Read More About Leo Zodiac Sign
Virgo Sun Sign
Virgo natives may find interest in learning new things. In this process, you may understand what's best and what's not for you. If you do what your heart says, you may find ways to grow your income. Venus transit in Virgo may inspire you to bring your creativity into whatever you do. Overall, you may get mixed outcomes.
Read More About Virgo Zodiac Sign
Libra Sun Sign
Autumn Equinox in Libra sign may bring you a favourable time. You would be keen to achieve your life goals. You may go on foreign trips with your family. The stars and planets suggest that you would succeed in forming the balance between your personal and professional life.
Read More About Libra Zodiac Sign
Scorpio Sun Sign
Dear Scorpions, you may feel like you would have a favourable time. But hang on a little longer, the best is yet to come. You are likely to expand your social circle in the coming phase. You may carry your good luck wherever you decide to go. Moon in the 11th house of your may assist you in fulfilling your wishes.
Read More About Scorpio Zodiac Sign
Sagittarius Sun Sign
Natives with the Sagittarius sign may have an opportunity to improve their personalities. On the professional front, your work may get recognised by your seniors. This would be a great time to fall in love. So, this month you may stay busy spending quality time with your life partner.
Read More About  Sagittarius Zodiac Sign
Capricorn Sun Sign
Capricorn individuals may have suitable time to accomplish their goals. You may remain active on social media. Also, you would get a chance to virtually meet your friends settled in a foreign land. Those natives who are willing to visit foriegn countries may get green singles in the coming days.
Read More About Capricorn Zodiac Sign
Aquarius Sun Sign
During the Autumn Equinox, you may go beyond the limits to resolve your financial matters. Also, there may be another good news for you that you may find a new source of income. You may find yourself with fresh energy. And this may assist you in fulfilling your wishes.
Read More About Aquarius Zodiac Sign
Pisces Sun Sign
Fishes would be negatively influenced by Mercury. And therefore, you may have difficulties while speaking or communicating with others. This may also hamper your decision-making skills. In regards to your relationship, you may have misunderstandings with your spouse. Overall, you may have a fair time ahead.
Read More About Pisces Zodiac Sign
---
Final Words
Autumn Equinox will take place at the time when the Sun transit to Libra. This would be the end of the difficult phase, so you may get a chance to bring back those happy days. We learnt what experts predicted about the upcoming Autumn Equinox 2022 and its effects on the Sun signs. If you are still unsure how to get rid of life obstacles, you can reach our best astrologers with just a click on your mobile phone. May you have a pleasant time ahead.
---
---