Uncover The Saturn Combust Effects On Significant Areas Of Life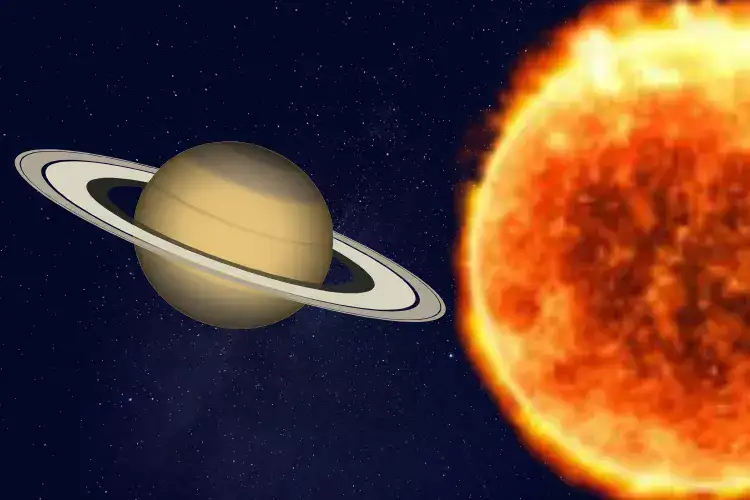 Saturn is considered a strict planet, which is responsible for misery, dissatisfaction and delusion. Such characteristics of Saturn further define why it is known as the lord of Justice. It is said that whoever may fail to meet Saturn's demand may undergo a challenging phase. Those who succeed in pleasing the lord of rings, Saturn, may lead to desired success in life.
The Karmic planet Saturn may give results on the basis of your past karmas. Natives who have wrong deeds are likely to get punished by Saturn. On the brighter side, it will teach you that you should never run away from your responsibilities. Shani will lend support to those who work hard. In short, if you have Shani in a favourable position, you may have relief in your professional life. Whereas, ill-placed Shani may bring obstacles.
---
When will Saturn Combust Happen In 2022?
The combustion takes place when any planet gets closer to the celestial father, Sun. Saturn is said to combust if it is close to the Sun within 15 degrees. During Saturn combustion, natives are likely to get negative impacts from Saturn-occupied houses. Especially, one may have an unfavourable time in their professional life. Below are the date and timings for the astrological event.
Saturn Tara Asta Begins and Ends:
From: Jan 24, 2022 at 06:39 pm
To: Feb 27, 2022 at 05:52 am
Also read: Jupiter Tara Asta Begins and Ends
Saturn Combust Effects On Aries Sign Natives
Individuals of the Aries sign will have Saturn combust in the 10th house. So, it is likely to affect the career and professional life of natives. Job seekers and commuters may go through a tough phase. Business owners may suffer from loss as they may not get long term projects. Moreover, natives may get worried about their father's health as he may suffer from bad health. Senior officials may have higher responsibilities, so they may not have suitable time.
Saturn Combust Effects On Taurus Sign Natives
Saturn combustion will take place in the 9th house for Individuals associated with the Taurus sign. You are advised to postpone your travelling plans as you may not have successful trips. Businessmen should avoid trips during this time. Healthwise, elders may complain of muscular pain. Native's father may suffer from illness. Taurus individuals may see delays in their ongoing projects.
Saturn Combust Effects On Gemini Sign Natives
Saturn will combust in the 8th house of the Gemini-bound natives. This would be a time to take utmost care of your health. Otherwise, you may get viral infections. You may pull up injuries from road accidents. It is advisable to maintain distance from the speculation activities. Or else, you may suffer from a loss. Entrepreneurs should refrain from exploring new strategies. This is not a suitable time to commence a new business.
Saturn Combust Effects On Cancer Sign Natives
Cancer sign individuals will have combustion of Saturn in their 7th house. This would be a difficult time for those who are running a partnership business. Entrepreneurs should be careful while making new partners. In love and relationships, Married natives may indulge in small conflicts. Saturn may have adverse effects on your social life too. You may indulge in arguments while outing with friends.
Saturn Combust Effects On Leo Sign Natives
Leo sign natives will observe Saturn combust in the 6th house. The astrological event taking place in the house of the disease means that you may need to be careful about your health and well-being. Financially, you may need to keep an eye on your financial expenses. Your close ones from your maternal house may suffer from illness. Business owners may find it difficult to earn desired profit.
Gear up for new year challenges, carefully read Free Horoscope 2022.
Saturn Combust Effects On Virgo Sign Natives
For Virgo natives, the 5th house will be occupied by Saturn, where it will combust. Those who are connected with the speculations or the stock market activities are likely to have tough times. You would be more worried about your children. Job professionals may see a decline in their performance. In terms of health, adults may complain of stomach pain. Overall, Virgo native may not have a good time.
Saturn Combust Effects On Libra Sign Natives
Individuals holding the Libra sign will have Saturn combust in the 4th house. It means that you may need to make a serious effort to maintain your health. You are likely to suffer from mental stress. Your mother may experience illness. This may not be the suitable time to indulge in property related matters. Investors are advised to refrain from making big investments.
To cut off the negative impacts, perform Shani puja under the expert's guidance.
Saturn Combust Effects On Scorpio Sign Natives
Individuals with the Scorpio sign will have the combustion of Saturn in the 3rd house. You are advised to take care of good relations with your siblings. Or else, you may have arguments with them. Businessmen or entrepreneurs planning to explore new strategies should postpone their work for a while. Job professionals making short trips may fail to make it count. Scorpio sign natives are advised to refrain from making big investments.
Saturn Combust Effects On Sagittarius Sign Natives
The 2nd house will have Saturn combust for the natives representing the Sagittarius sign. And it may adversely affect the health of your family members. Financially, you may need to keep a tab on the financial matters. It won't be easy to get a fine grip on the money savings. Working natives may need to wait longer in order to get promoted. Entrepreneurs or those who want to commence new business should skip this phase.
Planning for a new start up business? Analyse your Free Janampatri.
Saturn Combust Effects On Capricorn Sign Natives
Capricorn natives are likely to fall prey to mental health issues as Saturn combust occupies the 1st house. This event indicates that you may require more effort to maintain a pink health. This would be a challenging phase for those who are running both small and large businesses. You should develop new strategies, otherwise you may suffer a loss. Students may lose their self-confidence, which may affect their exam results.
Saturn Combust Effects On Aquarius Sign Natives
Aquarius born individuals may have higher money expenditures as Saturn combust will be occurring in the 12 houses. Moreover, you may get involved in the legal pending works. On the financial front, you may fall short of your money saving goals. Aquarius natives who are planning to borrow a loan should avoid this phase. Elders making religious trips or business trips may not be successful. Overall, you may have a fair time.
Saturn Combust Effects On Pisces Sign Natives
Individuals carrying the Pisces sign may experience hindrances in their ongoing project works. You may not get a benefit from them as Saturn combust in the 11th house of yours. During this event, you may have conflicts with your friends. You may take less interest in your social life. It would be an unfavourable time to borrow or loan money to others. Also, a difficult time for investors. Hence, refrain making any investments.
---
Ending Note
Mainly, Saturn combust will have adverse effects in the professional life of individuals. Those who have weak Shani may find it difficult to get success in their professionalism. During this phase, natives connected with the Saturn-ruled signs may have a difficult phase. You are likely to struggle on the financial front.
Want to reduce the Shani Dosh? Get remedies from experienced astrologers. Talk now!
On that note, we hope you found this blog interesting.
---
---