Take a Peek Into The Achievements Of Popular Pisces Celebrities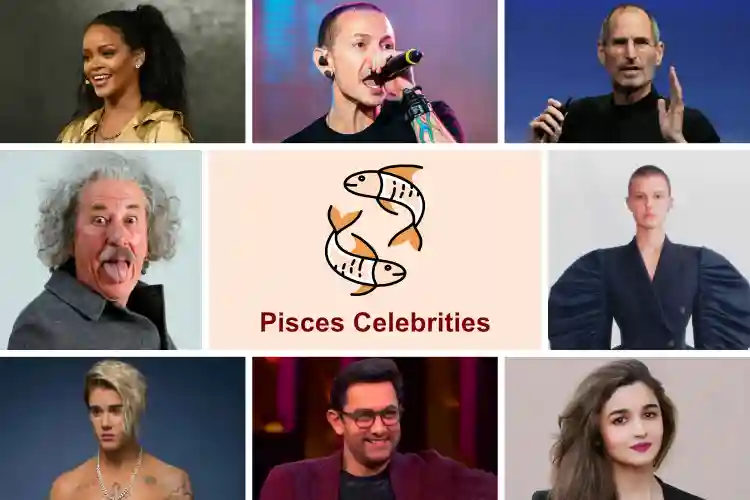 Human life is influenced by distant cosmic objects, usually stars and planets, known as astrology. In addition to influencing the personalities of individuals, the position of the sun, moon, and planets at birth has also been said to impact their romantic relationships as well as their economic fortunes. Astrologers use astronomical observations to determine what sign each planet was in at the time of a person's birth in order to produce a more accurate reading. Astrology can explain why you're attracted to, overlooked by, or indifferent to others based on cosmic patterns. 
There are 12 zodiac signs in astrology, each with its own ruling planet, symbol, and element. It's up to these individuals to capitalize on their potential and strengths to achieve fame and success like celebrities. The sign Pisces is considered the most sensitive and empathetic soul among all the zodiac signs. In this article, we will discuss the famous Pisces. Taking a look at famous Pisces birthdays as well as the qualities that make them respectable in public. In order to understand the characteristics of the zodiac sign Pisces, you must first understand the zodiac sign Pisces.
Consult Expert Astrologers to know about Which zodiac can get fame easily?
---
The Pisces Zodiac - Imaginative Bubble of Fish
A symbol of Pisces is the Fish, the small aquatic animals whose scales glow in the sun as they follow the current. This symbolizes the subconscious mind or the journey of life itself, just as a Pisces sign swims along in the current, taking in whatever comes its way and tossing rainbows as it does. The sign is perfectly content following someone else's lead, particularly if that person is close to you. Those born under Pisces are highly romantic, tuned in to their friends and lovers on an intuitive and psychological level, intuiting their emotional needs and doing their utmost to cater to them as can be seen with Pisces famous people. 
A Pisces person is uniquely gifted and has a keen instinct, which can guide them well and allow them to take creative or scholarly leaps they wouldn't be able to consider or see in their situation. When the pieces of the puzzle fall into place in a brilliant way, Pisces ascendant celebrities astound themselves as well as others. Pisces has great empathy for people because they understand how they feel.
However, it can be detrimental as it does not produce a strong will and is not immune to unconsciously influencing factors. There may be times when you feel too overwhelmed or act out of character. To solve this problem, you must avoid people and places that are negatively impacting you, and you must occasionally isolate yourself, which is the only way to rebalance your mind. 
A Pisces is consistently one of the top signs to listen attentively to other people, however, when it comes to asking for help, in particular passionate assistance, they may give up, feeling that nobody will comprehend what they are experiencing and, in any case, not allowing anyone to approach them. Famous Pisces celebrities were often known for their emotional distance. Pisces natives don't always follow the same path as others do, and they might have the opportunity to accomplish things extremely rapidly. The more aware Pisces are of how they work and respect that cycle, the better they are. Pisces celebrities, female or male are often known to be in a slump after accomplishing a task.
A Pisces sign is empathetic and responds well to small groups. It may take a lot of energy for Pisces to realign their inner and outer selves. Pisces may feel lonely at times if they need help, and their minds are functional and creative. It is their creative energy that allows them to study and create art and music to express their emotions. Although they appear calm, Painting, Music, Poetry, Dance, and Fashion are other artistic pursuits that Pisces is also interested in, which include emotional responses to the works rather than logical appeals.
Pisces rising celebrities and famous Pisces celebrities are mostly seen in such careers. Pisces is an innovative sign, yet it is a deep sign as well. This is because the ability to perceive beauty and pass it on to others is the thing that makes Pisces an innovative sign.
Just like Pisces Celebrities, you can also be competitive in your life with your Free Yearly Report.
---
Famous Pisces Celebrities who You May Know
Rihanna (Feb 20, 1988)
This famous Pisces singer is one of the biggest stars of the 21st century. At the tender age of 16, she signed a record deal with a label. There are several records that Rihanna holds for the most consecutive no.1 singles in the UK and US. Her unique style of music and artistry makes her a favorite among the crowd.
Steve Jobs (Feb 24, 1955)
Probably the iPad or iPhone you are using right now is all thanks to this famous Pisces ascendant celebrity. Apple was founded and led by Steve Jobs. During his early life, he was determined to become a Buddhist monk, and he dressed in a simple manner until his final days. An organized and dedicated team worked for him. According to his patent file, he had close to 300 patents.
Albert Einstein (Mar 14, 1879)
Our minds immediately come up with this famous Pisces scientist whenever we think of the greatest minds of all time. He developed an interest in physics and maths after receiving a compass from his father. After working on relativity for a decade, he helped scientists gain a better understanding of the universe. A total of 50 patents were issued during his lifetime. Overall, he was a genius and a beloved character in his life, inspiring many young people to set goals for themselves.
Justin Bieber (Mar 1, 1994)
At the age of 13, this Pisces musician became popular through YouTube. Throughout his musical journey since then, he has grown tremendously. Justin has won numerous awards, including American and Latin Grammys. Paparazzi have always been a part of his life since he was a teenager.
To get all the astrological predictions about your favorite celebrity, Download MyPandit App now.
Aamir Khan (Mar 14, 1965)
When talking about Pisces Celebrities, Aamir Khan is known for his perfectionism in Bollywood. As an actor, he is always sincere about his work, a characteristic that also shows his versatility. Some of his best movies, including Dangal and 3 idiots, which have had worldwide success, have even made it to China and Korea, often speaking to the social stigma of some sort.
Min Yoongi (BTS) (Mar 9, 1993)
In addition to holding the position of the rapper in the group, this famous Pisces musician is a member of BTS, the world's most popular boy band. Early in his career, he was an underground rapper. With more than 130 songs under his name, Yoongi has now become one of the most popular musicians in South Korea as well as worldwide. This element of his personality is based on his love for music and his passion for expressing himself through it. He often says, "if our music has touched even a few of you and given you hope, it has all been worth it."
Alia Bhatt (Mar 15, 1993)
This famous Pisces is a Bollywood icon. When Alia prepares for a role, she undergoes intensive training, which shows her dedication to her craft. This Pisces female made her movie debut at age six. Her musical tone and Kathak's dancing skills are all impressive. She has even sung as a playback singer.
Sophie Turner (Feb 21, 1996)
Pisces celebrities like this one are well-known for their roles in Game of Thrones as Sansa Stark. She came from a working-class family in Chesterton, England. She recently married Joe Jonas from the Jonas Brothers, another celebrity.
Alan Rickman (Feb 21, 1946)
The famous Pisces actor is most famous for playing Professor Severus Snape in the Harry Potter series. The theatre remained close to Alan's heart even after becoming a successful actor. In his early professional career, This Pisces man also did costume design. His kind qualities led him to be an active philanthropist, helping poor performers around the world.
Alexander Mcqueen (Mar 17, 1969)
Alexander McQueen, a rebellious and unusual fashion designer, started working for design houses when he was just 16 years old. Four times he has also been awarded Designer of the Year. Following his tenure as the head designer for the Givenchy fashion line owned by Louis Vuitton, he launched his own menswear line in 2004.
Chester Bennington (Mar 20, 1976)
Linkin Park's Chester Bennington was the lead singer and member of the band. The first album he became popular with was Linkin Park's Hybrid Theory in 2000. Although Chester had a lot of hardships in his early life, he did not let them stop him from becoming the Rockstar he long aspired to be.
As these celebrities were born under the sign of Pisces, it can be said that they showed Pisces traits, but there is no one way to predict an individual's career or life path. Another way you can see that other things drive an individual's progress is when you look at their birth chart and planet positions.
Are you struggling for getting success in your life, Talk to Expert Astrologers now.
---
---