Libra Man and Aquarius Woman: Compatibility Guide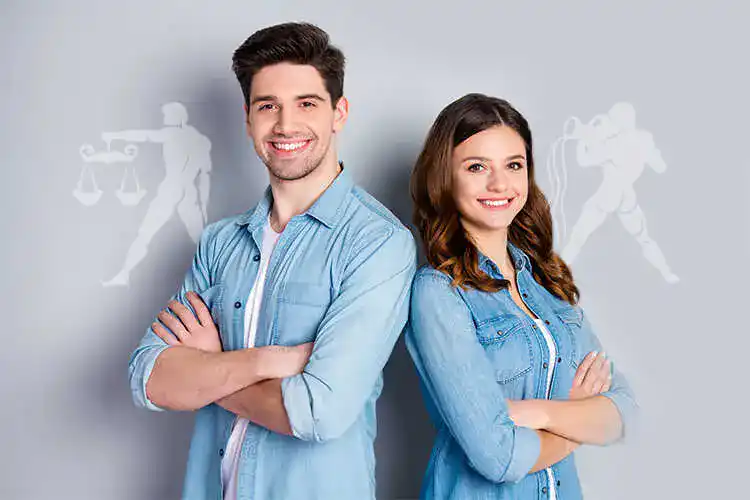 A Libra man and an Aquarian woman's first rendezvous will make them feel as if they have known each other for a long time. They connect to a level that may appear insane to the common population. If you catch them during their first meet, you will perceive them to be long-lost soulmates. Yes, you have read it right! A Libra man and an Aquarius woman are soulmates indeed!
Both the Libra man and the Aquarius woman belong to the Air sign, and they prove to be wonderfully compatible. This common element leads to a lot of commonality between the individuals in this duo, which further plants a lot of mutual interest for this duo. Both of them are very sociable and interactive, which makes them extraordinary inoculators for each other, if not for others. You don't believe me, do you? Never mind, check it out yourself. This article has all you need to know!
---
Libra Man and Aquarius Woman: Their character of bonding
Are Aquarius and Libra a good match? A Libra man and an Aquarius woman make a great match. Their association with the Air element really increases their likelihood of being in a long-term relationship. So, fasten your seatbelts; you've got a long way to go!
Both the Aquarius female and Libra male belong to a sun sign that complements each other and help in one another's growth and development. They facilitate the overall development of each other, and this shared supportive nature allows them to reach their respective goals.
The libra male and the Aquarius female are people who know the value of freedom and so will let each other enjoy their liberty. They will focus on building a deep intellectual connection along with deep love in the relationship.
Both the zodiacs are social butterflies who love social interactions and are extremely passionate beings. They are also the funny bones one always asks for. This prevents them from feeling too lonely or depressed when either of the partners is not physically present.
The relationship will see both the partners working together to keep the passion alive between them. Also, we will see them get through spats in a very mature manner.
A Libra man and an Aquarius woman are looked upon by many. They are considered ideal duo also because of the similarity in their personalities. Their similar nature and personality really help them to gel with each other.
Despite the occasional fights and hiccups between this couple, they will share a healthy relationship as both of them have this realization of making amazing things work, no matter what!
---
---
Libra Man and Aquarius Woman :Level of sensitivity towards each other
Can a Libra man date an Aquarius woman or vice versa? A Libra man and an Aquarius woman seem to be pretty amazing when it comes to bringing their feelings and emotions to the floor.
Thus, they can communicate anything very frankly if they feel any wrongdoing or problem they may face in the relationship with their significant other. This will further contribute to turning their relationship into a longstanding one.
A Libra man is highly indecisive and takes time to make the right decisions. Therefore, the Aquarian might have to work really hard to make things work well. However, this won't be too difficult task for the couple. Because the love of Libra man and Aquarius woman is beyond any comparison, and being deeply and madly in love with each other really creates the magic.
Considering the fact that both the sun signs are highly sociable and less practical in nature, an Aquarius woman and a libra man fighting with each other do not seem to create much of a problem. Hence if either of the pairs is faced with any turmoil or problem ever, the sense of humour that exists between the two will help the two overcome these problems.
The high social quotient in the two sun signs of the duo also shows that both of them would be more than happy to meet each other's friends and would easily gel with them. So, neither of the social butterflies would ever have to compromise their friendship.
Finally, because the connection is really deep between the two sun signs, if the Aquarian woman has something important to do, the Libra man will be the happiest to help and support her unconditionally.
See how Numerology can help you determine your partner's compatibility based on your name…
---
Libra Man and Aquarius Woman - Benefits and Challenges
Communication, intimacy, and sociability are three of the most important aspects of any relationship. These are three of the few aspects that help us calculate the success or failure of any particular relationship at any particular point of time.
So, if the communication and intimacy levels are to be judged between these two sun signs, then it can be concluded that both of these aspects are excelled by this duo, with an added excellence in the sociability aspect.
Thus, both of them would always communicate their problems frankly if they would really want to work things out between each other.
One of the most important aspects of intimacy is also something that is deep between the Libra man and the Aquarius woman. Hence, both of them will have great experiences to offer to each other in terms of passion as well as the level of romance.
A Libra man in bed is someone who is a whole package of fun, passion and romance. He is an adventurous person who seeks something out of the box everywhere he goes. In order to balance the seriousness out, a Libra man professes and practices sex as a light-hearted affair.
Being a member of a sun sign that is ruled by Venus, the Libra man seeks balance, beauty along with a touch of romance in his life, including his sex life. While an Aquarius woman wants a genius in her bed, someone who's fascinating and turns all her fascinations into real-life experiences, a Libra man satisfies all these expectations. People belonging to Aquarius do not have any inhibitions and are always ready to experiment with new things in the sheets. Thus, they prove to be one perfect match for Libra men.
Sociability is another important feature that helps us to calculate the success of a particular relationship. The pair is highly social in nature, and hence they both shall be more than happy to meet each other's friends and close social groups, with the least difficulty in getting along with them. This would lead to a no-compromise relationship between the Libra man and the Aquarius woman pair, as neither of them would have to compromise any of their friendships.
However, no relationship is flawless or free from any difficulties or challenges. No relationship is perfect – yes, not even this Libra-Aquarius duo! One of the impediments to a perfect relationship might be the Libra man's fickle-mindedness. His inability to make decisions rapidly can prove to be a major challenge for this Libra-Aquarius pair.
Adding to the bowl of challenges is the stubborn nature possessed by the Aquarian woman, as it also contrasts the diplomatic nature of the Libra man. With time, this duo might also get pissed at by each other's nature and protest for more space. Over a period of time, the Aquarian woman might perceive the Libra man to be highly dominating and aggressive. At the same time, the Libra man might find the Aquarian woman's nature and actions to be intolerable.
But, if the pair really love and care for each other, it will not be difficult for them to endure these hardships. Also, they will overcome these challenges together in order to make the relationship work out well. They just need to keep in mind that at the end of the day, no relationship or partnership is easy. It completely depends on both the partners in a relationship if they really want their relationship to turn into a happily ever after one.
Yes, as I mentioned, no relationship is perfect, but staying in it and transforming into one is never out of option.
A Libra man and an Aquarius woman marriage compatibility are exceptional. Since both Aquarius and Libra are air signs, pairing these two individuals together results in a mutually beneficial, compatible partnership between two people who share a common need for sharing ideas and having constant communication. Moreover, the obsession of an Aquarius is to take things in control or take the lead. In contrast, the obsession of a Libra is giving others chances to take the lead. This really helps us perceive them as two pieces that perfectly fit together.
When will you find your perfect half? Uncover your Premium Janampatri!
So, if the couple tries and puts in some extra effort, then the libra man and Aquarius woman compatibility will turn out to be the most amazing! Read about Libra and Aquarius Compatibility.
---
---