Zodiac sign Makeup – Let's Find More Makeup Tips For Your Zodiac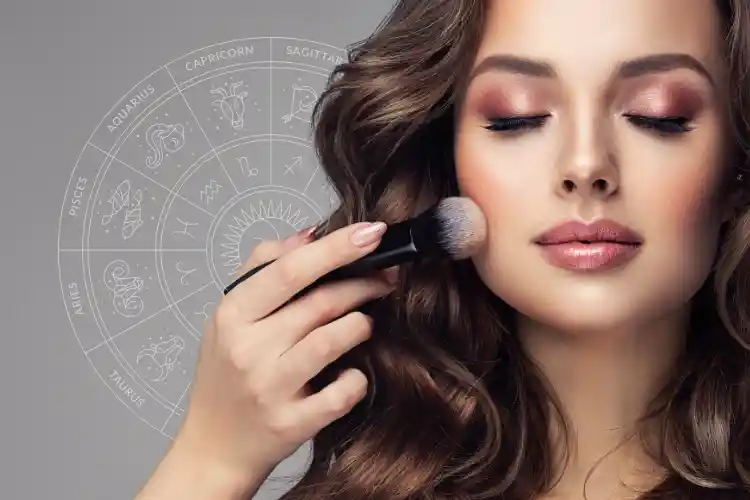 For many people, horoscopes and zodiac signs are interesting to read about whether they believe in them or not. It might be a fun new way to apply makeup matching your zodiac sign.
The game is exciting and fun to play. It is based on an ancient tradition in which people on the cusp of each New Year would apply makeup to the characters of the respective Zodiac signs. When applying makeup, you should start with styling the hair, and then you can add foundation, blush, eye shadow, and lipstick.
Check out 12 zodiac sign makeup looks that may help you pay tribute to your astrological sign.
---
Aries Makeup
For Aries, daring and dramatic is a must for their perfect zodiac sign makeup look. Pick a rich, dark red lipstick colour and make a bold statement. Use minimal makeup so that the eyes are emphasised with lipstick instead of competing with it. Finish the look with a classic, well-defined winged eyeliner to finish the eyes. Apply generous amounts of mascara for full and luxuriant lashes, then top it off with a glossy highlighter.
---
Taurus Makeup
Taurus is an Earth sign and therefore has a preference for all things natural and subtle. Rather than attempting to create a garish look on your face, go au naturel with an earthy zodiac sign makeup. Minimise texture and reduce the appearance of large, open pores by first using a blurring primer to prep your skin. In lieu of applying a foundation, use concealer to show off your skin's natural radiance. Wear a touch of peach blush and apply a soft highlighter to help your skin look more tanned. Use kajal and eyeliner to just lightly fill in your brows to shape them, but avoid doing anything too dramatic or obvious.
---
Gemini Makeup
When you combine an orange eye and lips with bold makeup, you have the ability to make bold looks no matter what. Using eye-catching colour in your eye makeup will set your look apart, but be sure to finish with some show-stopping eyeliner. For an energetic and youthful appearance, use fuchsia lipstick to accompany your purple hair. It's an easy thing to do if you follow your zodiac signs because a) everyone does, and b) if you use makeup just as a lot of other people do, you will look awesome! Keep calm and carry on with that crazy, outrageously zany colour scheme.
---
Cancer Makeup
Cancers, who are ruled by the moon, are drawn to white and silver. Something sparkly and glittery is the ideal zodiac sign makeup for this gentle and compassionate sign. Use light silver makeup to give your eyes an ethereal look. Keep the focus on your frosty lids by lining your waterline with brown eyeliner. To complete your eye makeup look, apply a lengthening mascara. Because your eyes are dreamy and pale, a pink blush will add some colour to your face. To neutralise the bright eyeshadow colours, use a tinted lip balm rather than lipstick.
---
Leo Makeup
Glamorous, trustful, and fiery, Leo is not afraid to say a word. An ingredient of gold and bronze zodiac make-up is perfect for this diva. Without some extra glitter and glam, this maquillage look ranges from gold shadow to a golden highlight. Use a bronzer to add a little warmth to your face and contour your chicken bones. For lips, choose a matte lipstick satin or creamy and dust some highlighter to go bold. Avoid using red or pink peach, instead, stick with warm peach tones and terracotta.
---
Virgo Makeup
Simple, everyday-girl-next-door looks seem fitting for Virgo makeup since they personify simplicity, purity, and innocence. Start by applying a dewy primer, then add a glow to your skin with a lightweight foundation to help your base look flawless while keeping it minimal. By adding just the right amount of blush and contour, you can give your natural beauty a pop of colour. Use a gel eyeliner and let your eyelids be bare to get the smudged, smoky eyeliner look. To make your zodiac sign makeup complete, apply a curling mascara. Simplistic and effortless.
---
Libra Makeup
Libra is often charmed by a romantic and charming personality. Pink is one of the easiest colours to wear, so this Zodiac sign makeup looks like a brisk one. Mix a liquid highlight with a base for a radiant glow from within your skin to create this appearance. Then, dust your cheeks with a light, pink blush for a flushed look. Brush your eyes throughout your eyes with a pink shadow and add a shimmering highlight to the inner corners to increase the make-up.
---
Scorpio Makeup
Scorpio make-up is a complement to your loving, dramatic and powerful individuality. Nothing is better than a dramatic smooth eye-catcher, mysterious and sultry. Use a dark black kajal to give a dramatic outline to your eyes. Smoke the lower lashes out to increase the appearance of this zodiacal signature. Make your eye make-up looking bold with thick and dramatic cuts with voluminous mascara. Keep the basic makeup simple and add a deep lipstick, ideal for power and trust transmission. If you have a little too many daring eyes and bold lips, turn the lip colour on a soft, brown lipstick.
---
Sagittarius Makeup
A Sagittarius loves adventure restlessly and is always on the go and loves to have fun. The more the dynamic and colourful makeup of Sagittarius, the better. Spice up the make-up of your eye by drawing a glowing graphic look. Balance the wild colours by creating a matte and smooth foundation. Put a light layer of powder into your base and cover so that you can add additional coverage and get rid of the shine.
---
Capricorn Makeup
For a Capricorn's makeup routine, you do not need a beauty bag full of products. Dewy foundation and brightening concealer creates a flawless base. When applying creamy pink lipstick on your eyes, cheeks, and lips, use an upward dab on the eyelid as well. This is something frequently advised – Capricorns are particularly skilled at getting a full face of makeup with just a few staple products. To define your brows, use a brown eye pencil to line your waterline, and then use the same pencil to fill in your brows. Add some colour to your lips using a soft matte lip liner and lip balm. It gives you a simple but stylish look for the zodiac.
---
Aquarius Make up
The Aquarius loves to experiment and invent, so they're very eccentric. It's all about breaking the rules and shocking people with their zodiac makeup. When you are an Aquarius, try on a variety of creative makeup and hair trends. Find out what is different about you, your personality, and your looks, and apply contrasting colours and textures to create a unique Aquarius makeup look.
---
Pisces Makeup
Pisces loves reflective and shiny things but remains mysterious and mystical. Pisces makeup includes bright iridescent colours and jewel tones. Use shades of blue and green to create a makeup that looks like it's floating on the water's surface. Keep your skin dewy and radiant by applying moisturiser before applying makeup and mist your face with an oil-free setting spray for all-day hydration. Shimmery blush applied to the apples of the cheek completes the look. Next, nude liquid matte lipstick is applied to the lips to complete the look.
---
Closure
For all the young females desiring to mesmerise the world with their charm, zodiac-compatible makeup is a must-try.
---
---