Astrological Transits In January 2021: Know The Timeline of Planetary Events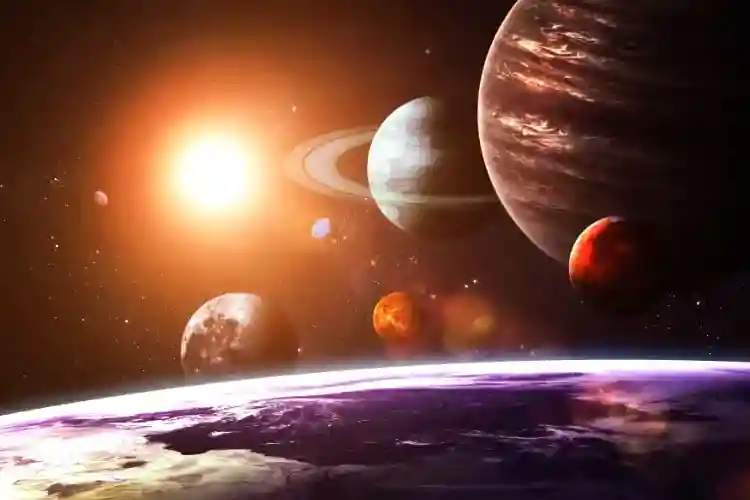 January 2021 is loading…, and we guess you are ready to enter the new year with fresh vibes, new hope, and energy to add more colours into your life. Hey, we see you smiling and buzzing under your mask, but worry not, you ain't alone. Phew! Now no more quarantine, only what we want is family time. And therefore it becomes necessary for us to check what is about to happen in January 2021? Well, that depends upon the positions of stars and planets, so whom to ask for help? Astrology, of course. Observing the planetary combinations and transitions, our experts handed-down the list of astrological events occurring in the month of January. Wanna know what will be the impacts of astrological events happening in the coming month on you? Find out by unfolding the January monthly horoscope report for the year 2021.
January 5, 2021 – Jupiter-Saturn-Mercury conjunction in Capricorn (Triple Transit)
January 5, 2021 – Mercury Transit in Capricorn
January 14, 2021 – Jupiter-Saturn-Mercury-Sun conjunction in Capricorn (Stellium)
January 14, 2021 – Sun transit in Capricorn
January 28, 2021 – Jupiter-Saturn-Venus-Sun conjunction in Capricorn (Stellium)
January 28, 2021 – Venus transit in Capricorn
January 28, 2021 – Full Moon
---
Astrology Events In January
According to Vedic astrology, these are the major events in January 2021, which may have positive impacts on your life, and you may enjoy quality time in the days of January. These cosmic events in January 2021 may help to gain stability in your relationship, and you may have a chance to go on a date with your partner. But some of you might experience life hurdles in your path which depends upon your zodiac signs. We saw how 2020 went, completely unusual and trying times for us. Do we really want to repeat this? Naah, not again! So, alright then let's see what the first month of 2021 has in store for us. Below is the list of Astrology Events in January, which will help you to usher in the new year on a positive note.
---
Jupiter-Saturn-Mercury Conjunction In Capricorn (Triple Transit)
This will be one of the rare events in January 2021 as it takes place after more than 50 years. Woah that's huge! The triple transition of the planets will be in the Capricorn sign, and it will have a positive as well as negative effects on other signs too. The 9th house is ruled by Jupiter, and the 10th house is owned by Saturn. As a result, you can overcome several hurdles in your life. The individuals of Aries, Taurus, Leo, Scorpio, and Pisces can take a break during this phase. This rare combination will be lucky for you guys and help you to achieve favourable results.
---
Mercury Transit In Capricorn
On the 13th of Jan 2021, planet Mercury will pass through the Capricorn sign, and you can expect mixed results during day and night time. In the astrology world, Mercury is the ruler of Gemini and Virgo signs. The natives of these signs can expect peace and harmony in their relationship, in that case, HANDS DOWN to the messenger of God, Mercury! But at the same time, you should listen to your partner to avoid pushing yourself into unnecessary fights.
Struggling with marital issues? Never give up! Consult our Astrologers for effective solutions now!
---
Jupiter-Saturn-Mercury-Sun Conjunction In Capricorn (Stellium)
Sun X Mercury = Hot, hot, and hot! We are talking about another astrology event in January that will have a decent effect on the natives of all zodiac signs. The conjunctions of the four planets, also known as Stellium will help you to improve your communication skill. You will achieve knowledge, wisdom, and may get a chance to go on a short trip. Not as hot as your girlfriend, but still Sun will make you sweat. How? When it combines with Jupiter, Mercury, and Saturn, some of you might come face to face with your partner and may decide to split up. So, be quiet and just say beautiful, whenever your wife asks you 'How Am I looking today?'
---
Do You Know which Yoga is formed when Sun and Saturn unites in the 10th house?
The combo of the Sun and Saturn together forms Apa Keerti Yoga in the 10th house. Also, other planets presented in the house will have an aspect by the malefic planets, and as a result, it may affect your reputation. Subha Adhi yoga, Paap Adhi yoga and Mixed Adhi yoga are the part of Apa Keerti Yoga.
---
Sun Transit In Capricorn
The 14th day of January is special for us because we love to celebrate the festival of Makar Sankranti. But My friend, when you will be busy flying kites, we will have a guest in Capricorn sign. The guest? Yaas, it's a star. umm, actually a big star. FYI, the Sun will transit in Capricorn sign on the 14th of Jan 2021, and it may have both good and bad news for you. You can make investment planning during this phase as it will be a favourable time for you in terms of finance. Whereas, you should be careful about your health as this transition may increase your health-related issues.
Dealing with long-term health issues? Get assistance from our astrologers at Re.1 / min. Talk Now!
---
Jupiter-Saturn-Venus-Sun Conjunction In Capricorn (Stellium)
The conjunctions of the four planets will take place in the last week of January 2021, and it will make your life more difficult. Oh, Jupiter, WYD. Also, you may easily get into a confrontation with your partner or may become jealous of other achievements. You are also expected to lose someone who is near to your heart, and for that, you can only blame 'Jupiter'. An astrological survey about this conjunction suggests that by avoiding the arguments and fights, you will be able to survive the tough period of this month.
---
Venus Transit In Capricorn
Revolve, Love, Bless, and Repeat! That's what Venus does all the time. Yeah! The planet Venus will be transiting into the Capricorn sign on the second last day of Jan 2021. This transition will help you to achieve newer heights on your professional front. Also, with the auspicious planet Venus, you will be able to impress your loved ones. Natives of Capricorn will have positive outcomes, so you can enjoy some quality time with your dear ones.
How will your love-life turn out today? Check your Personalized Daily Horoscope.
---
Full Moon
On the night of 28th January, you're going to suspect that the Moon isn't hungry anymore and why is it so, because you are going to witness the Full Moon. HAHA, Gimme five! Okay, so if we see from the astrological point of view, it will help you increase your mental strength, and you may take your relationship to the next level. Usually, the full Moon has positive effects on our lives, and therefore, it offers wisdom and knowledge to you.
Know if Moon is favourably-placed or not, access your Personalised Birth Horoscope.
---
---