Kartik Tyagi: Rising star of Rajasthan in IPL 2021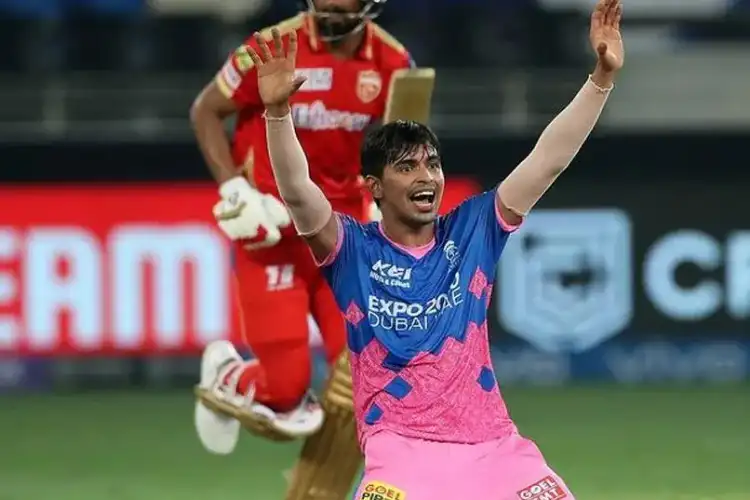 In the last moments of the recent match between Rajasthan Royals and Punjab Kings in IPL 2021, bowler Kartik Tyagi changed the game in the last 6 balls. Punjab had to score 4 runs in the last over, and they had 8 wickets in hand. Kartik threw the ball at a speed of about 141 and sent 2 batsmen of Punjab to the pavilion, and Rajasthan Royal won the game.
This one over made Kartik an overnight star. Let us know which planets were responsible for his fame overnight via his Surya Kundli.
Harshal Patel, playing for India in T20 with New Zealand, made a tremendous debut in Ranchi. Know what his horoscope says!
---
A Well-Balanced Horoscope
Guru and Shani are together in Kartik Tyagi's horoscope, which inspires him to learn something new. Most of the planets in its horoscope are in conjunction with each other, due to which they remain balanced. Kartik's Navamsa Kundli has exalted Sun and self-occupied Shani, leading him to play patiently. Talking about his future, in 2022, he may try to make some improvements by using new techniques in his skills.
After this victory, the Twitter handle of the Rajasthan team was filled with praises for Kartik Tyagi. After this performance, the team have high expectations from him in the upcoming matches as well.
Sunrisers Hyderabad's fast bowler Umran Malik threw at a speed of 152.95 km per hour in IPL-2021. Know how his career will be through Astro-details.
---
---