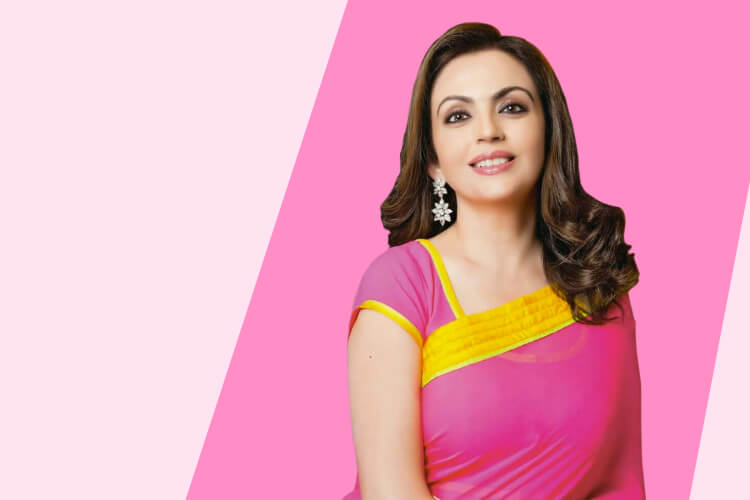 Nita Ambani - The Philanthropic Tycoon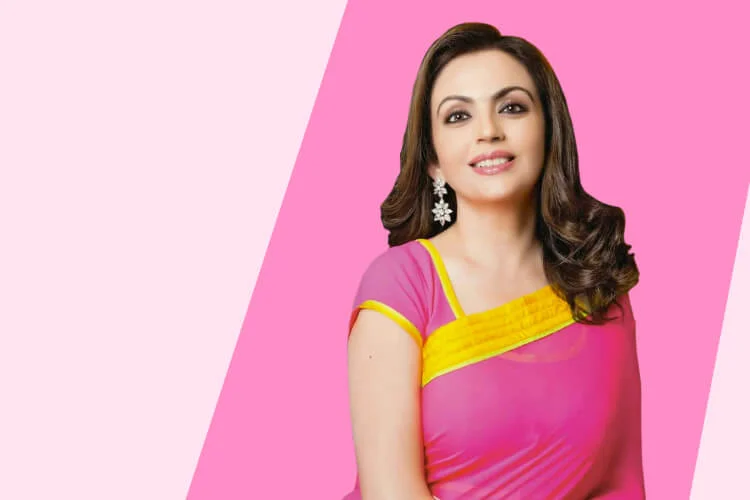 About Nita Ambani
Born on 1st of November 1963, to Ravindrabhai and Purnima Dalaal, Nita Ambani grew up in a traditional  Gujarati family. She had quite a modest beginning and grew up in the suburbs of Mumbai city. She completed her Bachelor's degree in Commerce from Narsee Monjee College of Commerce and Economics. Nita Ambani is the wife of India's wealthiest business honcho and the chairperson and managing director of Reliance Industries, Mukesh Ambani. But, this is not the only facet that defines her personality!  A philanthropist, a business owner, a Bharatnatyam dancer, a loving wife and mother to three kids- Nita Ambani is the superwoman of the business world! She is the chairperson and founder of the Reliance Foundation and a non-executive director of Reliance Industries.
---
Nita Ambani Horoscope Analysis
Date of Birth: 1 Nov, 1963
Time of Birth: Not Known
Place of Birth: Bombay, Maharashtra, India
SURYA CHART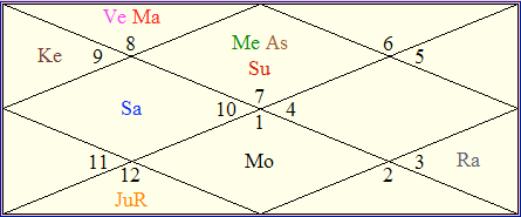 Nita Ambani will be celebrating her 57th birthday on 1st November. As her Surya chart reflects, Jupiter will be moving over Ketu posited in the 3rd house of her birth chart, and Saturn (Shani) will be posited in the 4th house.
Rahu will be making a transit over the planets posited in the 2nd house of her horoscope. Presently, she is undergoing the Maha Dasha of the major period of Rahu and the sub-period of Ketu which will remain until September 25, 2021. After which the sub-period of Venus will begin.
---
Astrological Predictions
Nita Ravindra Dalal, daughter of a senior executive of the Birla group, became Nita Mukesh Ambani on 8th March 1985. Her journey from Miss Dalal to Mrs Amabani has been quite relentless and exuberant. She has gracefully transformed her role as a middle girl to the wife of India's richest man. A transformation that is commendable on its own! Her inspiring life is no less than Cindrella's fairytale! Here's a list of her remarkable journey from a school teacher to a successful entrepreneur!
---
Sports Enthusiast
Nita Ambani is an ardent sports lover and is the co-owner of Indian Premier League (IPL) team, Mumbai Indians, who have bagged the IPL winner title consecutively for 2013, 2015, 2017 and 2019. What do stars predict about the team's fate in 2020?
As per the horoscope of Nita Ambani, the transit of Saturn and Jupiter along with the major sub-period or Mahadasha of Rahu, the stars may line up in her favour. As the Mumbai Indian team flies over to Dubai for the next IPL season, it may provide a fat chance for the team to get back the winner title. Nita will be under the influence of Antardasha of Venus, the ascendant lord in her birth chart throughout the IPL phase. As Venus is stationed with Mars, it makes her a sports enthusiast. Above all, her team will bag the IPl trophy for 2020.
---
Olympics in India
Mrs Ambani, an elected member of the International Olympic Committee last year, has a dream mission to bring the Olympics to India. What does her horoscope reveal?
An ambitious and go-getter attitude personifies Nita Ambani. She never believes in leaving a task unfinished and this is reflected in her Surya Kundli. Her dedication and firmness make her closer to accomplishing all her passions and desires. The major period of the benevolent Jupiter will commence for Nita Ambani post 2nd week of March 2028. The schedule of hosting the Olympics has been fixed till 2028. Thus, the positive placement of planets indicates that she may fulfil her desire and a big dream of India hosting the 2028 Olympics! Jupiter is the planet that showers abundance and this may help the ambitious Nita Ambani to make it big for India!
Nita Ambani belongs to the zodiac sign of Aries.The position of planet Mars in its own zodiac in Nita Ambani's horoscope gives her immense success in everything! Major and sub-periods in a horoscope can bring substantial changes in a person's life. Access your Free Online JanamKundli to know its effects.
---
First Elected Indian Trustee For New York's Metropolitan Museum of Art
Mrs Ambani's commitment to The Met and in preserving and promoting India's art and culture is truly exceptional. Will she reach out to millions of youngsters through Arts as she did through sports and education?
Nita Ambani is good at firsts. As her birthday progresses, her birth chart reveals the transit of planets may bring a powerful impact in her professional life. As Jupiter aspects Venus, with the ascendant lord in the 2nd house, Nita Ambani will rise to a higher status with a dignified position in her life. Venus is the planet of beauty and love and is strongly associated with arts, decor, entertainment, luxury, and beauty whereas Jupiter is the educator of the solar system and may make her shine in her educational pursuits. This multi combo of planets may assist her in achieving life's purposes to reach out to the younger generation through arts and culture.
---
Legacy Continues
By the close of 2020, the reigns of Reliance Industries will be handled by Nita Ambani's two sons Akash and Anant. What can we expect from the Nexgen? Will Reliance empire soar to greater heights?
Like every woman, Nita Ambani is a perfect woman who leaves no stone unturned towards her duties as a mother despite various shades to her character. She has inculcated and taught her children the importance of earning money through hard work despite coming from a millionaire family. In her Surya Kundli, Saturn is yoga karaka and the lord of the 5th house that is posited in the 4th house in its sign Capricorn. The upcoming transit of Jupiter and Saturn in Capricorn may bring fruitfulness to her work. The combination of planets in Nita's kundli may help her sons to successfully handle the reigns of the vast empire. The unmatched business may grow to greater heights with dedication and wisdom that they have inherited from their father and grandfather.
Did you start off well with 2020? Are you worried what the year will leave behind as we progress towards its end? Learn from your 2022 Yearly Report at no cost!
---
A Health Freak at 55
Throughout the years, Mrs Ambani has been the most inspiring woman and her willpower is the driving force for millions who are astonished at her energy levels even at the age of 55! What do stars reveal as she continues serving the nation in this unprecedented time?A Health Freak at 55
Nita Ambani always has the spotlight shining on her. Her spotless complexion and dynamo nature keep people guessing- Will she ever age at all!? As aptly said, one requires rest and break in routine life. This phrase does not gel with Nita Ambani as she is on her toes around the clock. Her Surya Kundli shows Venus is the lord of Libra ascendant and the element of the sign is Air and the move is movable. This has made her tenacious in serving people for years together. As for health prospects, she may not face any health issues in the upcoming year as the transit of Saturn aspect from the 4th to the ascendant which is its exalted sign and the lord of fortune is well placed in the ascendant house that will make her health as easy as falling off a log!
Nita Ambani, a popular face in the country's corporate circles, is believed to be the 'soft power' behind the throne! She has been listed in 2016 in the 'fifty high and mighty Indians' list by India Today and as 'the most influential women business leaders in Asia' list by Forbes. She recently made headlines by being recognised by T&C among the top philanthropists "who are saving lives and our sense of hope" during the COVID 19 pandemic. Let's wish for her happiness, success and good health on her 57th birthday!
Life can be better if we get remedial solutions for all our problems! Talk To An Astrologer On Call for your personalized solutions now!
Greetings from the MyPandit Team!
---
---