Durga Visarjan – Rituals, Date, Time, Significance and Celebrations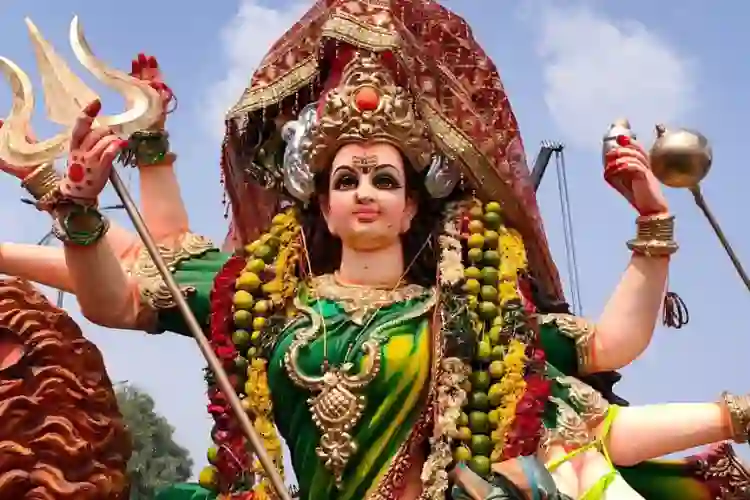 Durga Visarjan Shubh Muhurat, Tithi, Date And Time:
| Durga Visarjan | Date And Time |
| --- | --- |
| Durga Visarjan | 24th October 2023 Tuesday |
| Shubh Muhurat | 06:10 AM to 08:33 AM |
| Duration | 02 Hours 23 Mins |
| Dashami Tithi Starts | 05:44 PM on Oct 23, 2023 |
| Dashami Tithi Ends | 03:14 PM on Oct 24, 2023 |
| Shravan Nakshatra Starts | 06:44 PM on Oct 22, 2023 |
| Shravan Nakshatra Ends | 05:14 PM on Oct 23, 2023 |
During Durga Visarjan "Gachha Gachha Surashreshte Swasthanam Parameshwari. Pujaradhankale cha Punaragamanaya Cha." The mantra should be kept on chanting.
The festival of Navratri starts from the Pratipada of Shukla Paksha of Ashwin month, which continues till Navami. After this, the festival of Durga Visarjan is celebrated on the day of Dashami i.e. Dussehra. If you want to get the blessings of Mother Durga on your family, then you can worship Maa Durga at your home on this day. 
Durga Visarjan Significance
The day of Durga Visarjan is considered to be the most important day of Mother's worship. Despite the fact that its grandeur can be observed throughout the country, several sections of West Bengal, Odisha, Assam, Bihar, and Maharashtra are particularly adorned with it. Throughout the country, this holiday is celebrated with considerable zeal. 
This event commemorates the practice of immersing the idol of Goddess Durga into the water. Taking time to worship the mother on this day alleviates all of life's difficulties. While the Durga idol is usually immersed in the morning, due to the auspicious timing, idol immersion can also be witnessed in the evening on some occasions. Only after Maa Durga Visarjan is done by the devotees of Maa Durga to break their fast for the festival of Navratri.
One more joy you can experience, is knowing what's going to come ahead? Get a free astrology report 2023.
Durga Visarjan Ceremony and Rituals
This is the day, according to mythology, that Maa Durga returns to Mount Kailash. People have been fasting for the previous nine days; some only eat at night, while others have been worshipping the mother for the past nine days without eating. This rite is only performed after the mother has been immersed. People who worship Goddess Durga apply vermilion to their foreheads and perform aarti in her honour on this day. 
A big procession is organised for the immersion of the idol, in which the goddess's idol is decked out and transported to a sacred pond or river for immersion. The Durga Puja visarjan procession is attended by the mother's devotees, who sing and dance traditional songs and dances to bid her farewell. The worshippers then take Goddess Durga to the riverbanks, where they promise that they will return early the following year to immerse the idol.
Significance of Sindoor Khela on Durga Visarjan
In addition, many parts of the world celebrate this festival of Mother Durga in accordance with their respective traditions. Throughout West Bengal, maa Durga Visarjan is regarded as a major custom. It is customary for ladies to apply vermilion to one another and distribute sweets as prasad on this day. 
When it comes to West Bengal, this tradition is referred to as Thakur Boron. Traditionally, ladies on this day pray to Maa Durga for the long life of their husbands and seek Maa Durga's blessings for the continuation of prosperity in their household. An urban legend concerning this tradition is also popular in West Bengal. 
According to ritual, on the day of visarjan of Durga maa, local ladies, after worshipping Goddess Durga, Saraswati, Lakshmi, Kartikeya, and Lord Ganesha, dressed them before the immersion and served them delectable sweet foods to celebrate the festival. Following that, Maa Durga, with vermilion applied to her, together with her companion women, filled vermilion jars in demand of one another. There are some who believe that the mother is happy with them and that the gates of heaven are opened for them as a result of their good deeds.
Conclusion
This year's Durga murti visarjan will be completed on Oct 24. During the Shardiya Navratri festival, pandals dedicated to Mother Durga are decorated throughout the country and abroad, and idols are placed in them. They are completely submerged after nine days. 
Dealing with too much confusion? Talk to astrologers for the guidance. First consultation with 100% Cashback.