Narada Jayanti 2023: Uncover The Significance Of This Day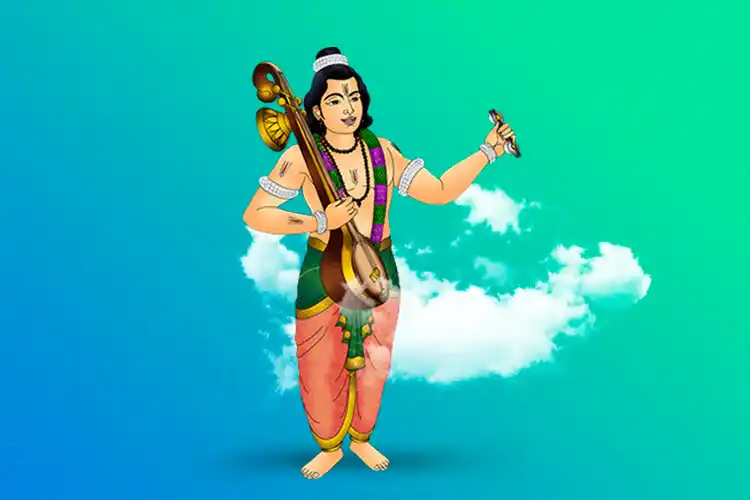 In the Hindu Religion, Devarshi Narad or Narada Muni is the son of Lord Brahma, the creator of the universe and one of the three supreme gods (The Tridev – Brahma, Vishnu and Mahesh). Sage Narada is the divine messenger of gods and an affectionate devotee of Lord Vishnu. Wherever he goes, Narayan Narayan is always on his mind. Every year Hindu people celebrate the birth anniversary of Sage Narada as Narada Jayanti.
Devarshi Narada is a musician and carries a Karthal and Veena with him. He is a wise storyteller and full of wisdom to enlighten others. There are many stories of Sage Narada in the epics of Mahabharata and Ramayana as well. He also played an essential role in the life of Lord Vishnu's Bhakt Prahlad. Sage Narada gave Deeksha or teaching to Prahlad, the son of Asura Hiranyakashipu. It is also believed that he was once cursed by the great son of Brahma, Daksha Prajapati.
---
Sage Narada's Birth Anniversary: Narada Jayanti 2023
As per the Purnimant Calendar of the Hindu religion, Narada Jayanti falls in the month of Jyeshtha during the Krishna Paksha on a Pratipada Tithi. On the contrary, in the Amavasyant calendar, Narada Jayanti falls on the Pratipada Tithi during the Krishna Paksha of Vaishakha month. The Lunar month has two different names, but Narada Jayanti is observed on the same in both the calendars of Hinduism.
---
Narada Jayanti 2023: Date and Timings
Narada Jayanti: Saturday, May 6, 2023
Pratipada Tithi Begins At: 11:03 

PM

 

on

 May 05, 2023
Pratipada Tithi Ends At: 09:52 

PM

 

on

 May 06, 2023
---
Who is Sage Narada?
According to Hindu mythology, Sage Narada is the Manas Putra of Lord Brahma, one of three Tridevas (Brahma the creator, Vishnu the nurturer, Mahesh the destroyer). Narada Muni is also known as the son of Maharishi Kashyap. Also, many consider him as the incarnation of Saint Thyagaraja and Purandaradasa. Sage Narada is a great follower and devotee of Lord Narayan or Lord Vishnu. Devarshi has not married anyone and was a brahmachari.
In Vishnu Purana and other Puranas, it is mentioned that Sage Narada is roaming all the places in three Lokas, Swarg Lok, Pataal Lok and Mrityu Lok Prithvi Lok (Earth). While travelling everywhere, he recites the name of Lord Vishnu and says Narayan, Narayan. He also has an important job on hand to guide the souls or Atma to Moksha, free from the cycle of birth and death. Therefore, Narada Jayanti 2023 is an important event in Hindu culture. On this day, people worship Sage Narada for his guidance and wisdom.
---
Narada Jayanti 2023 and Patrakar Diwas
Sage Narada, also known as Devarshi, is one of the most intellectual people in Hindu mythology. He possessed the special powers to travel any place in the three Loks. Many times his mischievous behaviour and sharing news to Gods, Goddesses and others spark up serious situations. He was a devotee of Lord Vishnu and used to play the Veena and Kartal along with singing hymns to please him.
Gossiping was his natural behaviour, and he enjoyed creating naughty situations. He liked to travel from one place to another and share every new thing happening around the entire universe. These qualities of Sage Narada makes him the first journalist on the earth. Therefore, the journalism fraternity celebrates Patrakar Diwas on Narada Jayanti 2023.
Is your Kundali hanuted by malefic planets? Get a free janampatri analysis to know the answers.
---
The Story of Sage Narada
It is believed that Sage Narada was born as a Gandharva in his previous life. He was the son of a female worker who was a devotee of Lord Vishnu. His mother used to work at a household of sages and saints. The saints blessed Narada in his previous life due to his services and devotion. With time, he too turned into a devotee of Lord Vishnu.
He was sad about his mother's demise and went into the woods to meditate. Lord Vishnu was pleased by his penance and devotion. He appeared in front of Narada and told him about his true spiritual form. After the death of Narada in his previous life, he transformed into the actual divine form of Devarshi. Therefore, Hindu people celebrate the Narada Jayanti as he transformed into his divine form on that day.
Bring peace and prosperity in life by performing live Vishnu Puja.
---
Puja Vidhi on Narada Jayanti 2023
A step by step guide to the Puja Vidhi for Narada Jayanti 2023:
In the Hindu religion, people in the early morning start the Puja Vidhi of Narada Jayanti 2023 after taking a bath.
Devotees perform Vishnu Puja on Narada Jayanti 2023 as sage Narada was Lord Vishnu's follower.
The Vidhi includes Vishnu Aarti, and people offer Tulsi and flowers to Lord Vishnu.
At the end of the Puja Vidhi, people donate to Brahmins and serve food to them and others.
---
Fasting on Narada Jayanti 2023
Devotees keep a fast on Narada Jayanti and follow these customs and traditions mentioned below:
People recite different Sanskrit Shlokas and hymns to please Lord Vishnu and Sage Narada.
While doing fast on Narada Jayanti, eating cereals and pulse is strictly prohibited.
If anyone wants to eat something, they are allowed to have fruits and milk on Narada Jayanti.
Many devotees also don't sleep at night and perform Jagran by singing Bhajans and reciting mantras for Lord Vishnu.
Reciting the Vishnu Sahasranama is considered to be beneficial.
The commonly used mantra for Narada Jayanti fast is Vishnu Sahasranama, the list of one thousand names of Lord Vishnu.
Lord Vishnu's blessings are always with you, but astrology is also here for you. Get free astrology yearly report for accurate predictions.
---
Wrapping Up
And here we wrap up all the information about Narada Jayanti 2023 and Sage Narada or Devarshi. He is one of the greatest devotees of Lord Vishnu. Let us pray to Lord Vishnu and Sage Narada for the well-being of the entire humanity.
Want to know your Life Predictions? Talk to our Astrologers. First consultation is FREE.
---
---