Worshipping Goddess Skandamata on Navratri Day 5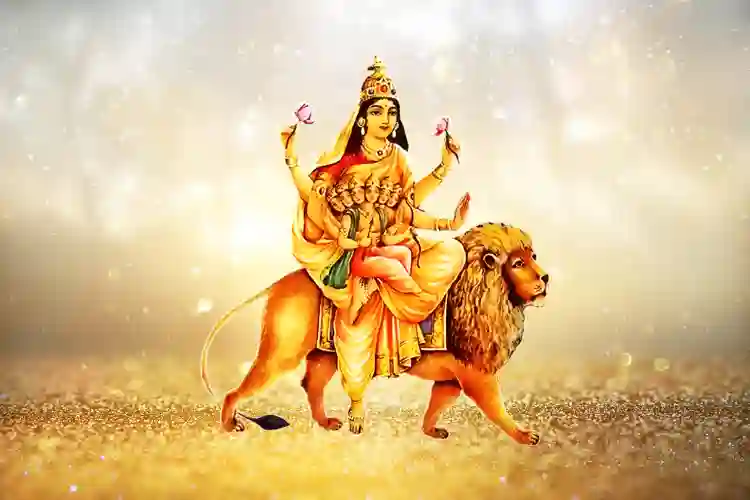 Legend of Maa Skandamata
As per a  Hindu myth the demon, Tarkasur provoked Lord Shiva by ruling the planet Earth.The demon was blessed with a boon from Lord Brahma that he would only be killed by the son of Lord Shiva. Tarkasur  was confident that since Lord Shiva was an ascetic he would never marry. But, to the dismay of the Demon Lord Shiva got married to the Goddess Parvati. They were soon blessed with a son named Kumar Kartikeya. Lord Kartikeya killed Tarkasur with his special powers. The mother of Lord Kartikeya was praised by other deities, who gave her the name 'Skandamata'. Worshipping Goddess Skandamata is similar to worshipping her son, Lord Kartikeya. As per beliefs, the prayer will reach out to both the deities, mother (Skandamata) and her child (Lord Kartikeya).
Goddess Skandamata's idol depicts her sitting on the Lion holding a child (Lord Kartikeya) in the lap. The Goddess seems to have four arms, in which the upper two hands carry lotus flowers, while the other two lower hands hold an infant and perform Abhaya mudra.
The mother of Lord Kartikeya is also known as Padamasani, because of her sitting posture on the lotus flower.
Goddess Skandamata Governs The Planet Mercury
Goddess Skandamata is known to be the ruler of the planet Mercury (Budha). The importance of worshipping Skandamata is that she directs the planet to appear in the right path in one's life, which further helps to remove the ill-effects of the planet Mercury in the horoscope. Check your daily horoscope! Reciting the powerful Skandamata mantra during the puja rituals bestows prosperity, love, energy and knowledge in one's life. Know what are the mantras and rituals to be followed to worship Skandamata.
Puja Samagri
An Idol of Goddess Skandamata
Coconut
Kalash
Betel leaves
Ganga Jal
Fruits and milk
Steps to Perform Skandamata Puja
Following are the steps needed to keep in mind while performing Skandamata puja. Devotees who sincerely offer prayers to Goddess Skandamata are said to be blessed with  immense love and affection in life.
Place the idol in a shallow pan
Take an  unpeeled coconut and place it on  a kalash
Pour Gangaajal or water on the idol by chanting mantras
Conclude the puja followed by aarti
Distribute prasad of fresh fruits and milk to other devotees
Skandamata Mantra:
Get yourself rewarded by Skandamata's grace with the help of the following mantra. The Mantra is believed to fulfill your desires.
" ॐ देवी स्कन्दमातायै नमः॥"
Greetings For Sharadiya Panchami 2023
May you get showered with Skandamata's blessings on Sharadiya Panchami
Dealing with too much confusion? Talk to astrologers for the guidance. First consultation with 100%Cashback.