Significance Of Bhog During Navratri Pooja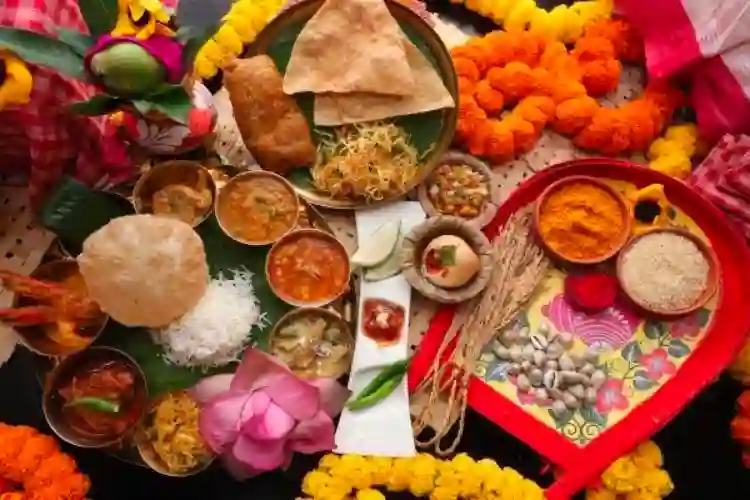 During the auspicious festival of Navratri, people perform rituals to impress Maa Durga. They worship the nine different forms of Goddess Durga by serving the Bhog. These various delicacies are prepared to honour the Goddess Durga and seek her blessings. This festival begins in the Ashwin Month, following the new moon a day till the next nine days.
It is believed that the Gods residing in heaven decided to form Maa Shakti with their unique powers. Thereafter, Goddess Durga emerged to kill the buffalo demon named 'Mahishasura', who wreaked havoc on heaven and Earth. Maa Durga eliminated the demon on this day, and since then, it is celebrated as Navratri. Maa Durga is riding on the lion with eight arms holding different weapons.
The nine incarnations forms of the Goddess are Shailputri, Brahmacharini, Chandraghanta, Kushmanda, Skundmata, Katyayni, Kaalratri, Mahagauri, and Siddhidatri. Devotees offer flowers, sweets, fruits, and prayers to achieve peace of mind. Some of them also keep fast for straight nine days to appease the Goddess.
---
How Devotees Serve Bhog To Maa Durga?
During Navratri, devotees perform puja and offer sincere prayers to Goddess. Along with this, they also prepare fresh meals and sweet dishes for a different form of Maa Durga Puja. Below is how they serve Bhog to nine forms of Goddess.
Facing difficulties performing Puja at your home? Contact our experienced astrologers now!
Goddess Shailputri
On the first day of Navratri, there is an importance of worshipping Maa ShailPutri. It is said that Goddess Parvati was reborn as a daughter to the king of mountain. Her idol depicts as the Goddess sitting on a bull, and she wears a beautiful white colour sari. Devotees offer her pure ghee for their good health and fitness.
Goddess Brahmacharini
The second day of Navratri belongs to Maa Brahmacharini, who was born to the king named Daksha Prajapati. A young Brahmacharini had only one dream to marry Lord Shiva. So, she underwent severe penance. Thereafter, Lord Brahma was impressed by her devotion and gave her a boon that she will be worshipped on the second day of Navratri. People offer a Bhog to Maa Brahmacharini with sweet dishes and jaggery for the longevity of their family members.
Goddess Chandraghanta
Goddess Chandraghanta is the married form of Goddess Parvati. When she married Lord Shiva, she started adorning her forehead with a crescent moon. Later, she came to be known as Maa Chandraghanta. Her idol represents that Goddess mounted on a tigress with ten hands. People offer the Bhog of Kheer or sweets made from milk to Maa Chandraghanta. By doing so, Goddess may bless them with good wealth.
Goddess Kushmanda
Goddess Kushmanda is the Goddess Siddhidatri's physical form. She has the power and energy to live inside the Sun. Her idol represents the picture of Goddess with eight hands and has a tiger as a procession. Devotees offer her Malpua as Bhog and later distribute it to Brahmins. Many of them observe fast on the 4th day as it is believed that you may recover from bad health by doing so.
Goddess Skandmata
The fifth day of Navratri belongs to Maa Skandamata. When Goddess Parvati became the mother of the lord Kartikeya (Skanda), she came to be known as Goddess Skandmata. Devotees offer banana fruit as a Bhog, and in return, Goddess may bless them with desired prosperity and a healthy physique.
Goddess Katyayani
When Maa Durga emerged killed the buffalo demon Mahishasura, she came to be known as Maa Katyayni due to her fearful form. This form of Maa Durga indicates the destruction of the demon. On this day, people offered Honey as a Bhog to Goddess Katyayni as it will help devotees direct their anger in a positive direction.
Goddess Kaalratri
This is the most violent and savage form of Goddess Durga. The myths state that Goddess Kaalratri was known for killing two vicious demons, Chand and Mund. She eliminated the negative energies at the time of night and thus received her name Kaalratri. The Goddess was seen mounted on a donkey with a lethal iron hook and sword in her hands. People offer jaggery(Gud) as Bhog to her on the seventh day. The Goddess may help devotees to get rid of any illness or sorrows.
Goddess Mahagauri
Goddess Mahagauri is a symbol of purity and beauty. When Goddess Parvati went to fight demons, she left her part on Mount Kailash. This fair-complexioned form of her is known as Mahagauri. She is the goddess who blesses her devotees with success in all their works and wealth. Devotees offer coconut as Bhog to worship Maa Mahagauri.
Goddess Siddhidatri
It is believed that Goddess Siddhidatri has no physical appearance but only a pure form of energy. Lord shiva combining with this incarnation to form Ardhanarishwara, which embodies masculinity and femininity in the universe. The Goddess idol depicts the lady mounted on a lotus flower. She is known as the epitome of beginning and end. People offer sesame seeds as a Bhog to receive ultimate comfort and tranquillity in the form of the Goddess's blessings.
---
Wrapping Up
We learned how the devotees organize puja to worship Maa Durga. People please the Goddess Durga by offering Bhog for nine consecutive days. And this is how serving Bhog becomes important during the time of Navratri. With this, hope you had a lovely time reading this blog.
You are Happy If Not , Talk to astrologers
---
---