Panguni Uthiram 2023: Why Its An Auspicious Day For Wedding?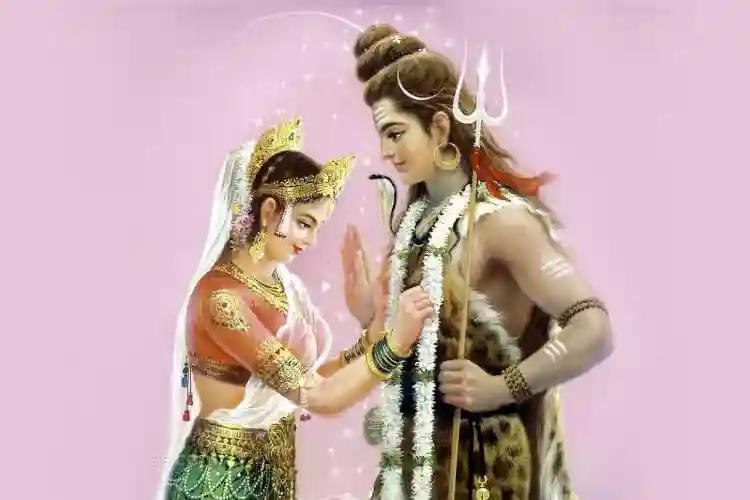 Panguni Uthiram or Meena Uttara Phalguni (in Sanskrit) is one of the eights maha Vrats mentioned in Skanda Purana. Observing fast on this day is considered 'Kalyanam Vrat', as per the myths. In Tamil, the full moon day of Panguni is known as Panguni Uthiram. Mainly, this day is celebrated among the Tamilians with great pleasure. Panguni month occur at the same time as Phalgun or Chaitra month of the Hindu Calendar. Usually, this festival is celebrated around the end of March, when the full Moon falls rises in the sky. On this day, the Moon enters Uttara-Phalguna or Uthiram Nakshatra (in Tamil). Panguni will be the last month of the Tamil Calendar because the Tamil New Year begins after that.
Also Read: Purnima 2023 Dates
---
Panguni Uthiram History
When Uthiram Nakshatra coincides with the full moon, it holds special meaning for Tamil Hindus. This day is believed to be more special than the wedding day of Lord Muruga and Deivanai, the daughter of Lord Indra. Panguni Uthiram is celebrated for Lord Muruga's wedding. Devasena was raised by Lord Indra's white elephant Iravat. Another tale, like Jayantipura Mahatmya, narrates the story about the wedding of Lord Muruga and his consorts Deivanai and Valli (as seen in his illustration in the temples.)
Deivanai and Valli were sisters who were destined to marry Lord Muruga. They were raised as sisters named Amrutha Valli and Sundaravalli. Later, they reincarnated as Devasena and Valli. Thereafter, they were adopted by two different people and got separated from each other. One daughter was adopted by Lord Indra, and the other was brought up by a tribal king. When Muruga killed the demons, he was born to execute Lord Indra, who married his daughter Deivanai. Later, he married Valli with the help of his brother, Lord Ganapati and took her to Thiruthani.
Other wonderful weddings of Lord Shiva and Goddess Parvati took place on this full moon day. And since then, it is celebrated as the Jayanti of Lord Ayyappan in Tirupati Tirumala tirtha.
---
Panguni Uthiram 2023 Date and Timings
Panguni Uthiram Date: Wednesday, April 5, 2023
Timings:
Panguni Uthiram Nakshathram Begins: April 04, 2023 at 12:06 pm
Panguni Uthiram Nakshathram Ends : April 05, 2023 at 01:53 pm
---
Why Panguni Uthiram Festival Is Significant?
Panguni Uthiram is the day that teaches us to the importance of relationships in life. Without relationships, stable family life is impossible, which is needed for children and the next generation to grow. It is considered as an indication from the god for man and woman to tie in the sacred bond of wedding and initiate the Grihastha for the growth of progeny.
---
Astrological Significance Of Panguni Uthiram
The festival of Panguni Uthiram falls on the day of the full moon. The full moon transits through the Uttara-phalguni. As the full moon day coincides with Uttara Palguni or Uthiram star in the twelfth month of Hindu Panchang known as Phalgun. This day is considered as auspicious. Astrologers mostly choose Uttara Phalguni Nakshatra for marriage muhurat. Uttara phalguni is ruled by Venus, couples married on this day can expect marital bliss and peace.
Wanna know what Uttaraphalguni Nakshatra 2023 brings for you? Read the free predictions of Uttaraphalgun Nakshatra 2023.
---
Weddings Are conducted In Temples
It is believed that Parvati and Shiva, Devasena and Murugan, Andal and Ranganath and Sita and Rama, celebrate this day as the day of their wedding. In fact, Goddess Mahalakshmi is also incarnated on the Earth from the ocean of milk. Many of the temples in South India such as Aiyyappa temple of Sabarimala in Kerala, Murugan Temple of Palani, Mangaleshwara temple in Trichy, and many more conduct the ritual of divine marriage. It marks the 10 day festival in Thiruparangundram, Mylapore in Chennai and Palani temples.
You May Like To Read: 2023 Marriage Muhurat
---
Panguni Uthiram Rituals
Devotees visit the temples of Lord Murugan on this day. They clean the idol of God and decorate it with flowers and fragrance.
Men observe Pad Yatra (foot pilgrimage) to the temples of Lord Murugan and cover about 100 kilometres in three to four days. Women offer buttermilk and food to pilgrimage devotees.
Kavadis(Bamboo poles) are offered to Lord Muruga as the devotees carry them on their shoulders along with pots of milk, sacred water and flowers to pay the lord their homage.
The ten-day celebration of the Panguni festival continues till the day of the full moon in the part of Chennai city's Mylapore with the celestial wedding called Thirukalyanam. Ayyappan Jayanti is celebrated in Ayyappa temples situated across Tamilnadu and Kerala.
Devotees observe Kalyan Vrata on this day and begin their fast soon after bathing in the early morning. Then, they avoid eating or only take one meal a day. During the fast, devotees also visit the nearby temple to worship Lord Muruga, Lord Shiva, Lord Vishnu and seek their blessings.
A unique sweet dish (Prasadam) is prepared as an offering to Lord Shiva. On concluding the fast, devotees also eat prasad and share it with other family members.
Obtain the blessings of Lord Shiva by performing live Rudrabhishekam Puja.
---
Wrapping Up
This is how the festival of Panguni Uthiram is celebrated with true faith and devotions. Not only in Tamilnadu but it is also celebrated in the major parts of India. Devotees who observe the fast and worship the Lord with a pure heart can gain special blessings from God.
Dealing with too much confusion? Talk to astrologers for the guidance. First consultation is FREE.
---
---