Kartik Purnima 2023: Learn Some Crucial Facts About The Day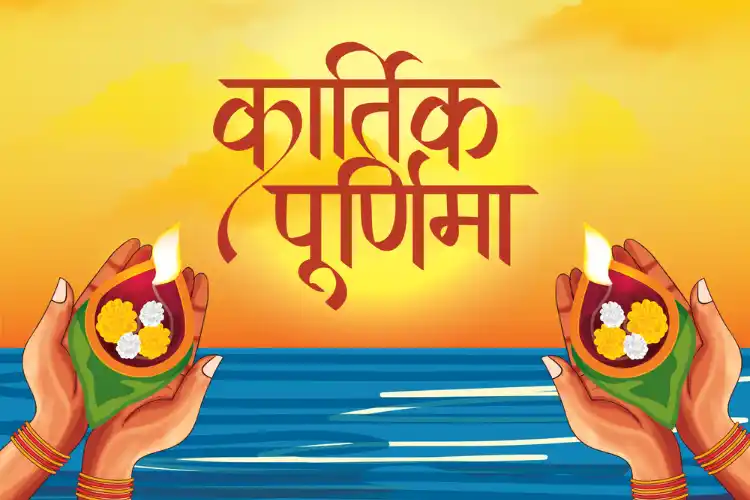 Kartik Purnima 2023: Date And Timing
Kartik Purnima will be observed on November 27, 2023
| Tithi Schedule | Date and Time |
| --- | --- |
| Kartik Purnima | November 27, 2023 |
| Purnima Tithi Begins | November 26, 2023 15:53 pm |
| Purnima Tithi Ends | November 27, 2023 by 14:45 PM |
Kartik Purnima Vrat Katha
Devotees of Lord Vishnu and Lord Shiva read the story of Kartik Purnima on this day. According to the Kartik Purnima Katha, three demons named Vidyunmali, Tarakaksha, and Viryavana conquered the universe, destroyed the Devatas, and are known as Tripurasur. After defeating the gods, Tripurasur built three Tripura towns in space. On Kartik Purnima, Lord Shiva murdered Tripurasur with a single arrow, putting an end to his reign. When the Devatas heard this, they rejoiced and declared the day a festival of light, also known as Dev Deepavali or Diwali for the gods.
Kartik Purnima is also the birthday of Vrinda (Holy Tulsi Plant). On this day, Lord Vishnu's incarnation as the fish, Matsya, was also born. Kartik Purnima is also supposed to be Lord Shiva's son Kartikey's birthday. According to Hindu mythology, fasting and rituals on Kartik Purnima pave the route to Dharma, Artha, Kama, and Moksha.
We are halfway through 2023, which may have either been a satisfactory or dissatisfactory year for some? Who knows the latter half may get more promising check it out with the 2023 Free Yearly Report!
Significance of Kartik Purnima
Kartik Purnima is considered as one of the most auspicious days for performing religious ceremonies, and it is believed that auspicious ceremonies performed on this day bring joy and happiness. It is also believed that performing Kartik Snan during Kartik month is equivalent to performing 100 Ashvamegha Yagya. It is believed that performing Kartik Snan and worshipping Lord Vishnu on this day blesses a person with an immense fortune.
Kartik Purnima is celebrated as the birth anniversary of Vrinda, the personification of Tulsi plant. This day also marks the emergence of Matsya, the fish incarnation of Lord Vishnu. It is also believed to be the birthday of Lord Kartikeya, the firstborn of Lord Shiva and Goddess Parvati. The last five days of the Kartik month are considered most significant as devotees observe one day fast known as Habisha.
In the Western state of Rajasthan, the Pushkar Mela or fair commences on the day of Prabodhini Ekadashi and continues till Kartik Purnima. It is held to commemorate and honour Lord Brahma whose temple stands at Pushkar. Taking a ritual bath on Kartik Purnima is said to lead a person towards Moksha. It is believed circling the three Pushkars on Kartik Purnima is highly meritorious.
Kartik Purnima is religiously significant for the Jain community who celebrate the day by visiting Palitana, their pilgrimage centre. Thousands of  Jain devotees assemble at the foothills of the Shatrunjay hills of Palitana taluka on the day of Kartik Purnima to undertake the auspicious journey. Worshipping Lord Adinath for four months of the monsoon season attracts a maximum number of devotees who believe that Lord Adinath, the first Tirthankara, sanctified the hills by visiting it to deliver his first sermon.
There are no specific auspicious days for the Sikh community. They consider any month, day, or the moment a person remembers the Divine as auspicious. As per the Sikh calendar, Guru Nanak Dev was born on April 14th  which was the 1st day of Vaisakh.  It coincided with a full-moon night and therefore  Nanak Panthi Hindus celebrate the day as Guru Nanak Jayanti. Thus, Kartik Purnima is significant and is also celebrated worldwide as Gurupurab or Prakash Parva.
Is There Life After Death According to Hindu Tradition?
Kartik Purnima Puja Vidhi and Rituals
Worshippers attend pilgrimage locations during sunrise and moonrise on this day to take a holy wash. This Kartik Snan is believed to a highly sacred bath.
At home, Ganga Jal can be added to the bathwater for a bath. Then light a ghee or mustard oil Diya in front of Lord Vishnu and worship him with the right ritual.
Worship the Lord with flowers, incense sticks, and lamps. On this day, devotees can pray to Lord Vishnu to help them overcome their troubles and live a calm and joyful life.
Devotees also fast during the Kartik Purnima festival. The fast is known as Satyanarayana Vrat, and it is observed by reading the Satyanarayana Katha.
Worshippers also practise 'Rudrabhishek' at home. On this day, Lord Shiva's temples are magnificently lighted up.
It is believed that donating Diya on this day is advantageous. Reciting Vedic mantras and bhajans is also considered a blessing on this day.
During this month, a mela, or fair, is conducted in Pushkar to commemorate Vrinda's marriage to Lord Vishnu. The festival draws to a close on this day, when worshipers take a holy bath in Pushkar Lake to achieve redemption.
On Kartik Purnima, try to feed any destitute or needy brahmins.
Need to remove obstruction from life? Book personalised live Puja.
Kartik Purnima Celebration and Other Festivals on this Day
The holy month of Kartik is observed with great fervour and devotion in many sections of the country. Bathing rituals and worshipping Gods and Goddesses are considered auspicious by Hindus. According to Hindu mythology, the Gods descend to earth in sacred rivers on this day, and devotees who take a holy bath in a river obtain the blessings of all gods. Here's how different states commemorate this auspicious day:
Conclusion
Life is unpredictable and unfolds its mysteries each day! What is destined cannot be changed but for sure can be mended. Our experts are here to help you sort out and ease your troubles. Talk to astrologers to get a feasible solution for any issues related to your personal or professional lives!
May You Have a Blessed Kartik Purnima Day!
Greetings from the MyPandit Team