Jupiter In The 5th House: Know It's Impact On Your Life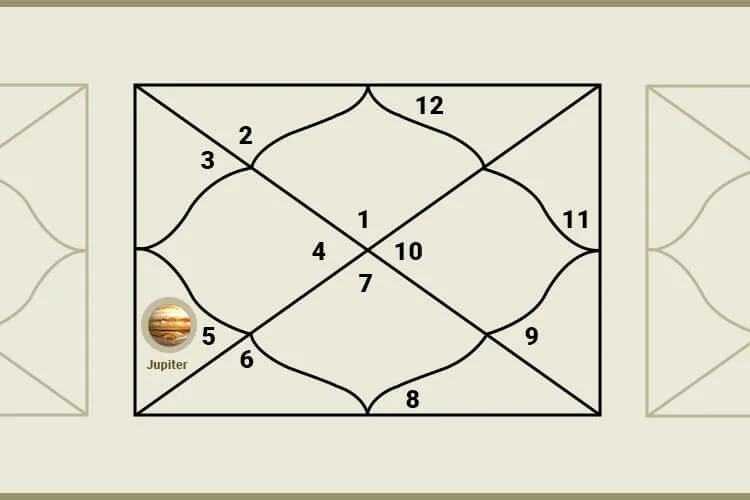 ---
Introduction
'Why so serious?', this is exactly what Jupiter will ask you if it is passing through the 5th house. And why not? If the planet is assisting you to improve your love relationship status, knowledge, common sense, and much more. The spiritual mentor, Jupiter, is always happy to bless you from any house, but things may get reversed if the planet is receiving the aspect from malefic planets. Alright peeps, let's move on to check what Jupiter offers when it comes to the 5th house. So, stay glued and follow us to know more.
---
What Does Jupiter In The 5th House Mean?
In simple words, it means that Jupiter is passing through the 5th house, and it may have positive as well as negative effects on the native's life. Both male and female natives may have one or more sexual relations with famous personalities. If Jupiter is posited in the 5th house, the natives who are rich and cheerful may develop balanced relationships.
Sometimes, Jupiter may create hurdles in the career path, but in return, it helps them to complete his/her education too. If Jupiter is the lord of any Kendra house, then there is a chance that the natives may spoil relations with their children.
Areas of Life Affected By Jupiter in the 5th house
Love life
Wealth
Relations with children
---
Impacts Of Jupiter In The 5th House
Positive Effects
Natives who have Jupiter in their 5th house are kind-hearted, energetic, and love to involve themselves in fun activities with children. They improve their thinking ability and develop creativity in their minds. Also, they take an interest to share their knowledge, and that's why they become highly talented in teaching.
Besides, natives form strong bonding with their loved ones and have similar interests relating to religion and philosophy. Natives may be able to earn great profits from their past investments.
The 5th house is known as the house of progeny, and therefore, it may create issues at the time of childbirth for female natives. However, the transiting Jupiter in the 5th house may inspire natives to share wisdom with their younger generation.
This placement of Jupiter in the 5th house also signifies that natives may have male offsprings. If Jupiter is in retrograde, natives fall prey to wrong information and arrogance. However, the natives become fearless to handle any situation, and they spend quality time with their close ones.
Negative Effects:
Jupiter placement in the 5th house may push natives to take control of situations. They choose to go above other's toes to become a leader.
And while doing this, they impact people too. Natives may not take any advice from others to complete their activities and end on a receiving end.
So, it is suggested that natives having Jupiter in the 5th house should listen to others' views and thoughts. Debilitated Jupiter's presence in the 5th house may insist natives to have ego clashes with others. Thus, it becomes necessary for their close ones to restrict them from overstepping their limits. Similarly, they may indulge in misunderstandings with their colleagues or friends, which may create holes in their relations.
Jupiter transiting in the 5th house of Aries, Gemini, Leo, Libra, Sagittarius, or Aquarius may help the native to achieve success in the career. In terms of health, the natives should not avoid health issues related to the liver, jaundice, or other infectious diseases.
Else, they may face major serious health troubles in the future. If the lord of the 7th house is Jupiter, then Jupiter in the 5th house would help to have a successful marriage life to natives. Also, the influence of Jupiter may help in finding the desired life partner.
---
Lastly
Well, it was interesting to learn about the impacts of Jupiter on native lives. We also found how natives of Jupiter in the 5th house walk on the cusp of a hill. They are playful, so it would be easier for their partner to achieve relationship goals jointly. On the flip side, it is advised that natives should be mindful of their egos. Otherwise, they may deal with serious life issues and difficulties. Hope you had a lovely time reading this; keep browsing for fresh blogs until we bring you up something new.
---
---