Sun in 1st House – Impact On Career, Marriage & Personality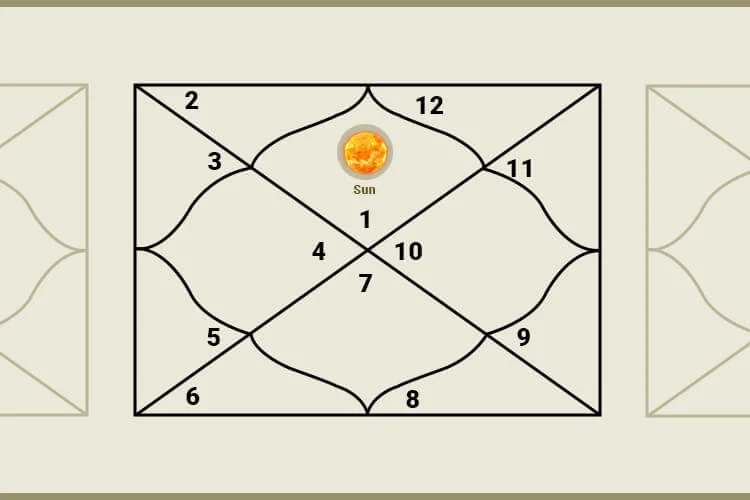 Sun, the king of the solar system, is present in your first house. So, the sense of overpowering or superiority over others is evident. Why? The Sun in the first house governs your personality, physical appearance, character, and general temperament. Without ado, walk through the influence of the Sun in the first house. Also, know the effects of the Sun's placement in the first house on all areas of life.
---
Influence of the Sun in the First House
Health and Wellness
Image in Society
Self Attitude
How You Perceive Others
Success in Career
Ability to Learn and Understand
---
What Happens if the Sun is in the 1st House?
The presence of the Sun in your ascendant house will make you a different kind of individual. The energy & an intensity that the Sun radiates on the core individuality of a person will surely make you a righteous personality.
Simultaneously, being in a powerful position is likely to be your strong desire as the king is ruling your personality. There is more to offer you by the Sun. Let's check out the impact of the Sun's placement in the first House on your personality, marriage, and career.
---
Impacts of the Sun in the First House on Personality
Born leaders: Yes, you are. No doubt your commanding abilities are marvellous, and you can guide thousands of people.
But keep a distance from partiality and prejudice. Instead, be fair when you deal with others. Also, avoid giving undue importance to a selected person. All are equal and so treat them in that way.
PPC – Positivity, Practicality, and Confidence are always with you.
However, the effects of Sun placement in the first house bless you with intelligence. So, it may not be wrong to say that you are wiser than many other people.
At the same time, the Sun in 1st house synastry makes you curious and interested. So, you will be ready to learn new things. Bang on! Your curiosity will help to enhance your knowledge and experience.
At times, you are likely to become arrogant due to the fierce Sun in the ascendant. This position of the Sun is likely to keep you in power and an influential role. The point that should be noted is don't let your confidence turn into overconfidence.
---
Impacts of the Sun in the First House on Marriage
You will like to rule your marriage life. Besides, your eccentric and self-centred nature may go against you. Your interest is essential to you. But sometimes you may hurt others' interests also.
The influence of Sun placement can make you hot-tempered. So, peace and serenity in your personal life may get affected as you may get angry and outbursts suddenly.
Get the sun in 1st house marriage effective on your Kundli, Talk To Astrologer…
---
Impacts of the Sun in the First House on Career
Dynamism and independence are inherent in you. These qualities help you to progress unstoppably in politics according to your career astrology. Whether you are standing in an election or the ruling party manager, having authority and powers is a cakewalk for you. It's not surprising; the Sun in your ascendant is blessing you with authoritative and powerful skills.
Your target is always on a bird's eye. Despite all disturbances, your focus may not lose. It is because the Sun placed in the first house empowers you with great determination and a strong-willed personality.
Also, you will enjoy fame, respect, and recognition in society due to the influence of the mighty Sun in the ascendant. And why not? Your leadership qualities and wisdom are enough to impress others.
This is why you are likely to be successful on the professional front. BTW, challenges can't break you down. Your intense energy and enthusiasm are enough to face any difficulties in life and that too in a better and easier manner. On top of this, you can make a big difference in society and that also for good.
When talking about analysing the situation or thinking out of the box, and hence, making decisions is a cup of your tea. It's tough to think better than you. But you may get bossy with your subordinates at times, so you can become unpopular with those who are working under you. A few of them may not be cordial with you too.
What Career Opportunities You Are Likely To Get In The Year 2022? Get Free Janampatri
---
Wrapping Up
So, all in all, the influence of the Sun in the 1st house is about your enthusiasm, ambition, progress, achievements, and success. However, you need to pull out all stops and use all your abilities and strengths to your advantage. But this will Hundo P help you to achieve a lot in life. If your anger and temperament are toned down, rest all is well; fame, recognition, and success indeed come to you.
Know More About Sun in the Houses –
Sun in First House | Sun in Seventh House | Sun in Second House Sun in Eighth House| Sun in Third House | Sun in Ninth House | Sun in Fourth House| Sun in Tenth House | Sun in Fifth House Sun in Eleventh House | Sun in Sixth House | Sun in Twelfth House
---
---