Sun in 10th House: Influence of Sun & Impacts on Personality, Marriage & Career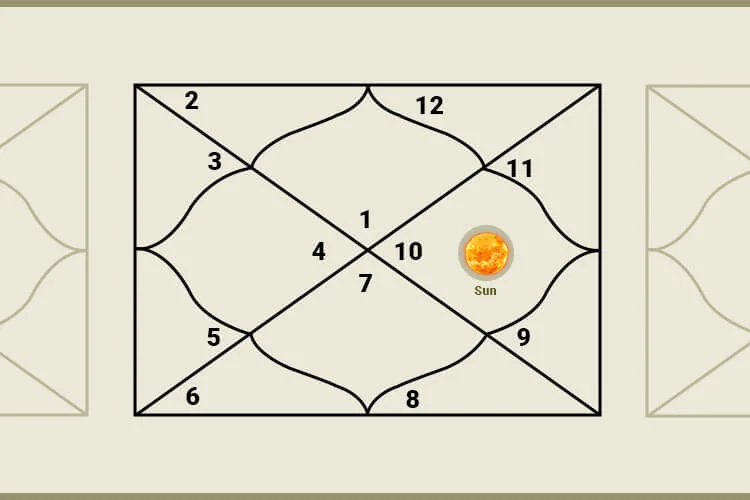 Is Sun placed in the 10th house of your horoscope? Congratulations, your hard work will pay. Yes, by pulling all stoppages you can achieve all your goals. BTW, the power is in your blood, and you will work rigorously just to achieve success and have the satisfaction of accomplishment.
Taking orders from others is the least you can handle. However, to be in an authoritative or executive position is your prime need. There is more than what the Sun in the tenth house has to offer you. So, what does the Sun's placement in the 10th house mean? To have insights into it, let's read about the influence of the Sun in the 10th house and its impact on all aspects of your life.
---
Influence of the Sun in the Tenth House
Profession
Family Life
Relationship and Love
Finance and Wealth
Concerns related to father
Source of earnings
Dignity
Unlock The Influence Of All Planets In Your Birth Chart
Get Free Janampatri
---
What Happens When the Sun is Placed in the 10th House?
Is the placement of the Sun in the 10th house good? Well, the 10th house also called Karma Bhava in Vedic astrology is considered the best position for the Sun's placement. At times it may bring name, fame, glory, progress and immense success. So, let's walk into the impacts of the Sun's placement in the 10th house on all areas of your life.
---
Impacts of the Sun in the 10th House on Your Personality
To be in one place for a long time makes you restless. You are packed with dynamism and always want to climb the ladder. Higher and higher! After all, it's an influence of the king, so wanting to progress all the time is natural.
Wooah! Everyone wants to have leadership and managerial abilities the way you have. Also, your close group will be too happy to have you in the group. Why? You lead your group to glory and will work with them to attain success in their work. Indeed lucky, your friends would feel!
Your focus and determination in your purpose and intent are on the mark. Also, needless worry about your professional growth as you are likely to get ample opportunities for the same. However, the influence of other planetary transits will decide whether you can timely grab these prospects or not.
Know All About You & Channelize Your Potential In The Right Direction! Get a Personalized Daily Horoscope by Vedic Astrology.
---
Impacts of the Sun in the 10th House on Your Marriage
Mind-blowing success stories! Undoubtedly, you would have and will share it with your close ones. Ahaa, no compromise when it comes to choosing your partner. Not only your partner would be perfect but also have high goals and visions in life. It is because you want them to have it.
Hundo P, you are career-oriented, but at the same time, you will not ignore your close ones. As they are equally important to you. In fact, you will have a good bonding with your kids and will do all to pass on your legacy to them.
---
Impacts of the Sun in the 10th House on Your Career
The Sun's placement in the 10th house can offer huge success in your career field. So, having the Sun in this position is a blessing. Also, the thing you should note is that the progress will be quite fast. So, you need to brace up yourself and give your best in all your undertakings. make you a highly successful professional.
As you know, everyone has a burning desire to be on the top. You are not different, but definitely, your urge to be on the pinnacle will be higher. The Sun is placed in the 10th house to vitalize your desire of being in an influential position.
Nothing comes for free, you need to work hard to achieve new heights. This will help to fulfil your aims and ambitions. Whatever wealth you gathered due to the influence of the Sun in this house would be used for luxurious things. Also, you will improve your standard of living of yourself as well as your family members.
Be thankful to the Sun in the tenth house offering you huge stamina so that you can be bang on in diverse areas of your life. Also, you are too smart in using your energy levels. Yes, you will induce constructive and productive pursuits, resulting in achieving your professional goals. So, guys, relinquish your career achievements and accomplishments.
Kindly take note that your ego doesn't hamper your professional work. Also, ensure that you do not overpower your subordinates or the people working with you. It's always good to have an opinion, and you may be right too about your viewpoints. But that does not mean that others are wrong. It may be that the angle of looking at things may be wrong. However, it would be best for you to listen to the views of others as it will only help you to broaden your vision only.
In case, you are not able to check your ego, at the end of the day, it may create hindrances on the path of your progress.
Focusing on your goals and targets would indeed be helpful in life's progress. Instead, give importance to the interpersonal problems that creep up on your way to success.
What Career Opportunities You Are Likely To Get In The Year 2022? Talk To Expert Astrologer…
---
Wrapping Up
Natives having the Sun in the tenth house are certainly career-oriented people. Also, they will do well in their respective field. However, to attain career progress, they will not ignore their family. They will pay the required attention to them and also will share their experiences and success stories with their close ones. Besides, they will enjoy a good rapport with their kids. Progress in all areas of life is certain, but it would be best if you are accommodative with the viewpoints of others too.
Know More About Sun in the Houses –
---
---