Total Solar Eclipse 2021: Astrologers Foresee Better Opportunities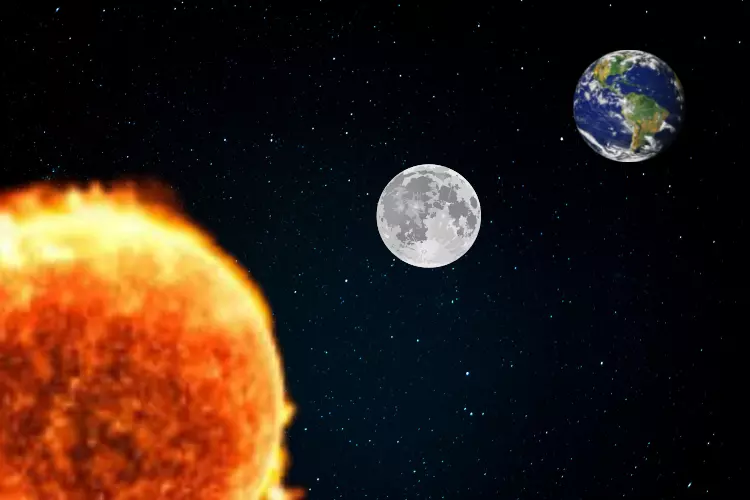 We are months away from observing the last Solar eclipse of the year 2021. This will be a total solar eclipse which means that Moon will try to block sun rays coming to the Earth. That's right. If we believe the theories of science, it says that when Sun Moon Earth comes in a straight line, in such a way that Moon covers the Sun, it is referred as the Solar eclipse. Hence, Sun may not be visible fully from the Earth.
Vedic astrology and its experts believe that during this phase, the Sun losses its strength and becomes weak. They further reckon that this event could be the result of the Sun association with malefic planets. Therefore, Sun may not give favourable outcomes, especially when Moon passes between Sun and Earth.
In the first week of June, the first solar eclipse occurred and now it's time for us to observe the last solar eclipse in starting of Dec. Taking a close look at the planetary movements, our astrologers suggest there would be new opportunities, but you may or may not get the full benefit of them. Let us understand in detail solar eclipse effects on zodiac signs 2021.
Do you know more about Solar New Year 2021: Rituals & Significance ?
---
When Will Solar Eclipse Occur?
The upcoming Solar eclipse will appear on Dec. 4, 2021, on Saturday. This solar eclipse in Sagittarius sign tells us that Moon and Sun will be 12 degrees to Sagittarius. The final solar eclipse 2021 is expected to begin from 11.00 AM to 03.15 PM (IST), approx. This would be the time when Sun may lose its strength and therefore, you should chant the Surya mantra and worship the Sun god.
Also Read :- The Total Solar Eclipse of 2020 is here on 14th December 2020. Find out what it will bring to your life, based on your zodiac sign.
---
Solar Eclipse 2021 Effects on Zodiac Signs
During this time, the trio of Sun-Moon-Earth may create opportunities for professional workers and government servants. But, weak Sun may push you amid tough times. You may have ego clashes, and relations with your father may get hampered. Now quickly moving on to check what are solar eclipse effects on zodiac signs.
You may like to read: Autumn Equinox Astrology 2021
Solar Eclipse Astrology Effects On Aries Sign
Aries individuals who are currently taking higher education can expect career growth. You need to work on a plan. You may enhance your knowledge and skills to achieve career growth. Those who are in love may have a favourable time during the eclipse. You may slowly resolve your past issues and may embark on a new chapter of life. Those who are facing delays in marriage may soon tie a knot. Astrologers suggest personal life troubles may start reducing.
Solar Eclipse Astrology Effects On Taurus Sign
Natives who are carrying the Taurus sign may invest more time with their families. This coming phase is suitable for those who want to remarry. Investors may get opportunities to make new investments. You may find peace and harmony in your personal life. Also, there are chances that you may visit new restaurants. Students may have a fair time ahead as they may need to regain their focus. Businessmen may get a decent profit.
Solar Eclipse Astrology Effects On Gemini Sign
Natives having Gemini sign may put their creative ideas on work. Transiting Sun may give you the confidence to reach closer to success. Communication skills may improve and you may get the things done. You may need to make a proper plan if you want to achieve your targets. Working individuals may need more effort to accomplish their assigned tasks. You may have moderate time. Job seekers may find new opportunities.
Solar Eclipse Astrology Effects On Cancer Sign
For Cancer individuals, there will be happiness in your family life as you may have a get-together. You may plan to make new investments and it may bring you desired profit. Your mother's health may improve. Your spouse may help you in earning extra income. Cancer natives may earn monetary gains through newly-developed government schemes. This would be a favourable time for those who are running restaurants. You may also start new restaurants or hotel businesses.
Solar Eclipse Astrology Effects On Leo Sign
Individuals with the Leo sign are likely to enjoy the upcoming phase as they may indulge in social activities. During a solar eclipse, Leo's ruler Sun will be hiding behind Moon, but its natives may not. Businessmen may see a rise in their work, while those who are connected with the film industry may get new achievements. Leo natives who are associated with the stock market may earn extra money through their past investments. You may have a great time in your Love life.
Solar Eclipse Astrology Effects On Virgo Sign
Virgo individuals may need to accept unwanted changes in their daily life. You may spend more time in your professional life. You may have fresh energies to complete your task before the deadline. If you focus and make efforts, you may achieve your career goals, say experts. Transiting Sun may assist you in converting your dream into reality. It is advisable that you should refrain from negative thoughts. Students may need to concentrate on their studies.
Solar Eclipse Astrology Effects On Libra Sign
Individuals with the Libra sign may have a favourable time to develop a new partnership. Lovers who had recent breakups may fall in love with a new partner. Businessmen may make use of opportunities to get positive results. You may go on business trips to meet new partners. Single natives may find partners and soon tie a knot with them. Married natives who are dealing with issues may get rid of them. Libra lawyers may get favourable results as it is a good time for them.
Solar Eclipse Astrology Effects On Scorpio Sign
Scorpio-bound individuals who are connected with the research and development field may get success. Those who are working in the health department may achieve good career growth. Also, natives in the writing and journalism field may earn fame through their recent stories. You may have unexpected monetary gains. Those who have pending works related to parental properties may get resolved. Moving forward, you may need to form a balance between your personal and work life.
Solar Eclipse Astrology Effects On Sagittarius Sign
Natives who are born under the Sagittarius sign would be chasing their travelling goals. Some of you may visit religious places with your family member. You may slowly incline towards spiritual life. Sagittarius natives may plan to take up higher education. Those who are studying law and management education may uplift their career. You may improve your relations with your father, as well. Healthwise, it would be a fair time for you.
Solar Eclipse Astrology Effects On Capricorn Sign
Capricorn natives may have an excellent time achieving their career goals. Professional workers with Capricorn sign may receive promotion letters from their seniors. Government servants may earn extra income. Those who are associated with politics may find success. You may earn name and fame in the coming phase. Entrepreneurs may have suitable to explore their new plan. Students who are appearing for government exams may get positive results. Singles may enter a new stage of their life.
Solar Eclipse Astrology Effects On Aquarius Sign
Aquarius natives may have an enjoyable time ahead as they may stay busy in social activities. Those who have already spoiled relations with their friends may soon get resolved. Professional workers may have to deal with specific changes. Business owners may have a decent time. Job seekers may get attractive offers to work. Aquarius entrepreneurs may have the perfect time to start new businesses. You may have a desire to achieve your goals.
Solar Eclipse Astrology Effects On Pisces Sign
The second Solar eclipse of 2021 may bring opportunities for Pisces natives who want to travel abroad. Yaas, you may soon get the green signal to travel to a foreign land. You may find interest in spiritual activities. And therefore, you may plan to go to religious places. Those who are suffering from health troubles may get recovered. However, you may need to perform meditation and yoga to maintain stable health. Working individuals may maintain stability in their work.
---
Do's And Don'ts
During the eclipse, you should witness the event with naked eyes.
Keep a day-long fast and avoid eating foods.
After the completion of the eclipse, take a bath or dive in a holy river.
You should close the door of your home temple.
Chant Surya mantra to eradicate negative energies of Sun.
Those who are suffering from dosha are advised to organise Puja.
As an expert believes that the weak Sun may not be able to give blessings and so, you may need to follow the above-mentioned remedies.
---
Conclusion
To sum it up, we understood that this celestial event is likely to emit harmful rays from Sun. The appearance of the Moon in between the Sun and Earth may affect the health of individuals. During this time, moms-to-be should take utmost care of their health. However, if you are suffering from malefic planets, you can reach our best astrologers. On this note, hope you found this blog informative.
Also Read: Partial Lunar Eclipse 2021
---
---