Mars Transit in Pisces: How Intense It Will Be For Each Zodiac Sign?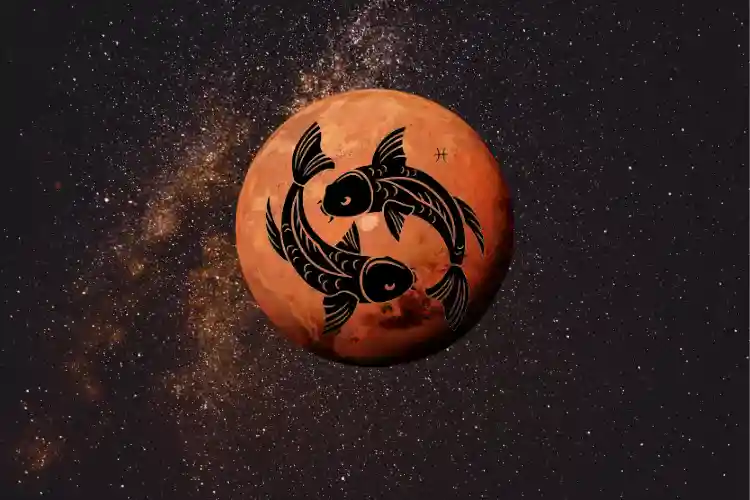 Mars, as per Vedic astrology, is an aggressive and fiery planet. It is the planet that is responsible for the energy and vitality of the native. The resilience and strength of a native are determined by the position and placement of Mars in the horoscope. It stands for masculine energy, which consists of adventure, passion, and adventure.
On May 17, 2022, this aggressive planet is going to move into the Pisces at 9:52 am. It will remain in the sign of duality till June 27, 2022, at 6 am. Mars belongs to the fire element, and Pisces is the water. This combination of fire and water can bring severe results. Let's see what will be the impact of Mars Transit in Pisces on each zodiac sign.
---
Effects of Mars Transit In Pisces On Aries: Students' Luck Will Shine
During this period, Mars will be sitting in the twelfth house, representing a long journey, losses, and spending. The stamina and energy are likely to be low for the Aries Natives. There may be a lack of contentment from your end, which most probably leads to irritability. However, giving up is not the solution as you are likely to forge ahead and motivate yourself. But the, active participation probably will not happen.
When it comes to health, this period is not so good as you may suffer from headaches, fever, injuries, and accidents. On the contrary, students' luck may shine, especially for those who are looking forward to studying abroad. Furthermore, researchers and students engaging in PhD and psychology may experience success. On the financial front, a not so good time ahead as natives is likely to earn profit from your ventures. Avoid investing in shares, securities, and debentures as the chances of losses are high. The risk in the financial market is likely to be high. Natives involved in services are advised to be careful as they may be victims of plotting by the management. Overall, a not so good time.
Remedy: Worship Lord Hanuman and offer vermillion on Tuesday for the betterment of health.
---
Impact of Mars Transit In Pisces On Taurus: A Rocking Professional Life
The Taurus natives will see the transit of Mars in the Eleventh House, which signifies security, success, and profit. Married life is likely to remain healthy, and the bond with the spouse will strengthen. This period is likely to be favourable for the natives in relationships as the bond may go to the next level. If you are looking for a partner or planning to propose, then it is the right time as a "YES" can be expected. The time is likely to spend in socialising, and some new friends may knock on your door. You may splurge on get-togethers and dates.
Students who are interested in studying abroad may get some good news. Natives pursuing Engineering and medical can experience favourable times. A good time is also for the natives working in MNCs or dealing with foreign clients. This period is right to earn from foreign securities and investments. Natives who are into the partnership business may see good growth. In a nutshell, this transit period is expected to be favourable on the professional front.
Remedy: Visit Hanuman temple on Tuesday for well being and prosperity.
---
Mars Transit In Pisces Impact On Gemini: Good Professional Life
The Gemini natives will observe the transit of Mars in their Tenth house, indicating career and profession. Your energy will be high in this period. The peace of your home may get disturbed as fights and conflicts is likely to happen. You may not be in the best of your mood and find it difficult to understand the point of view of your family and friends. A heated argument is on the cards with your spouse. Moreover, your mother may face some health issues.
Entrepreneurs may witness expansion in their business. The understanding of the market regarding the respective product is likely to strengthen, which is good for your business. Individuals doing services are likely to take commanding positions. Natives may gain appreciation from seniors for their excellent performance. A good time for freshers to pursue their dream job. If you want to start your own business, this is a suitable time. Overall, natives will achieve new milestones in their professional life.
Waiting for more such good news on the professional front? Get the daily dose of predictions delivered to you by installing MyPandit App.
Remedy: On Tuesday, chant the Bajrang Banna and observe the fast.
---
Mars Transit In Pisces Effects On Cancer: Positive From All The Sides
Mars will be transiting in the Ninth house of Cancerians representing luck and fortune. You are likely to bend more towards spirituality and learning about different cultures and religions. The knowledge of various aspects you may likely gain from the pilgrimage. If you are planning for further studies, now is the best time to go for it. The bond with your father may grow stronger ahead. You probably gain some benefits from your father or his legacy. It's your charity and donations which likely to earn you a good name in society.
The students are likely to experience a suitable time as the focus on goals and studies may increase. Most of them are likely to score good marks in examinations. Moreover, you may expect accolades from your tutors for assignments and projects. On the financial front, time is suitable and investing in the long term may yield a good fortune. Individuals working in the real estate and travelling industry may earn recognition during this transit period. Also, if you travel for promotion and business expansion, it may bring positive results. You are lucky in all aspects.
Remedy: Get a bracelet of Red Jasper or Tourmaline. You adopt the same in the form of a copper ring. However, ensure to wear the either in a working hand.
---
Mars Transit In Pisces Predictions For Leo: A Lot Of Disturbances In Store
Mars will sit on the Eighth house of Leo natives, which represents sudden events. The energy of Leo natives is likely to be low. As a result, natives may face injuries, accidents, and bruises in this period. The peace and warmth of your home may get disturbed. There are likely to be disagreements and miscommunication between the family members. Your bond with your father may not go well. However, it is probably you who may avoid the conversation with him.
Be careful while signing any new deal in this period. This time is fine for planning; however, avoid executing new policies and strategies as they may not bring favourable results. Your professional life may witness some new changes. It could be the system or the place of working. The individuals doing service may face not such a good relationship with the boss, and this may hamper their reputation and image. Want to avoid such difficulties in life? Get a free janampatri report to know your future predictions.
Remedy: Make the donations of Red lentils in Hanuman Temple to remove difficulties from life.
---
Effects of Mars Transit In Pisces On Virgo: Quite Happening For The Natives
The Mars will be placed in the Seventh house of Virgo natives, which stands for marital bliss and relationships. The married life of natives may see some turbulence which may cause by a third person. A constant fight is likely to happen in your married life. The relationship with your in-laws may face hardships during this time. This time is positive for single natives as they are likely to find suitable partners. The Virgo natives would be active as well as aggressive during this time which probably disrupts the bond with your friends.
You may travel during this period; however, it may not go as expected. In case you travel, be careful of your belongings as they may get stolen. The business people of the service sector are likely to have a good time. Entrepreneurs may attract some potential clients. Owners of partnership businesses need to be careful as competitors may conspire against you and hamper your image in the market. If you are into the product-based business of hospitality, steel, or fire, a roller coaster ride is expected.
Remedy: Make the donation of red cloth and pomegranate in the temple in order to improve the relationship.
---
Mars Transit In Pisces Impacts On Libra: Rocky Relationships Yet Rocking Profession
The Libra native will observe the effects of Mars transit in the Sixth house representing fights and disease. Married natives may go through hardships. Some natives may experience separation from spouses due to prolonged travelling. Heated discussion and disagreements are likely to be on the cards for married natives which may create an emotional distance between the partners. The health of Librans may suffer during this period due to backache and ulcers.
Students preparing for examinations may have a good time. You are likely to win the competitions which come your way. Individuals in the service sector may experience a favourable time. Your conversational skills and efficiency are likely to be at their peaks which may result in winning against your competitors. Professional workers are likely to see growth and expansion. A well-deserved recognition is on your way.
Remedy: Provide one meal to the needy and observe a fast on Tuesday.
---
Impact Of Mars Transit In Pisces On Scorpio: Keep A Watch On Health
During this period, Mars will be moving into the Fifth house of Scorpians which signifies studies and romantic relationships. Natives in a relationship are likely to be in a passionate mood, with their beloved always being the apple of the eye. The single natives may find a love interest soon. On the health front, you may face acidity and difficulty in digestion. Hence, be careful while eating. Avoid consuming too hot or spicy in order to improve the stomach issues.
What disease might haunt you ahead? Get a detailed account through a free astrology report.
The engineering students are likely to have a positive period as the sharp focus on the subject may bring success. Students may also get to work in their respective industries. The finances of natives would be in a good state as they can earn from various sources. They may also get money from illegal sources. Scorpians can take a chance on their hobbies and earn money. Business owners need to be cautious while taking risks as there is no guarantee of favourable results.
Remedy: Recite Hanuman Chalisa seven times every morning for gaining favourable results.
---
Mars Transit In Pisces Prediction For Sagittarius: Possessive All The Way
Mars will be placed in the fourth house of Sagittarians which represents the family, property, and business. You are likely to have high energy to achieve your ambitions. You may feel possessive towards your lover and always keep an eye on them. You are likely to prioritise family in this period. As a result, you may spend money for the comfort and happiness of your family members. You may purchase new land or a vehicle soon. The new Sagitarrian parents probably become possessive of their little angel. In fact, children of natives may go through health issues.
Students who are planning to study abroad should apply in this period as favourable results can be expected. Moreover, if student natives are looking forward to learning a part-time course or starting something new, they are likely to get promising opportunities. Working Sagittarians who are dealing with foreign clients may achieve good results. Service people may shift to other jobs due to growing politics in the current one. Natives in the hospitality industry may gain good results.
Remedy: Pray to Lord Shiva and do Rudra Abhishek of Shivalinga with water every day.
---
Impact of Mars Transit In Pisces On Capricorn: A Mixed Bag Of Time
Mars is going to move into the third house of Capricornians, which stands for efforts, siblings, and strength. Natives are likely to have conflicts with siblings over trivial matters. You are likely to realise your strong immunity as you may suffer from the disease but recover soon. Some more friendly relations are likely to be in the cards. Natives may also go for short trips for unwinding the mind and body. You may rudely talk to friends, which costs you losing them.
People doing services may experience a positive period. Your dream job may knock on your door in this period. Furthermore, if you wish to transform your hobby into a profession, then this period is suitable as you are likely to achieve success. Business owners may face challenges in this period. Native needs to be cautious while signing any document or making a deal as the chances of fraud are higher.
Remedy: Grow an Amla tree in the temple.
---
Mars Transit In Pisces Effects On Aquarius: A Not So Great Time
Aquarians will see the placement of Mars in the second house, which represents the family, speech, wealth, property, and education. Due to such placement, natives are likely to work harder. This hard work may gain you success, so continue to do the same. You may face a hard time from enemies in the office.
On the financial front, you may face a crisis which is most likely the result of your bad habits. Hence, don't waste money on things you don't need. Be polite while talking to your parents; otherwise, it may hamper your image. During this transit period, natives may become irritable, which cost in disagreements with their own family members.
The student natives can experience some obstacles in academic life. It results in poor performance in academic life. Such performance is most likely due to the health issue or attention being diverted. On the health front, natives may experience some health-related problems. Hence, avoid the pollution prone areas. How will be your time ahead? Get a free yearly astrology report 2022 for accurate prediction.
Remedy: Grow a Neem tree for prosperity in life.
---
Mars Transit In Pisces Prediction For Pisces: An Auspicious Time
Mars will be making its home the Second as well as the Ninth house of Pisceans. The connection between the Ninth house and Lagna creates a Raj Yoga, which is likely to bring favourable results. Natives may feel a little aggressive during this period and even react to trivial matters. You are likely to prioritise your family and plan something special for them by gifting and spending quality time. Your blunt and harsh words may hurt those around you. Whatever endeavours you take in this period are likely to yield favourable results.
In terms of finances, you may face good times. Native likely to earn cash or assets from father or parental lineage. You may earn from speculative activity in this period. The business owners may witness growth in the profit as you are likely to strike a good deal and promote your products properly. It is likely to contribute to the reputation of your business. If you are looking to enter the market, many opportunities are available to initiate your career.
Remedy: Place a red handkerchief or piece of copper in your pocket, and never leave home without them.
---
The Ending Note
Hope the above predictions can provide what you are looking for. Still, if you need more information, you can consult astrologers (First Consultation Free!!!) whether it's love, career, finance, health or any other aspect, the Mars Transit in Pisces can intensely affect all the areas of life.
---
You May Also Like To Read:
---
---