Borewell Vastu – Borewell Location as per Vastu – Borewell Direction as per Vastu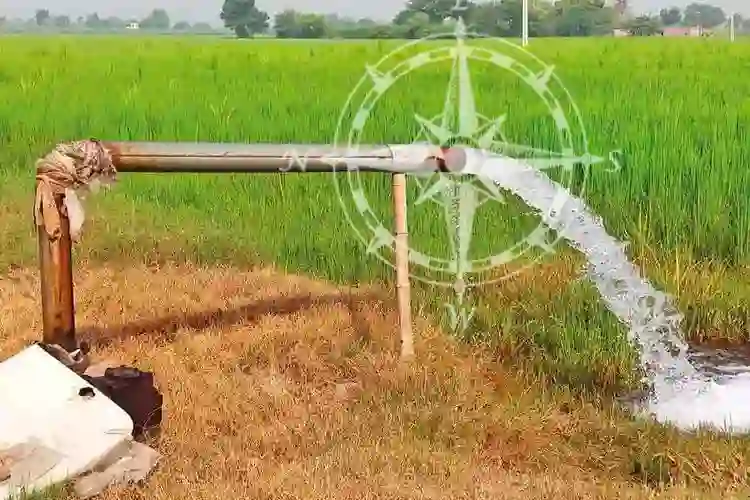 Before developing tanks and other modern methods of storing water, tubewells and borewells were the primary sources of water supply.
Likewise, because water is one of the five components in the Panchabhoota and is considered a mixture of life, Vaastu Shastra is in some way associated with this interaction as well!
We now have various water sources, for example, stockpiling tanks and municipal water supply, for utilization purposes. Unlike the past, when we only had open wells from which people draw cans of water!
Do you know about Vastu tips to design a blissful garden at home?
The Borewell location, according to Borewell Vastu, is a way to adjust the energies of the numerous natural assets available has also been extremely important.
Because water is one of them, installing a borewell or a tubewell can also be associated with Vastu for Wells. A borewell or tube well is constructed by excavating and boring a portion of land to burrow to the surface where groundwater can be found.
It may surprise you to learn that, despite the fact that providing water has become easier in recent years, many people are still interested in locating their borewell.
Specifically for water use because the occupants may not have to wait for the entire construction of the household to be completed in order to benefit from this assistance.
As a result, whether it is Vastu for Borewell in East Facing House, a West-facing house, a South-facing house, or a North-facing house, we have an answer for all potential situations in the realm of Vastu!
Are you really Happy with the Vastu Tips for Home? Consult India's Best Vastu Experts and get all answers to your problems
---
Borewell Vastu Tips for Positivity
According to Vastu for Borewell, if a borewell/tubewell is to be installed, there are some do's and don'ts that must be followed. The following are some crucial points to consider.
When constructing a borewell or a tubewell, the North, North-East, and East directions are thought to be the best.
It is also recommended that the borewell/tubewell be built before the complete construction of the house because it has numerous advantages. People can use this water source to make their homes as well.
Furthermore, it is considered very auspicious to perform a Bhoomi Pujan before you begin the digging/drilling process for the well.
Digging a well in the right places has many benefits, including reducing problems with wealth, infertility, and unhappiness.
Do you know about the Vastu for Staircase ?
When it comes to the shape of the well, experts recommend keeping the surface circular or round. A square-shaped well below ground can be used, but the shape on the surface should be round because it is more resistant to compression or tension.
There is a chance that the borewell will dry up or be installed in the wrong direction.In that case, the best course of action is to fill it with soil, close it, and cover it as a precaution.
Another important consideration is to use limestone, alum, and gooseberry bark in the borewell construction because they act as a cleaner of sorts, keeping the water clean.
---
Borewell Vastu Don'ts
Indeed, just as some things are preferred to be done in the development of borewell/tubewell, some things should be avoided as there may be numerous disadvantages attached to it.
Allow us to take a look at the things that one should keep a strategic distance from:
According to Borewell Vastu, it is not recommended to build a borewell/tubewell in the South-West, South, North-West, or West directions because it may cause negativity in the house.
Furthermore, it is preferable not to dig a well in the middle of the land.
The well and pump should not be too close to the compound walls, and there should be enough space for cleaning and maintenance.
Do you Know about Vastu for Pets ? 
Also, make sure that the walls of the well do not touch the walls of the house, as this may have a negative impact on the residents.
Uncover all Challenges and Unwanted changes in your Life Graph. Get Free 2022 Report
---
The development of a tube well/borewell entails a large number of counts by specialists. Various boundaries are addressed while building it because of the critical impact it can have on us.
For example, if the well is placed incorrectly, the people who live in the house may suffer from ill effects such as wealth loss, death, and a lack of happiness.
However, if Borewell Vastu correctly positions it for a favourable situation, it creates hopeful vibes and ensures the occupants' prosperity.
Do you Know about Vastu for Temple at Home ? 
---
Vastu for Borewell in North Facing House
A well in the North is likewise acceptable. In the North, all advantages may be delivered accordingly. This will favour womenfolk. Consider these to be of auspicious Borewell as per Vastu. A well or bore well in the South is highly forbidden. It will prompt the inauspicious demise of ladies.
Confused in Life? Know your Life Better with Free Janampatri
---
Vastu for Borewell In South Facing House
Ladies will be exhausted by a well in the South-East of the South, causing financial misfortunes, falling into negative behaviour patterns. Also, there will be a risk of fire mishaps and robberies.
On the off chance that there is a well or pit in the South-West of the South, the ladies may experience the ill effects of horrendous weakness. Also, there will be a deficiency of cash.
Do you Know about Vastu Tips for Interior Design? 
---
Vastu for Borewell FAQ's
Which Day is Good for Borewell?
As per astrology, except for the Rikta tithi, for example, the fourth, ninth and fourteenth lunar days, all lunar days promise pond and tube well burrowing. You can complete the burrowing position on any of the equilibrium lunar days to get positive outcomes.
Can an Underground Sump be built below the House as per Vastu?
The Sump ought to be situated in the North-East corner. Vastu for Borewell suggests that the North-East corner of a site be left open to permit the helpful morning sun rays. Thus, it bodes well to have both the Water source just as the Sump close to each other in this corner.
Book your Puja Online with MyPandit's Expert Vedic Pandits: Book Live Puja
---
Conclusion
Thus, it is essential to keep in mind the Borewell Vastu before digging a tubewell or a borewell for it to be the most promising outcome for the house members.
For the Best Borewell Vastu Tips, you can Contact an Expert Astrologer
---
---