Latest Predictions Of Narendra Modi Horoscope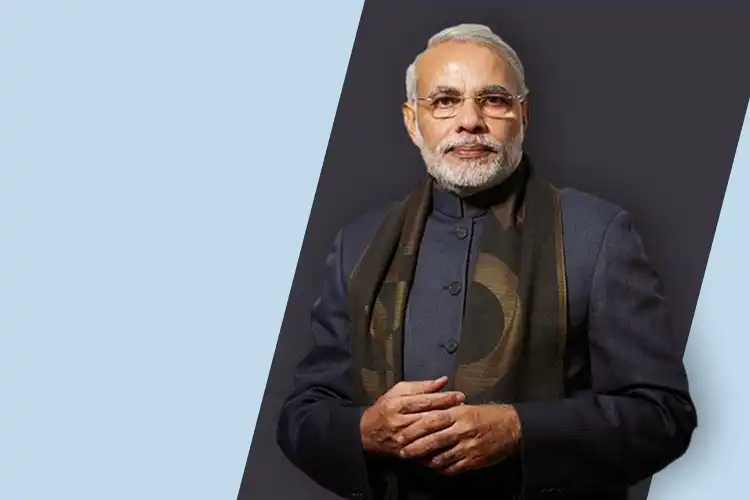 Narendra Modi Birth Chart
| Narendra Modi | Birth Details |
| --- | --- |
| Narendra Modi birth date | 17 September, 1950 |
| Narendra Modi Time of Birth | 11:00 AM |
| Narendra Modi birth place | Mehsana |
| Narendra Modi Zodiac Sign | Scorpio |
Karmic Saturn Assisted Prime Minister To Political Success
When Narendra Modi entered into the Rashtriya Swayamsevak Sangh (RSS), he was going through Saturn's mahadasha. Saturn in the tenth house of the natal chart strengthens his administrative skills. The tenth house, Saturn, is extremely beneficial to get success into politics, and here, Saturn does the same. Moreover, Saturn placed in the enemy's sign Leo represents authority and power.
Also Read: Sonia Gandhi Birthday Predictions
The karmic planets further bless him to get political success at a higher level. The 10th house Saturn has laid the foundation pillar of his successful career in politics. The natal Moon is placed in the sign of Scorpio, which makes him a powerful person with strong emotions. The Moon of Scorpio's sign placed in the first house is responsible for his personality.
In 2001, he became the Chief Minister of Gujarat, serving Venus's mahadasha and Mercury's antardasha. Venus is placed in the tenth house of public image and status, which again blessed him with an authoritative position in politics. Also, Venus placed in the sign of Leo again brings authority and power. He had exalted Mercury, and during its minor period, he got the Chief Minister position, which was due to dasha formed at the right time.
As per the astrological predictions of Narendra Modi, in 2014, BJP came into power, and Narendra Modi became the Prime Minister of India. During this period, he was going through Moon mahadasha, and yes, Moon is a benefic planet in Vedic astrology, and its dasha always favours the native. This dasha, inevitably, brings name and fame to the native. Hence, the Gujarat-bound politician got the blessings from Moon to scale high in his life. Moreover, Moon occupying the first house adds a cherry on top of his natal chart to blessing him with unbelievable results. In 2019, he was going through Moon's mahadasha, and which is why he got re-elected as India's prime minister.
Shri Narendra Modi Might Have Unexpected Love Life Twist
Referring to Narendra Modi Janam kundli, Moon's position in the first house makes him a sensitive person. Scorpio's Moon is not strong enough to assist his married life. It creates some disputes between the couples. Venus in Leo's sign is quite demanding. Thus, he was married at the age of 18 to Jashodaben Modi, but his married life was shortened due to debilitated planets. Moreover, Mars placed in the first house of the natal chart in the sign of Scorpio, makes him hostile, hampering his married life. Scorpio's Mars also brings anger and hyper nature into the personality. Therefore, the red planet could be responsible for creating differences in his personal life.
Are you compatible with your partner? Check Your Compatibility
Health Concerns Looms Over Indian Prime Minister
According to Narendra Modi Janampatri, he may face ups and downs pertaining to his health conditions. Although, he has a very good immunity power as Mars is very well placed in the ascendant, somehow with changing seasons, he might face health problems.
Also, Scorpio's Mars demands extra efforts in maintaining his health. Moon in Scorpio encourages him to do better things for himself and others as well. This benefic planet also assisted him in celebrating an international Yoga Day. Venus in Leo sign also gives passion for taking care of health on a grand level, and luckily, he is able to do it for the whole country.
PM Narendra Modi Is Likely To Change The Nation's Face
Following the Narendra Modi horoscope analysis, he is very passionate about his work. Moon and Mars conjunction in the Scorpio allows him to make bold decisions, which again differentiates him from all leaders. Saturn and Venus placement in the tenth house also brings practical and serious nature towards work and commitment. So, he can balance himself very well.
Rahu in the fifth house also helps to express creatively very well. This Rahu helps to lead through masses with the help of Television and Radio, and we are not surprised by the work he is doing currently. Jupiter in the fourth house makes him knowledgeable and brings wisdom. This Jupiter always stands for the blessings of mother and strong bondage with her. This is the prominent reason why he still visits his mother and takes her blessings even at this age.
Will You Become Successful As Narendra Modi?
Undoubtedly, to become as successful as our honourable Prime Minister, may not be that easy. However, planetary combinations may make your job easier. We saw an interesting combination in the natal chart of Narendra Modi, which inspired him to enter politics. Also, there are prominent Yogas and placements of the planets that can make the natives help them find a path for their success. On the ending note, we hope you get your wishes fulfilled soon.