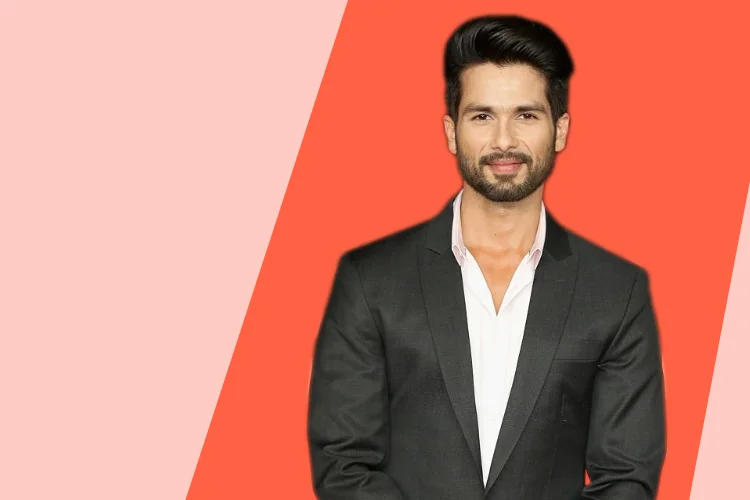 Shahid Kapoor… The name needs no introduction, the Kamina of Bollywood and the shy superstar of Vivah, is one of the most versatile actors of Bollywood. With blockbusters like Jab We Met, Haider, and Kabir Singh in his pocket, he stands a perfect idol among youngsters. He is already lucky to have a lovely wife Mira Rajput and blessed with a lovely son Zain in the past couple of years. As his birth date approaches on 25th February 2021, we would love to know what astrologers predict about his coming year. Inspiring millions of people with his role of Tommy Singh from Udta Punjab this may be an incredible time for him to explore creative skills and abilities. Unfortunately, as we don't have the exact birth time of Shahid, all his birthday predictions are based on his Surya Kundli.
According to Vedic astrology, Surya is transiting in Aquarius. Henceforth, all his 2021 yearly birthday predictions are made considering the position of Sun in Lagna's house. Very interestingly, during the time of the actor's birth, Moon was passing through Vishakha Nakshatra of Libra. You may know that the lord of Vishakha Nakshatra is Jupiter hence Shahid Kapoor is positively influenced by the mightiest Jupiter. Shahid Kapoor has already served the period of Jupiter's Maha Dasha starting from 20/11/1972 to 1988.
Do you Want to Know What Stars Predict About Your Forthcoming Year 2021, Talk To Renowned Vedic Astrologers.
About Shahid Kapoor Horoscope
Date of Birth – 25th February 1981
Birth Time – 04:30 pm
Birthplace – New Delhi
Kundli of Shahid Kapoor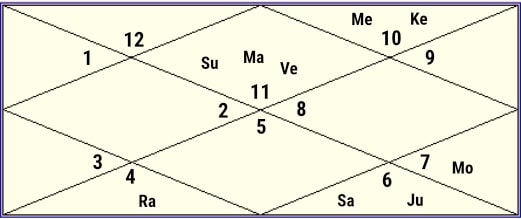 Shahid Kapoor Box Office Prediction : Tollywood to Bollywood
The year may start positively for Shahid Kapoor and may receive an unexpected profit. Chances are high that he may earn profits from a lottery, betting, or any other work. After the success of Kabir Singh, you may see him in the remakes ofTollywood movies. The connection he has made with the South Indian film industry may greatly boost his professional life. His fame may grow many folds due to his new release and his already increased fan following.
Keeping the first step right is vital to fulfil your dreams.Guidance from experts helps to move swiftly on the path of success.
For personalised guidance,
Consult Expert Astrologers Now!
Astrological Highlights
Let's Observe His Fortune From Feb 2021 to 27 April 2021
With planet Venus sitting in the 10th house, Shahid would experience instabilities in love relationships. Still, with all the freshness and success he carries he may emerge capable of dealing with challenges. The stars predict that his income may rise during the fine period. The actor is very likely to receive the necessary support from his friends and family. Opportunities may come around for the celebrity to improve his old relationships and make new friends as well.
What Do Stars Predict About the Lover Boy from 27 April 2021 to 15 May 2021?
Best time for the superb dancer to explore his creative skills and abilities. While experimenting is a normal thing for him you may see him in a very innovative avatar. He may receive recognition from the government and his senior co-workers. It's the best time fdor him to woo his lovers with a mind-blowing performance.
Predictions for His Future From 15 May 2021 to 15 June 2021
A wonderful period for the actor. Relaxation and a boost in self-confidence may unravel positive changes in his life. His life may take him on a lot of unexpected trips and travel destinations. Opportunities exist to achieve huge success in life during this time. He may be showered with a lot of love from friends, family, and especially from his young companion Zain. There seem to be developments of mutual understandings in his love life. The astrologers advise 'The Kabir Singh' to manage his time and work otherwise he may face health issues. Prioritizing health might benefit him in the long run.
Kick-off your day on a positive note.
Read your personalized Daily Horoscope to all the possible events throughout the day beforehand.
Know What Stars Reveal from 15th June to 6th July 2021
Shahid is advised to take care of his health during the months of June and July. Astro Experts advise the Jab We Met star not to ignore any minor health issue because in the future the health problems may result in complications. He may watch while lifting weights as he may face knee-related problems, headaches, and eye infections. He may not be aggressive though there are chances he may indulge in fights. He should be watchful while dealing with financial matters and investments. Shahid is advised not to act as a mediator as it may spoil relationships. Overall the period is going to bestow a lot of positivity when it comes to matters of profession and finance.
What are the Predictions for Bollywood Superstar Shahid Kapoor from 6 July 2021 to 30 August 2021
During this time, Shahid may receive a planet of amazing opportunities to work on exciting projects but at the same time, he must remain conscious when it comes to matters such as finance and investments. Shahid is advised not to make unnecessary expenditures as the outcomes may be unfavorable. According to Kundli, he may face opposition and strong challenges but he may overcome them with patience and experience. The time may bring him new opportunities to showcase his acting superiority. He is advised to sense troubles in an intimate relationship.
What Stars Predict for the Bollywood 'Udta Punjab' Shahid Kapoor from 30 August 2021 to 22 December 2021
This seems like a very good time in the actor's life. Due to his hard work, predictions reveal that he may receive a new long term benefit. The predictions reveal that he may feel very relaxed and enjoy the time. Chances exist that he may earn profit in money matters but must avoid gambling at all cost. He might come in contact with new partners and forge new friendships while going on trips. The wonderful news is that he may add fame to his name by meeting well-known seniors and politicians. Predictions reveal that he may be blessed with a baby during this time. We wish him a very happy birthday 2021. May Ganesha bless Shahid for a fruitful and productive year 2021!!!
Also Read :- Mehram, the first song of Shahid Kapoor's film, Jersey, is making a ripple. The audience is in awe already. Let's find out through an astrological lens.