How Rang Panchami Celebration Began? – MyPandit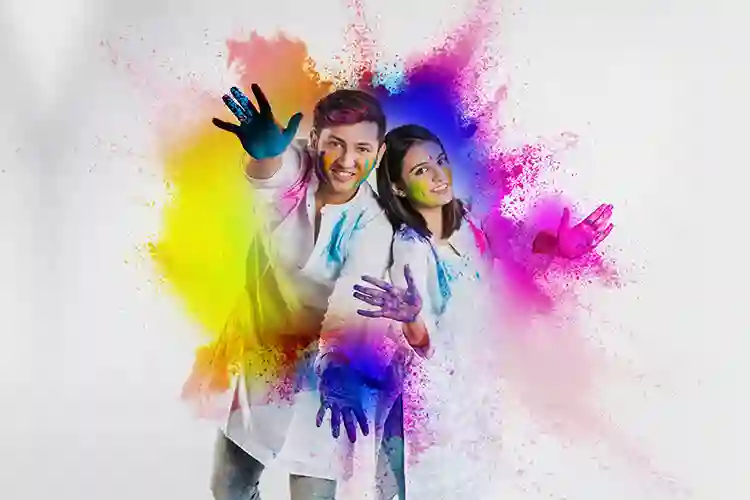 Rang Panchami, commonly referred to as Holi, is a spring festival among Hindus in India. Its duration is 2 to 5 days depending on the regions and traditions. By Hindu calendar, it is celebrated on the fifth day of the dark fortnight in the month of Phalgun.
The five days before Rang Panchami, a bonfire is ignited, which is called Holika, and the next day is throwing colours on each other to celebrate the peak time of spring. Holi is mainly celebrated by most parts of India on a full moon, approximately 5 days before. Lately, the media portrayal, not to mention Bollywood, has changed the trend of celebrating Holi as the main festival instead of Rang Panchami as many people in the cities preferring to enjoy Holi rather than Rang Panchami. However, rural areas still celebrate Rang Panchami with the same enthusiasm as before.
---
Rang Panchami: How it Began
In Hindu mythology, there was a wicked king Hiranyakashipu who announced himself as a God and ordered his kingdom to worship him only. Although his only son, Prahlad, refused to give in because he worshipped in Lord Vishnu, one who is believed to nurture the world. Due to this, the king ordered and tried to kill him many times, but every time Prahlad was saved simply by pronouncing Vishnu's name.
Eventually, the king called his evil sister Holika, who was blessed as someone immune to fire. She took the child, Prahlad, in her lap and sat in flames with him. When the fire had diminished, Prahlad was safe while Holika's ashes only remained.
Holi is also celebrated as the demise of a female demon Putna. When Lord Krishna was born, his maternal uncle and king of the region Kansa who was also his enemy as the prophecy of his doom, was Lord Krishna, who was born by his blood sister. Kansa ordered the female demon to massacre all newborn children in the region so that Krishna could also be finished.
Putna then took human form to roam the whole country and breastfeed her poisoned nipples to every baby she could find. When Krishna found her knowing who she was, drained her life. Her lifeless body was then burnt by the families of the children she had poisoned.
Rang Panchami Dates in 2021
Rang Panchami is celebrated on the fifth day of the Holi festival.
Holi is dated 27th March in 2021.
Rang Panchami Tithi will be starting on 1st April and ends on 2nd April in 2021.
Rang Panchami symbols and Significance
Bonfires–
Bonfires or fires have held a spiritual significance in Hindu Religion. Bonfires lightning is a must on Holi. It is because both Holika and Putna were burned to death for their evil deeds. As some people celebrated the victory of good over evil when Prahlad was saved, and Holika turned ashes.
In contrast, some people celebrated the death of Putna, whose body was burnt by the families of the children she had killed.
Preparations for bonfire usually start weeks ago from collecting scrap wooden shavings to old broken wooden furniture from every home. After the moonrise, bonfires are lit everywhere in India with beating drums.
People sing and dance around bonfires and worship the fire. It is believed to keep them healthy over a year if they offer coconut to the bonfire and purify their souls. People often bring half-burnt wood or ashes to home as they believe it to purify their home from illness.
Colours-
The fire from the bonfire the night before breaks down Rajas-Tamas Particles in the atmosphere, which activates various deities in the form of colours. The dominance of Rajas-Tamas particles in a person is reflected as greed, malice, gluttony and attachment to materialism and can be a hurdle in attaining ultimate bliss.
This victory over Rajas-Tamas particles is celebrated by throwing colours in the air. And Rang Panchami is the celebration of it all.
Celebration of Rang Panchami in Different Regions
In Madhya Pradesh, people usually gather where the ceremony is taking place where the water canons and water tanks are joined with high-pressure jets in the town. It splashes colour and water on everyone gathered in the street. In Indore, people gather at Rajwada to get coloured by canons. Bhang has significance in heightening the festive sensation in this community.
People in Maharashtra call it Phalgun Poornima and Rang Panchami. While fishermen in Goa address it as Shimgo or Shimga. They celebrate it with all the folks without discrimination of religion, cast to forget their hard feelings.
Devotees also worship Lord Krishna and his lover Radha as it is said to be their divine union day. It is believed to maintain love among the devotees and their families.
A traditional Palkhi dance is supposed to be the most enchanting part of the Rang Panchami almost in every corner of the region, mostly by the fishing societies and communities.
In Gujarat and Maharashtra, Matki-phod Holi is also popular which is centred on Lord Krishna.
In Bihar, Mathura, Vrindavan, Gokul temples, a whole other form of festivity is seen on Rang Panchami.
In Tamilnadu, Karnataka, Telangana, Andhra Pradesh, Holi is celebrated as a sacrifice of cupid God Kama. Cupid God is the most active in springtime and wanders through woodlands looking for victims. Festival is known as Kama Dahanam as the day cupid god was burned by Lord Shiva.
In Manipur, Assam, Sikkim and Meghalaya, it is known as Yoshang or Pichkari or Deol. In Manipur, this festival lasts up to 6 days. Also, the traditional dance festival is prepared on the day.
In West Bengal and Odisha, Holi is known as 'Basant Utsav' or 'Dol Poornima'. Dol Poornima is also known as Swing festival, swings are prepared for Lord Krishna's baby form and decorate with flowers and colour powders where the figure of the baby form of Lord Krishna is situated and cradled instead of bonfires. Women also celebrate Holi by swinging back and forth on swing, with music and singing and celebrating.
---
---