Karwa Chauth 2023: Everything You Need To Know About The Day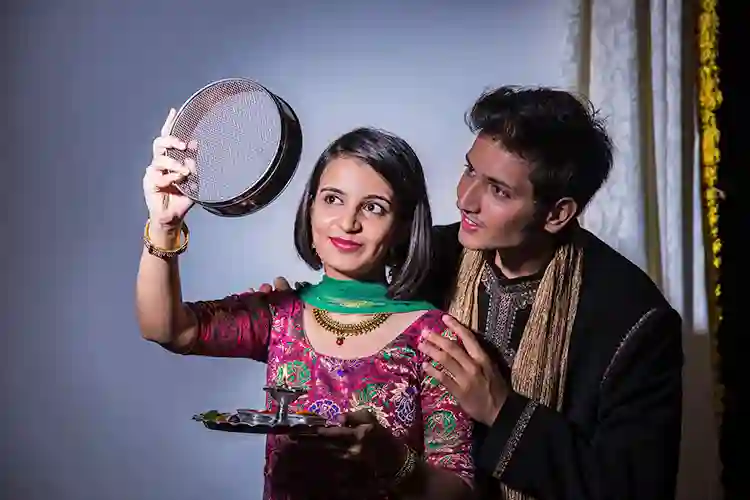 Karwa Chauth is a special day for married women because it brings the opportunity to appease the Lord. This day falls on Chaturthi of Krishna Paksha during the month of Kartik, as per the Hindu calendar. On this day, a married woman worships Lord Shiva and pray for the longevity of their husband. They observe a day-long fast until the visibility of the moon. Thereafter, they break the fast with the help of their partner. There is the sheer importance of keeping fast on this day as it is believed that husband and wife may develop a long-lasting relationship. Let's check out in detail how the people of India celebrate this auspicious day.
Also Read: Karwa Chauth: Dress Ideas According to Zodiac Signs
---
Karwa Chauth 2032: Date And Timings
Karwa Chauth 2023 Date: Wednesday, November 1, 2023
Karwa Chauth 2023 Puja Muhurat: 06:00 PM to 07:13 PM
Karwa Chauth 2023 Fasting Time: 06:11 AM to 09:07 PM
Moonrise on Karwa Chauth Day: 09:07 PM
Chaturthi Tithi Begins: 09:30 PM on Oct 31, 2023
Chaturthi Tithi Ends: 09:19 PM on Nov 01, 2023
---
Meaning Of Karwa Chauth
Karva Chauth is a festival of devotion and affection. Karva means "earthen pot," and Chauth means "fourth," referring to the fourth day of Karthik's month.
Married women observe fast from sunrise until moonrise on this day, then break the fast by drinking water from their husband's hand later in the evening. Many single girls these days are also keeping a close eye on the clock in order to find their desired partner.
---
Karwa Chauth Legends
Like every other festival and auspicious day, Karwa Chauth also has numerous stories behind its origin.
The Story Of Karva
The festival of Karva chauth has its origin in the legend of Karva.
Karva, a married woman, loves her husband, according to legend. A crocodile snatches her spouse while he is taking a bath in the river.
When Karva hears her spouse yelling, she reaches to the river immediately. She recognises the situation and binds the crocodile in cotton yarn. She immediately flees to Yama, the Lord of Death. She begs him to save her husband and send the crocodile to hell in front of him.
Yama first refuses to comply with her request. Yama, on the other hand, complies when she threatens to curse him. He sends the crocodile to the depths of hell and saves Karva's husband.
As a result, the Karva Chauth festival is a must-attend celebration of every husband and wife's bond of love.
Savitri and Satyavan
The legend of Savitri and Satyavan is a popular tale.
According to the legend, Lord Yama comes to take Satyavan's life one day. Savitri pleads with Lord Yama to spare Satyavan's life at that point. He, however, don't agree to her wish.
As a result, Savitri stops eating and drinking, and which effects her health. It makes Lord Yama feel sorry for Savitri, and he offers her the ability to wish for everything except her husband's life. Savitri then makes a desire for children, which forces Lord Yama to bring  Satyavan back to life.
---
Celebration In India
Karwa Chauth is widely celebrated across India. The married couple participates in the Karwa Chauth's rituals and pray for happy married life. This day usually coincides with Sankashti Chaturthi, and therefore, some of them also join the celebration of Sankashti Chaturthi. They organise Ganesha Puja to recall the Lord Ganesha and seek his blessings.
Women observe a one-day fast of Karwa Chauth to pray for prosperity, longevity and protection of their husbands. The Hindu myths reveal that it is a traditional ritual of Karwa Chauth, which belongs to ancient times. It says that women use to observe Karwa Chauth Vrat when their husbands go out in the war. At the same time, women pray for their safety and protection by keeping fast. Thus, Karwa Chauth is celebrated in every Indian house with immense joy.
Are you facing issues in your married life? Read free marriage horoscope 2023 for the solution.
---
Karwa Chauth Rituals
People usually start preparation for Karwa Chauth a week before the actual day. On this day, married women wake up early before sunrise, to prepare 'Sargi' which is a collection of sweets, snacks and decorative items that women receive from elders before sunrise.
Married women who fast need to avoid food and water till the moonrise rule and remember the Goddess's name by reciting mantras. Women who are expecting babies can consume sweets, fruits or other milk items.
In fact, unmarried girls can also observe fast to get desired and caring life partner.
Women visit a nearby Lord Shiva temple wearing bright colour new clothes. They pray to Karwa Mata, Lord Shiva, Lord Ganpati, Lord Kartikeya with dedication and faith. Women also read ancient tales about the Karwa Chauth.
They organise Puja to appease the Lord and then wait for the Moonrise to break Karwa Chauth Vrat. After the visibility of the Moon, Women observe their husband's face through a sieve and offer water to Moon. Thereafter, their spouse helps them eat fruits and sweets. The couple then seeks blessings from elderly members of their family.
Boost your peace of mind by performing personalised live Rudrabhishekam puja.
---
Things To Be Avoided While Following Karwa Chauth Vrat
Below are the things one should refrain from doing while performing Karwa Chauth Vrat.
Married women should take a break from their in-house activities.
One should not wear black, white or dark blue coloured clothes as they are considered to be inauspicious.
One should also not refrain from stitching clothes using needles, scissors, or any other sharp objects.
One should not eat any food items or drink water till the visibility of the Moon.
After breaking the fast, one should not eat onion or garlic for the entire day or while taking a meal.
Have a look: Karwa Chauth 2023: Significance, Katha, Puja Vidhi & Importance of Sargi
---
Wrapping Up
We found Karwa Chauth holds the great significance of observing fast. This day every married or unmarried women keep the fast, and devotees organise puja at their houses. Newly married women strictly follow the fast to develop a formidable bond in their marriage relationship. Now, you had a clear picture of why we celebrate Karwa Chauth.
Some roadblocks in married life? Talk to astrologers for guidance. First consultation with 100% Cashback.
---
---