A Traditional Ritual Of Distributing Navratri Prasad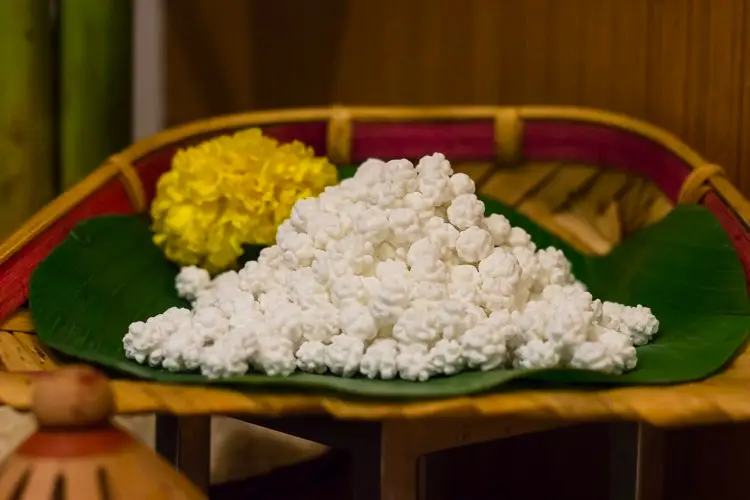 Auspicious days of Navratri carry an abundance of religious activities and rituals performed for the Navdurga, which are nine forms of Goddess Durga. Navratri occurs in the Ashwin month of the Hindu calendar, and it continues till nine days and nights.
It is narrated in Durga Purana that Goddess Durga herself came to defeat the demon named 'Mahishasura', who pursued his evil ways through shape-shifting. Gods of heaven collectively embodied their divine powers to form Maa Shakti. We celebrate Navaratri on the day when Mahishasura got defeated by Goddess Durga.
Maa Durga is described as beautifully grown and brutal to her enemies. Also, her idol depicts as the goddess riding on a roaring lion. She has 8-10 arms, each holding weapons of other deities. The devotees perform nine forms of Durga Puja to worshipped and praised for nine days with pleasure and high spirits of devotees while flowers and Bhog are offered to them as gratification.
These nine incarnations of the goddess are Shailputri, Brahmacharini, Chandraghanta, Kushmanda, Skundmata, Katyayni, Kaalratri, Mahagauri, and Siddhidatri. The devotees offer sweets, fruits, and prayers with utmost sincerity to earn positivity, fearlessness, and salvation. Some of them also observe fast for nine consecutive days. During these days, the devotee prepares a special prasad for nine days. And that is what today we are going to learn about. So, be with us to know what kind of prasad we should offer to Maa Durga.
Navratri Prasad For Nine Days
During the Navratri festival, the devotee makes offerings of fresh flowers, incense sticks, dhoop, and prasad. Below is what devotees offered as a prasad to nine different forms of Maa Durga.
Prasad Offered To Goddess Shailputri
Goddess Shailputri is an incarnation of Goddess Parvati, who was born as a daughter of Lord of the Mountain. Here, the word 'Shail' itself means Shailputri mountain in Sanskrit. Her form is seated on a bull. She is worshipped on the first day of Navratri. Bhog is offered to her on this day as pure ghee to get her blessings in the form of good health and luck.
Prasad Offered To Goddess Brahmacharini
Born to Daksha Prajapati, Parvati Goddess was incarnated as Sati. Since childhood, she wanted to marry Lord Shiva. So to fulfil her objective, she went on grave penance. Impressed by her determination, she was blessed by Lord Brahma to be worshipped as her unmarried form. Her form is depicted as having two hands and walks bare feet. She is worshipped on the second day of Navratri. Bhog on the second day offered is sugar, which is said to increase the longevity of your family members.
Prasad Offered To Goddess Chandraghanta
Goddess Chandraghanta is the married form of Goddess Parvati. After betrothing Lord Shiva, she started adorning her forehead with a crescent moon. Hence, she became known as Chandraghanta. Her form is mounted on a tigress and has ten hands. She is worshipped on the third day of Navratri. Offering the Bhog of Kheer or any sweet made from Milk may help a person to get free from the sufferings.
Prasad Offered To Goddess Kushmanda
Goddess Kushmanda is the Goddess Siddhidatri's physical form. She has the power and energy to live inside of the Sun. The light and brilliance of the body are as bright as the Sun. She has eight hands and is mounted on a tiger. She is worshipped on the fourth day. Offering her Malpua as Bhog and its distribution at temples will bless you with intelligence. It is believed that whoever fasting on this day may get rid of long-term diseases.
Dealing with long-term health disease? Get in touch with best astrologers & Get 100% Cashback on your First Consultation
Prasad Offered To Goddess Skandmata
When Goddess Parvati became the mother of the lord Kartikeya (also known as Lord Skanda, the god of war), she came to be known as Goddess Skandmata, which means Mother of Skanda. She is devoted on the fifth day of the Navratri. The ferocious lion is her procession. Banana is offered as a Bhog to her. Impressed by devotees, she may bless them with prosperity and a healthy physique.
Prasad Offered To Goddess Katyayani
Goddess Durga took the form of Katyayani to defeat the buffalo demon Mahishasura. Goddess Katyayani is a warrior form of Goddess Parvati who is most fierce as her avengement led to the destruction of the demon. Her form is worshipped on the sixth day. Honey is offered to Goddess Katyayni as it may help devotees direct their anger in a positive direction.
Prasad Offered To Goddess Kaalratri
The most violent and savage form of Goddess Durga is Maa Kaalratri.
She is known for killing two vicious demons, Chand and Mund. She is known as the slayer of negative energies. The goddess is mounted on a donkey with a lethal iron hook and sword in her hands in this form. This form is worshipped on the seventh day of Navratri. Jaggery(Gud) is offered as Bhog to cleanse the illness and sorrows of devotees.
Prasad Offered To Goddess Mahagauri
Goddess Mahagauri is a symbol of purity and beauty. It is said that when goddess Parvati went to fight demons, she left her pure part on Mount Kailash. This fair-complexioned form of her is known as Mahagauri. She is the goddess who blesses her devotees with success in all their works and wealth. Devotees offer a peeled coconut near her idol to get her blessings.
Prasad Offered To Goddess Siddhidatri
Goddess Siddhidatri has no any physical form, but it is just a divine power of Goddess. This form is worshipped for creating the universe, and Lord shiva combining with this incarnation forms Ardhanarishwara, which embodies masculinity and femininity in the universe. Siddhidatri mounts on a lotus flower. She is worshipped on the last day of Navratri as she is known as the epitome of beginning and end. Sesame seeds are offered to her as Bhog. In return, she may bless her devotees with ultimate comfort and tranquillity.
Conclusion
Now you know what to offer to different forms of Maa Durga. By doing so, you may win the special blessing of Goddess Durga. You may live a peaceful and harmonious life. The nine-day festival arrives with opportunities to worship all forms of Maa Durga. If you worship all nine forms of her during these auspicious days, you may get positive results in life.
Get in touch with best astrologers & Get 100% Cashback on your First Consultation