Bhanu Saptami 2022: How to Worship Surya Dev on the Surya Jayanti?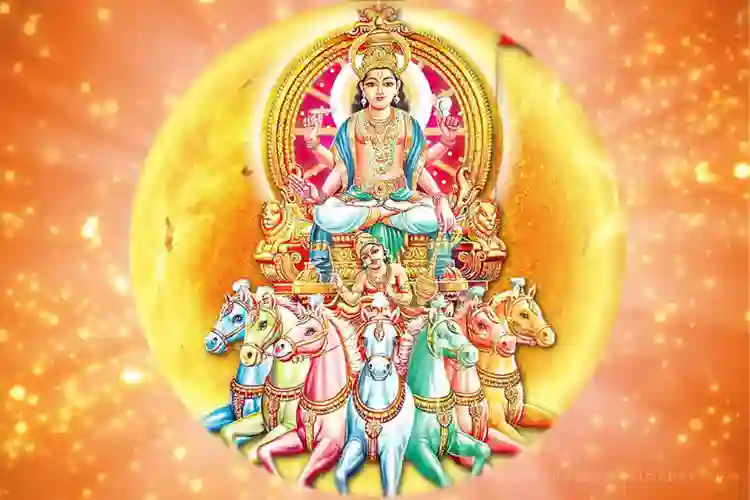 Bhanu Saptami 2022: Date and Time and Muhurat
| Event | Date and Timings |
| --- | --- |
| Bhanu Saptami 2022 Date | Monday, Feb 7, 2022 |
| Bathing Muhurat on Bhanu Saptami | 05:35 am to 07:17 am |
| Duration | 01 hr 42 mins |
| Dawn (Arunodaya) on Bhanu Saptami | 06:54 am |
| Observable Sunrise on Bhanu Saptami | 07:17 am |
| Saptami Tithi begins | Feb 07, 2022 at 04:37 am |
| Saptami Tithi ends | Feb 08, 2022 at 06:15 am |
Bhanu Saptami Importance
The day of the Bhanu Saptami is dedicated to Suryadev. It is one of the auspicious days in the Hindu calendar (panchang). A popular belief is that Suryadev lit up the world with his light for the first time on the very day, which is why it is also considered as the birthday of the Sun or Surya Jayanti. The day is highly significant for devotees all over the world as it is believed that by worshipping Surya Dev and observing a fast on this day one can get rid of all the seven sins whether committed purposely or unintentionally, from speech or from the body, in this life or past lives. It is also said that taking a bath before sunrise on this day is highly auspicious and shall keep a person healthy and free from all kinds of diseases and ailments. Hence, it is also called Aarogya Saptami.
Also Read: Miracles of Copper Surya Yantra
Bhanu Saptami Vrat Katha
According to mythology, on this day, a streetwalker named Indumati used to go down the street. She once inquired of sage Vasistha about how to reach Moksha, as she had never engaged in any religious activity but wished to achieve salvation after death.
After listening to Indumati, Vasistha responded that for ladies seeking moksha, beauty, and good luck, keeping Achala Saptami or Bhanu Saptami fast would be great. Any lady who observes this fast and respects Lord Sun with sincerity is blessed with the most desired results, and she was advised that if she wished salvation, she should observe this fast and revere Lord Sun with proper rites.
Indumati observed this fast after hearing Vasistha Ji, and attained heaven after death. She was made the Apsaras' heroine in paradise. Hence, due to this belief, this fast is significant.
Bhanu Saptami Pooja Vidhi
On significant days like this, it is essential that one follows the correct rituals and methods of worshipping the Lords in order to be able to acquire their blessings. Therefore, we have brought you the steps to worship on the day of the Bhanu Saptami.
Wake up early in the morning and take a bath during the Arunodaya. Although it is fine if you bathe at your home, if you happen to find a river or a lake to take a bath in, that's even better.

After the bath, worship Surya dev by offering "Arghya" to the Sun. While offering "Arghya" to the Sun, chant the mantra mentioned in the next section.

After this, slowly offer water to Surya dev from a small urn with folded hands in the Namaskar Mudra.

Finally, light a lamp of pure Ghee and worship Surya dev with camphor, incense and red flowers. 
The combination of the Sun with other planets such as Ketu, Mars, and Rahu can create dosha. Book personalised live puja as an effective remedy for your kundali.
Surya Mantra
om mitraay nam:, om ravaye nam:
om sooryaay nam:. om bhaanave nam:
om khagaay nam:, om pooshne nam:
om hiranyaayagarbhaay nam:, om mareeche nam:
om savitre nam:,om aarkaaya nam:,
omaadinaathaay nam:, om bhaaskaraay nam:
om shree savitasooryanaaraayana nam :
You May Like To Read: Surya Shani Shapit Dosha Puja: Significance And Effects
Benefits of Keeping Fast on Bhanu Saptami
As per the belief, devotees who perform yajna, chants the mantras, and remembers Lord Son on this day, attains blessings and grace of Surya Dev. Furthermore, performing charity and donations for poor and needy for helps in attaining blessings of Lord Sun. Worshipping  Lord Sun religiously helps in gaining a healthy body and positive attitude towards life.
Also Read: Benefits of Offering Water to Sun
Conclusion
The day of the Bhanu Saptami is considered very fruitful for devotees all over the world. According to Hindu astrology, offering water to the sun on this day enhances concentration, removes all mental stress and improves a person's financial condition. It is also believed that doing charity on this holy day removes all troubles in life and brings happiness into one's home. The sun is also believed to be a symbol of the father, therefore worshipping Surya dev on this day can also improve the relationship between a father and a son. Do make sure you follow all the right rituals on this day and invite positivity into your life.
Is the Sun in your kundali weak or strong? Talk to astrologers to know in detail. First consultation is FREE.