Vishu Kani 2023 – Why And How To Celebrate This Auspicious Day?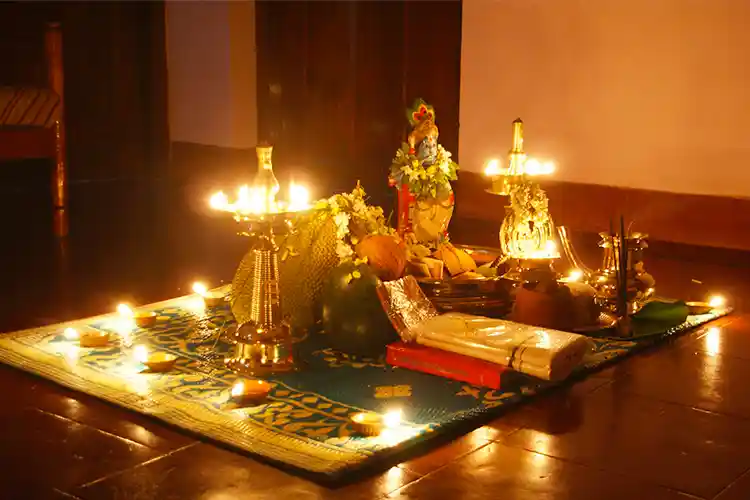 Hey pals, turn on your seat belts for a straight informative ride in which will answer your questions related to Vishu Kani. Like, things needed for Vishu Kani, Malayalam new year, and so on in order to help you celebrate this Vishu Kani 2023. So without any ado, let's start exploring.
---
Vishu Kani Date and Time
Vishu Kani: April 15, 2023, Saturday
Vishu Kani Sankranti Moment: Apr 15, 2023 at 03:12 

PM

,
---
General Overview of Vishu Kani
The festival has deep cultural significance, and Malayali Hindus all over the world celebrate it with zeal. It is also known as Bisu and is celebrated in the second week of April in the Karnataka districts of Mangalore and Udupi.
Vishu marks the Sun's entry into the first zodiac sign, Meda Raasi (Mesha or Aries), and is the astrological New Year for Keralans. It also happens to be the spring equinox, as the sun reaches the equator and moves northward.
An equinox is distinguished by the same number of hours of daylight and darkness, which explains the root of the term 'Vishu,' which means 'equal' in Sanskrit. It is the first day of the Malayalam month Medam when the sun reaches the equator, and it is sometimes confused with Solar New Year.
The fact that the Solar New Year coincided with the Zodiac New Year about 1,654 years ago, when the Vishu festival supposed to have begun, may be the source of this misunderstanding. In fact, the festival Vishu has nothing to do with the Solar New Year. The Zodiac New Year will never change, while the Solar New Year will change by one degree every 75 years.
Vishu is a new beginning for the people of Kerala, and it is traditionally celebrated with colourful ceremonies. At this time of year, Kerala farmers begin their agricultural activities. Although the Vishu Kani Malayalam New Year is known as Chingam, it has no astrological or astronomical significance. Vishu is also known as the festival of hope and prosperity, and it is celebrated throughout Kerala with great fanfare and vigour.
Does peace and prosperity seems a distant dream for you? Book personalised live Vishnu Puja for achieving happiness in life.
---
Story Of Vishnu Kani
The celebration of Vishu Kani are connected with several legendary stories. Some tales says that Lord Krishna, Lord Vishnu's eighth incarnation, killed the demon Narakasura on Vishu. Vishu Kani is also coincide with the return of Surya Dev. It is believed that the demon King Ravana stopped the Lord Surya from rising from the East. Vishu has been commemorated with great zeal since then.
---
Vishu Kani Rituals
Vishu is marked by a number of customs and rituals of social, cultural, and religious significance. The Vishu traditions are appealing to the heart as well as the senses. People buy new clothes and go to temples early in the morning to commemorate the occasion.
Vishukkani, Vishukkaineetam, and Sadya are the main activities of the day (traditional Kerala feast). For viewing the Vishukkani, a large number of devotees is observed in major temples in Kerala, such as Guruvayoor Sree Krishna temple and Sabarimala Ayyappa temple. Apart from that, people decorate their homes with decorations and light firecrackers to commemorate the day (Vishupadakkam).
Are you curious that which planet is haunting your Kundali? Get a free janampatri report for the clarity.
Vishukkani
Arranging and seeing Vishukkani is the most significant event in Vishu. The Malayalam word 'Kani' means 'that which is seen first,' and 'Vishukkani' means 'that which is seen first after waking up on the day of Vishu.' The Vishukkani is set up in the family puja room on the night before Vishu. A bunch of Konna flowers, an image or idol of Lord Vishnu/Krishna, nilavilakku (lamp), rice, fruits, vegetables, betel leaves, areca nut, coconut, mirror, gold, kasavu mundu, holy book, and coins are among the auspicious articles that signify prosperity.
It is customary for all members of the family to wake up early on Vishu pulari (Vishu day's dawn) and go to the puja room with their eyes closed so that the first thing they see is the glorious sight of Vishukkani. Kanikaanal is the name of this rite. According to legend, seeing Vishukkani as the first thing in the New Year would ensure a prosperous and peaceful year.
Kanikonna (a character in the manga Kanikonna)
Cassia fistula, which produces bright yellow blossoms, is known as Kanikonna in Malayalam. Speaking of vishu kani items, the tree's flowers, known as Konnapoovu, are the most basic item needed for Vishukkani, and the tree will be in full bloom in April when the sun is at its highest point. When other things are scarce, people can set Vishukkani with a bouquet of Konna flowers and an image of God.
Kani Orukkal (Arranging Vishukkani)
Vishukkani – the auspicious things panorama is carefully prepared the night before. Typically, the lady of the house is in charge of setting this. An uruli (a circular vessel made of panchaloha – five metals) is used to hold the array of auspicious objects. Kanikkonna's golden yellow flowers reflect wealth. Vegetables and fruits have been planted, indicating a rich vegetation and farming climate. Cucumber, tender mango, jackfruit, and banana are common items in the show, but pineapple, grapes, cashew fruits, and other vegetables are also popular.
Other things widely used include betel leaves and areca nut, rice, coconut, mirror, gold, kasavu mundu, coins, and holy text (Ramayana or Bhagavad Gita), all of which are put before an idol or image of Lord Krishna or Vishnu. Aside from that, there's Nilavilaku, a metal lamp with wicks made of starched cloth bits soaked in oil.
Vishukkani includes akshatam, which is a rice and turmeric mixture served in an uruli or brass dish. It's possible that the rice you're taking contains equal parts of husked and unhusked grains. Valkkannadi – a unique mirror with a golden frame and a long handle. If you don't have Valkkannadi, you can use a regular mirror instead.
Panchaloham, a composite of five metals, has traditionally been used to make urulis. Panchaloham is a representation of the universe made up of five great elements: earth, water, fire, air, and space.
Kanikaan
At the auspicious hour of Brahma Muhurtha, deepam or nilavilakku is lit in Vishu Pulari (dawn of Vishu) (4am to 6am). In addition, the deepam is a sign of spiritual wisdom. In the light of nilavilakku and its mirror reflection, the golden yellow Kanikonna flowers, ripened fruits and vegetables, akshatam, panchaloha, and polished brass of kind give Vishukkani a golden hue.
The coins reflect monetary, cultural, and spiritual wealth, while the Kanikonna flowers associated with Lord Krishna represent the sun or Vishnu's eyes. Typically, the lady of the house lights the lamp and takes in the auspicious sight of Vishukkani, waking up other members who will come to the puja room with their eyes closed to see the auspicious Vishukkani as the year's first sight. Vishukkani is not only for those who visit the puja room but also for the elderly and sick who are unable to visit the shrine. It's also taken outside to the cowshed, where it's put on a show for all of nature to see.
In Vishu pulari, reading verses from the Ramayana or Bhagavad Gita is considered auspicious. The page of the Ramayana that is opened is thought to have meaning in the coming year. In Jyotishastra, Lord Vishnu, the preserver of life, is also known as Kaala Purusha, or God of Time, which makes the beginning of the zodiac year a good time to worship the Lord.
Vishukkaineetam
Vishukkaineetam is another significant Vishu tradition. It is customary for elders to give money to the younger generation or for landlords to give money to tenants. Traditionally, the family head bestows vishukaineetam on the younger generation, servants, and other staff, and wishes them well.
Some wealthy families give money not only to their children and employees but also to their neighbours and locals. Vishukkaineetam should be freely given, and it should be reverently embraced.
Sadya Vishu
The Vishu feast, also known as Sadya, is made up of equal parts of salty, sweet, sour, and bitter foods. While Sadya, or traditional feast, is a part of all Kerala festivals, the Vishu Sadya has a few requirements. The significant Vishu preparations include Vishu Kanji, Vishu Katta, Veppam Poo Rasam (a bitter neem preparation), Mambazha Pulissery (a sour mango soup), and Thoran (a traditional side dish made of chopped vegetables and grated coconut).
Vishu Katta is a delicacy made from freshly harvested rice powder, coconut milk, and jaggery, and Vishu Kanji is rice, coconut milk, and spice preparation.
Solve Major Life issues through Astrology, Ask the Experts Now!
---
Vishu Kani Significance
The importance of a proper start to events and activities is emphasised in Indian culture. A successful start is thought to be crucial since it lays the groundwork for the rest. To ensure a perfect start, we also take into account the positions of the stars and planets. Vishukkani's beauty and splendour herald a year of affluence, both materially and spiritually.
Its grace should represent in our hearts, just as it does when making a visual treat. We should pray that the profusion of Vishukkani's aura remains with us in our thoughts and acts throughout the year. Everyone's life should be filled with food, light, money, and knowledge.
Vishu is celebrated in Kerala when the Sun joins Aries and transits through Ashwini Nakashatra, signalling the start of the Zodiac New Year.
The glorious sight of Vishukkani greets one as they open their eyes on the first day of the New Year. With the reflection it provides, the mirror, which is symbolic of Bhagavati (Devi), enhances the lustre of Vishukkani and reveals our own face, reminding us that God is within us. It also emphasises the significance of purifying our minds.
There are other festivals around India that share the same spirit as Vishu in Kerala. These festivals, which all take place at the same time of year, mark the start of a new year in the local calendars. Ugadi in Andhra Pradesh and Karnataka, Gudi Padwa in Maharashtra, Bihu in Assam, Baisakhi in Punjab, and Pohela Boishakh in Bengal are all distinct but have similar meanings.
---
Wrapping Up
Vishu Kani is all about thanking god for seeking the blessings. So don't leave this opportunity to seek the blessing and make your life peaceful and prosperous.
Let's make a fresh start and put an end to our worries. Happy Vishu Kani!
Achieve tons of goals through astrology, talk to astrolgers for the guidance. First consultation is FREE.
---
---