Remedies And Effects Of Sun-Ketu-Mars Conjunction In Scorpio Sign 2021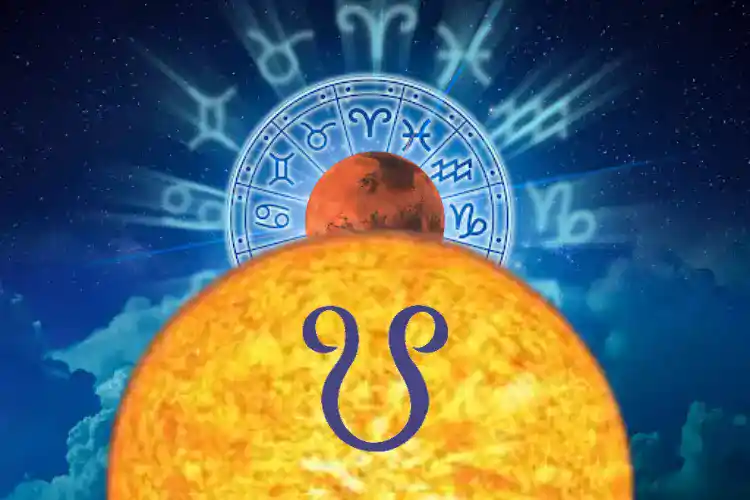 Following the transfer of the Sun in the Scorpio sign, now another planet moves to the Scorpio sign. Yass, the red planet Mars will be forming in conjunction with the Sun and Ketu. In Vedic astrology, we consider the Sun as a planet, which keeps moving around the Earth. Whereas Ketu and Mars are malefic planets. The two shadow planets Rahu and Ketu, are known for negatively influencing an individual's life.
The celestial father Sun is karaka of father, ego, energy and soul. Mars is linked with aggression and desires. The shadow planet Ketu is associated with materialistic desires, spirituality and intuition power. These three planets appearing in the same sign may make us turn our heads. But, worry not as far as we got the best astrologers on our back.
Sun and Mars take one and two months respectively to pass through the one zodiac sign, while Ketu being a slow planet, takes 1.5 years to complete its one sign transit. In the first week of December, we will see the combo of Sun-Ketu-Mars in the Scorpio sign. This may give us hard times in the coming days. Let us check what astrologers predict about this combination.
Curious! what major challenges coming in your way? Get Free Janampatri Report. 
---
Planetry Transit Dates
Ketu transit in Scorpio: Sept. 23, 2021.
Sun transit in Scorpio: Nov. 16, 2021.
The Conjunction of Sun, Ketu, and Mars: Dec. 5, 2021.
Learn how will be the coming days? Have a look at Free 2022 Horoscope. 
---
Effects Of Sun-Ketu-Mars Conjunction In Scorpio On Zodiac Signs
The conjunction of Sun, Ketu and Mars in the Scorpio sign may insist on changes in your personal life. Ketu gets exalted in the Scorpio sign, so the situation may not get bad to worse. Below are the fresh predictions for the reunion of Sun-Ketu-Mars.
Also Read: Sun And Ketu In Scorpio
Natives With Aries sign
Aries individuals will have the conjunction in their 8th house, which may bring a fair time. During this phase, you may need to be careful while driving as you may pick up minor injuries. Married natives may have sexual desire from their partners. Your relations with in-laws may not remain the same as you may show more aggression. Scientists may come up with new inventions. You may receive financial gains.
Natives With Taurus sign
Taurus individuals will see the conjunction of Sun-Ketu-Mars in their 7th house. This would be a difficult time for those who are in committed relationships. You may get dragged into legal issues. The government may bring few changes for those who are working in the government department. Lovers may have chances of parting ways during this conjunction.
Natives With Gemini sign
The upcoming conjunction will take place in the 6th house for the twins. You are expected to get positive results through your stubbornness. Professional workers may spoil relations with their co-workers. Also, you may fall into legal matters or court cases, so you must take care of it. Restaurant business owners may enjoy a good time in the coming days.
Natives With Cancer sign
The three planets sharing the same sign may provide ups and downs for the natives who are representing the Cancer sign. The 5th house conjunction for Cancerians indicates that you may enhance your creativity. Students may spend time playing instead of studying. The reopening of Cinemas may help theatre owners in expanding their business. In the love life, singles may make a lifetime commitment.
Natives With Leo sign
The 4th house conjunction for the Lions may lead them to disappointments. You need to handle things with care in your personal life. Some of you may plan to renovate your home or buy a new property. Leo natives may come up with real estate businesses. Those who are suffering from heart-related troubles may get relief. Students would be able to focus on their career goals.
Natives With Virgo sign
Ketu will form a conjunction with Sun and Mars in the 3rd house for the Virgins. You may be able to complete your travelling goals. Business owners may come up with new strategies. You may get good support from your siblings. Those who are working in the writing and journalism field may enjoy this phase. You may need to take care while communicating with others.
Natives With Libra sign
Sun, Ketu and Mars will meet in the 2nd house for natives representing the Libra sign. You may get aggressive and this may bring you family troubles. You may receive sudden monetary gains, Investors may have the perfect time to make new investments. Married couples may plan to visit new restaurants. You may improve relations with your in-laws.
Natives With Scorpio sign
The reunion of the Ketu, Sun and Mars indicates mixed outcomes for the Scorpions. Mars itself rules the Scorpio sign and it may help natives to boost their confidence. At the same time, you may need to take care of your aggression. You may find it difficult to create a balance between your personal and professional life. Married natives may find issues in their relationship. Lovers may take their relationship to the next level.
Also Read: Mars transit in Scorpio
Natives With Sagittarius sign
Transiting Ketu, Sun and Mars will appear in the 12th house and you may have a satisfactory time. Your aggressive behaviour may pull you amid difficulties. You may indulge in illegal matters and need to knock on the doors of the court. Malefic planets may negatively affect your health and you may have frequent visits to the hospital. Investors are advised to refrain from making new investments. You may find interest in performing yoga activities.
Natives With Capricorn sign
Sun, Ketu and Mars coming in the Scorpio sign suggest a beneficiary time for natives carrying the Capricorn sign. Job professionals can expect desired growth in their careers. You may even receive your promotional letter. But, lovers need to take care of their relationship as there would be issues popping up. Natives working in the film industry may get the opportunity to work on new projects. You would be busy in your social life.
Natives With Aquarius sign
Aquarius students would have a stable career growth due to the association of Mars, Sun and Ketu in their 10th house. Job professionals may find relief in their work. You may even get rewards for your hard work. Politicians may have growth but may spoil relations with party members. You need to take care of your father's health in this phase. You should seek his blessings before starting your day.
Natives With Pisces sign
The union of Ketu, Sun, and Mars will occur in the 9th house for people born with the Pisces sign. Fishes may get relief from mental stress. You may like to visit your favourite places. Some of you may take your parents on religious trips. The government may soon bring changes for those who are in the public sector. Students may plan to pursue their higher education. You are advised to maintain good relations with your mentors.
---
Remedies of Sun-Ketu-Mars Conjunction In Scorpio
Install suitable yantra in your house
Offer water to the rising Sun
Worship Lord Ganesha by visiting a nearby temple
Donate food to the poor on Tuesdays and Sundays
Those who are under the negative impacts of Mars should organise specialised puja.
Need a useful remedy for mangal dosha? Book personalised Mangal Graha Shanti Puja. 
---
Wrapping Up
We found that Ketu will be united with its two enemies Sun and Mars, in the same sign. This may give us unfavourable results, but since Ketu is in exaltation, you may get relief from the malefic planet. With this, we hope you have a lovely time reading this blog. If you need more help, you can ask your questions by directly connecting to the best astrologers.
Need favourable results for ketu? Talk to astrologers for solutions. 
---
---