Will Yogi Adityanath Have Planetary Support In UP Election 2022?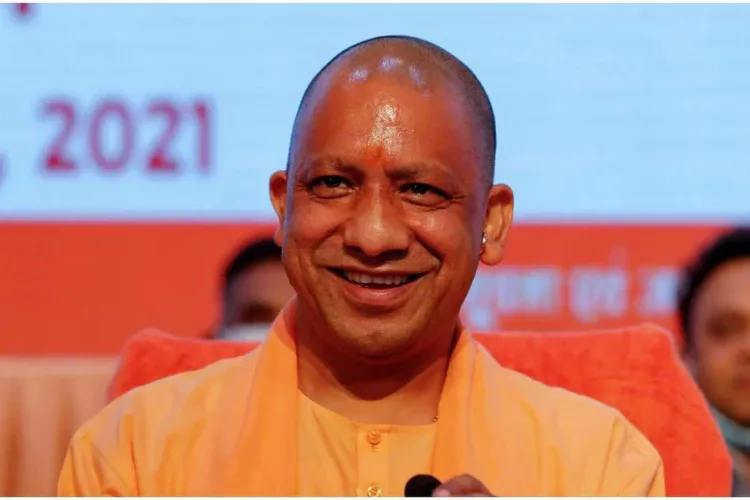 The stage is all set for the upcoming UP Election 2022 which is going to be held in March-April. Against this backdrop, Yogi Adityanath, the current Chief Minister of Uttar Pradesh, who keeps gaining attention for his woking style; has geared up for the UP election 2022. This time, he is contesting as the flagbearer of 'Hindutva' as his core point along with social development. It is speculated that he will contest from the Mathura assembly seat this time.
After so much support from all over, will the planets of his horoscope be able to support him? Will Yogi Adityanath be able to regain power once again in UP Election 2022? Let us dive into his Solar chart…
A solar chart is much more than an Astro calculation. Get a Free Janampatri Report to know in detail.
---
Favourable Conjunction In The Horoscope Of Yogi Adityanath
Yogi Adityanath, the current Chief Minister of Uttar Pradesh, was born on June 5, 1972, in Pauri Garhwal, and his zodiac sign is Taurus. There is a combination of Sun, Mercury and Saturn in the Yogi Adityanath's horoscope. This planetary conjunction makes Yogi Adityanath disciplined, dedicated, determined and a perfect manager. It reflects in the UP's discipline during Yogi's tenure.
His birth chart indicates the presence of Jupiter is in its own house which is what makes him a good teacher. Even in his navmansh kundli, Jupiter is in exalted state which makes it even more stronger. This is what has brought Yogi into public service: be it social reform or politics!
During his tenure, Yogi Adityanath has taken stern action against the antisocial elements. The presence of Mercury in his horoscope helps him to have an amazing approach and analysis while Sun makes him confident. Furthermore, due to the conjunction of Sun and Mercury, he has emerged as a person of serious nature. He takes his work very seriously and expects the same from his peers.
In Yogi Adityanath's Kundli, the conjunction of Sun, Mercury and Saturn with Venus in Taurus has made him extremely disciplined and goal-oriented. This very work ethic can help him in UP Election 2022. However, there are other planets in the horoscope, which will support him further.
Seems planets are supporting Yogi ji! Are they supporting you, though? Read Free Yearly Horoscope 2022 to know more.
---
Support Of More Planets In CM Adityanath's Horoscope
In the horoscope of Yogi Adityanath, other planetary combinations are also seen. Mars and Venus are present in Gemini in his horoscope which is considered very beneficial. The conjunction of these planets keep him firm on his faith and makes his willpower even stronger. It also gives him a lot of enthusiasm and energy. The presence of Venus in the horoscope gives him sweet yet effective communication quality. However, at times he does show his aggressive side while demonstrating his political impact and strategy. This planetary combination signifies that he has a soft heart with a hard exterior shell.
Apart from this, the aspecting of Mars and Venus by Jupiter adds more intellectualism in his work and speech, but will this alone be enough to win the UP Election 2022? Or an opposite planet or transit can have an effect? Let us know the effect of opposite planets.
How planetary movement affect you in 2022? Get a Free 2022 Yearly Astrology Report with just one click.
---
Rahu's Transit Will Make It Difficult For Yogi Adityanath
There are many favourable planets present in the horoscope of Uttar Pradesh Chief Minister Yogi Adityanath. Currently, Jupiter is passing over the Moon of his birth and Mars is also under its aspect. This astrological circumstance is likely to be beneficial for him. However, Rahu is also moving in Taurus, which is happening over the three major planets of birth. It may bring sudden challenges for him.
Apart from this, Yogi Adityanath will be affected by Shani's Sade Sati till the middle of the year 2022, which can disturb him mentally. However, as Saturn is in Taurus, he will try his best to make good strategies and get his work done effectively.
Due to Saturn's sade sati in his horoscope, the time till April 2022 can be challenging for him. However, after that phase, all the planets will be with him as every planetary action is likely to have a positive effect on his life. In such a situation, it can be expected that victory in the UP Election 2022 is not too difficult for him. However, his competitor Akhilesh Yadav is also working hard, so it's better if Yogi Adityanath doesn't take this election lightly.
Is Rahu haunting your Kundali? Talk to Astrologers for a solution. First Consultation with 100% Cashback!

---
---