NIRJALA EKADASHI – The Most Fruitful Amongst all the Ekadashis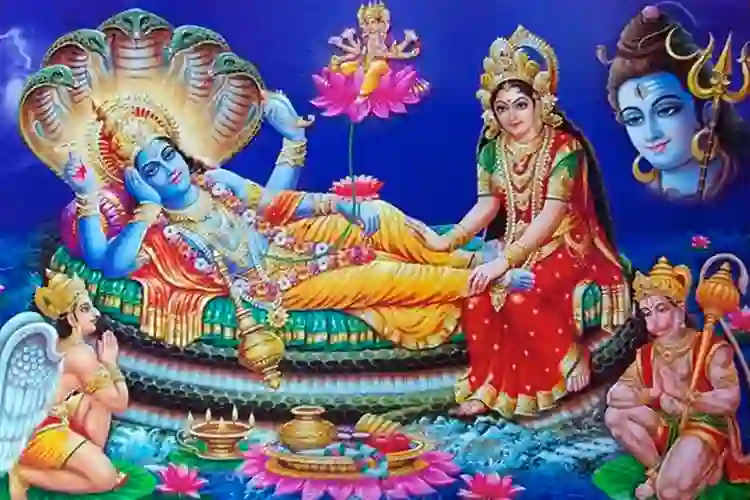 Nirjala Ekadashi is considered the most auspicious and fruitful Ekadashi by the deities of Lord Vishnu. Most of the Hindu deities who follow and worship lord Vishnu observe a fast for 24 hours on this day. It is also considered the most difficult among all the 24 Ekadashis. Let us know what the reason behind it is and what is the story behind such an important event in the Hindu calendar.
---
What is Ekadashi?
Ekadashi means the eleventh day of the Hindu Lunar calendar of every month. There are two lunar cycles, namely Shukla Paksha and Krishna Paksha and the eleventh day of the respective cycle is known to be Ekadashi. It is of great significance for the devotees of Lord Krishna and Lord Vishnu. Ekadashi symbolises the eleven senses, which constituted five sense organs, five action organs and one mind.
Take Rights Actions Through Astro Guide
Consult an Astrologer
---
What are the different types of Ekadashi?
There are 24 Ekadashis, each of which represents different incarnations of Lord Vishnu. Each Ekadashi is unique in its own way as it has its own way of fasting and worshipping the almighty.
Putrada Ekadashi:
Putrada, as the name suggests, translates to "givers of sons". It is celebrated in January on the eleventh day of the Hindu month of Shravana. The fast is observed from the dawn of Ekadashi and ends the next morning. Rice, pulses, garlic, onion and non-veg food items are strictly prohibited on this day. Read more…
Satilla Ekadashi:
Satilla Ekadashi is also known as Tilda Ekadashi, represents sesame seeds(Til). It is believed that offering and receiving sesame seeds and having the dishes made from them makes Lord Vishnu Happy. It is a festival celebrated to promote "anna dana", which means donating food to the needy. Read more..
Jaya Ekadashi:
The same rules of not having or preparing non-veg food items imply here as well. Along with it, pulses and rice consumption is prohibited, and consumption of "jeera aalu", chapatis made from royal grain flour(rajgira atta), etc., is promoted among the devotees observing fast. Read more..
Vijaya Ekadashi:
The fast on this day is observed throughout the day, and the devotees worship Lord Vishnu. The devotees during the fast are supposed to avoid lentils, pulses and rice and usually consume sabudana khichdi and sabudana vada seasoned with rock salt. Read more
Amalaki Ekadashi:
Amalaki means gooseberry(amla), and as it is considered to be the dearest to Lord Vishnu, the Gooseberry tree is worshipped on this day, and the dishes made from it are only consumed, avoiding consumption of grains and legumes.
Papmokshani Ekadashi:
Papmokshani Ekadashi, as the name suggests, is related to washing away all sins. Devotees observe a whole day of fasting on this day, consuming til laddu, kheer, khichdi, etc. and avoid eating any cooked or semi-cooked food items.
Kamada Ekadashi:
This Ekadashi, as the name suggests, is celebrated to worship Lord Vishnu and get free from all the curses one suffers from. The devotees observe fast consuming dairy products along with dry fruits and fruits promoting satvik bhojan and avoiding meals.
Varuthini Ekadashi:
The fasting on this day is considered equal to being in penance for ten thousand years. Fast starts from the dawn of Ekadashi and continues till the next morning, which is broken after offering food to brahmans.
Gauna Mohini Ekadashi:
Devotees observe 24 hours of fast to please Lord Vishnu. One meal is allowed, and fast is ended by consuming fruits with milk. Tamasic ingredients such as garlic and onion are avoided.
Apara Ekadashi:
Offering the bhog along with tulsi leaving is extremely important during the worship of Lord Vishnu on this day. The fast is observed till the next morning, consuming dairy products, fruits, dry fruits and vegetables and avoiding tamasic bhojan.
Yogini Ekadashi:
On this day, fast is observed by consuming saltless food from one day before the Ekadashi and Barley, moong dal and wheat are avoided to be consumed continuing the fast till the next morning.
Padma/Devashayani Ekadashi:
This day marks the commencement of the Chaturmaas period(the holy four months), during which no auspicious works are organised.
Kamika Ekadashi:
This Ekadashi occurs during the Chaturmaas period, and the devotees observe a whole day fast on this day offering milk fruits and sesame seeds along with flowers to Lord and worshipping him offering panchamrat as a bhog(offering).
Aja Ekadashi:
Aja Ekadashi is known to destroy all our sins and misdeeds. People observe a fast for a day, avoiding gram seeds, pulses and honey. Offering tulsi seeds and leaves while worshipping is considered important. Read more
Parivartini/Vamana/Parsva Ekadashi:
Worshipping Lord Vishnu on this day pleases Goddess Laxmi, free devotees from all their sins. The devotees observing fast should stop consuming anything from the day of Dashami itself and continue till the next evening until worshipping the lord. Read more…
Indira Ekadashi:
This Ekadashi is to provide salvation to the forefathers or ancestors. People observe a fast by consuming no meals and following it from one day prior to Ekadashi. Lord Shaligram is worshipped on this day. Read more..
Padmini Ekadashi:
The devotees observe a strict fast avoiding tamasic food and consuming only dairy products and fruits (if non-tolerable). Fasting purifies their soul, body and mind.
Parama Ekadashi:
This is for the devotees who want to attain the realm of God. For those unable to control hunger, the same dairy products with fruits except tamasic food is an option. It is 24 hours fast, which is observed by them depending only on water.
Papankusha Ekadashi:
The fast on this day is observed from the Dashami itself and continues till Dwadashi. People consume only fruit juices, milk and water in order to avoid hardly digestible food items. Read more…
Rama Ekadashi:
On this day, turmeric is applied to the basil leaves and offered to Lord Vishnu. People observe complete dry fasting on this day(except in exceptional cases).
Devauthni Ekadashi:
It is believed that Lord Vishnu, the creator of this earth, wakes up from his sleep during the Chaturmas, and all the auspicious activities are therefore allowed to function from this day. Devotees observe a fast from Dashami to Dwadashi. Read more…
Utapanna Ekadashi:
According to certain religious beliefs, the devotees who observe a fast on this day get the shelter of Lord Vishnu after his death, and the importance of inviting married women and offering fruits to them is at another level. Also, kheer is prepared as a prasad(offering). Read more…
Mokshada Ekadashi:
Like other Ekadashis, Mokshada Ekadashi is also celebrated by observing a strict fast from midday of the same day till the next day by the devotees. Read more..
Wanna know the secret of living an amazing worthy life? Take an Astrological guide, Ask the Astrologers!
---
What is Nirjala Ekadashi (Bhimaseni Ekadashi)?
Nirjala Ekadashi is observed on the 11th day of the Shukla Paksha of Hindu Calendar Jyeshtha. As the name suggests, Nirjala Ekadashi is celebrated by fasting without having water for 24 hours.
---
When is Nirjala Ekadashi(Bhimaseni Ekadashi) in 2023?
Nirjala Ekadashi:  

Wednesday, May 31, 2023

Parana Time: 05:24 

AM

 

to 

08:10 

AM

Ekadashi Tithi Starts At: 01:07 

PM

 

on

 May 30, 2023
Ekadashi Tithi Ends At: 01:45 

PM

 

on

 May 31, 2023
---
What is the significance of Nirjala Ekadashi(Bhimaseni Ekadashi)?
It is observed on the eleventh day of Shukla Paksha of Jyeshtha month every year.
It is one amongst the 24 Ekadashi and the most powerful one.
Whoever observes 24 hours fast on this day is said to gain the fruitfulness of all the 24 Ekadashis.
It is a special day to worship Lord Vishnu.
It is considered the hardest fast among all the Ekadashis as fasting is observed for 24 hours without food, water and a sleepless night.
The idol of Lord Vishnu is worshipped and bathed with panchaamrat(made up of 5 things).
Fast ends when the sun rises the next day.
There is a reason why it is called Bhimseni Ekadashi; let us know why?
Walk in every path of life super carefully, get your free Janampatri Now!
---
What is the story behind Nirjala Ekadashi(Bhimseni Ekadashi)?
Nirjala Ekadashi Vrat Katha:
According to Markandeya Purana/ Vishnu Purana/ Brahma- Vyavarta Purana, there was a man named Bhim(Bhimsena). He was one of the 5 Pandavas who took birth from Kunti(their mother). The difference between him and his brothers was that he was the most powerful among them all, and while all of his brothers worshipped lord Vishnu and observed fast on each of 24 Ekadashis while Bhima couldn't resist his hunger and therefore couldn't even think of keeping a fast. As the problem was resulting in lacking him behind, he discussed this matter with his grandfather Sage Ved Vyas.
Observing his problem and his urge to get free from all attachments and wealth easily and getting the gains his brothers gained, his grandfather suggested him observe a fast on Nirjala Ekadashi worshipping lord Vishnu in the abundance of food, water and sleep for 24 hours chanting prayers and synonyms of the name of Lord Vishnu will grant him with all the fruits of all the 2 Ekadashis and set him free from all the distractions.
This result in this Ekadashi is known as Bhimseni Ekadashi.
This is the story behind this auspicious occasion, and whoever observes the fast on this day, just like Bhim gets all the blessings of Lord Vishnu and the gains of all the 24 Ekadashis and sets him free from all his sins or misdeeds.
---
What is the procedure of fasting on Nirjala Ekadashi?
Whoever wants to keep it, the fast starts with the sunrise of Ekadashi and ends in the morning of Dwadashi. The devotees should keep a fast through this while in the abundance of food, water and sleep, and the people who are more capacitive can end it in the morning of Triyodashi. The fast needs to be ended in the Parana period, as discussed earlier.
Get up early in the morning before sunrise timing on Ekadashi day and take a bath. After the bath, perform "Achamana" by taking a drop of water into your mouth.
The idols of Lord Vishnu or Lord Krishna need to be worshipped with sandalwood, flowers, fruits and sweets and a ghee lamp along with incense sticks needs to be lit.
The mantra chanted by Lord Narad, "Om Namo Bhagwate Vasudewaya" should be recited along with tulsi beads.
While chanting along with tulsi beads, you can keep a target of 1100 or 2100 or 551 countings as these numbers are considered auspicious.
A well-qualified brahmin should be allied in order to proceed with Vishnu Sahastranaam pooja which will be again more fruitful.
Perform Vishnu Puja and Chant to Lord Vishnu Mantra and throughout the night or perform "Sangeet".
The next morning take an auspicious bath and after distributing the prasad(offerings) to the children and poor.
Even organising a full-stack lunch for a brahman(eleven brahmans if possible) is also considered very fruitful.
---
Benefits of Nirjala Ekadashi Vrat
For spiritual growth.
For health, wealth and success.
For the blessings of Lord Vishnu.
For fulfilment of wishes.
For washing away all the past sins.
For career growth.
For inculcating happiness in the family and life.
---
What can we eat on Nirjala Ekadashi fast?
Nirjala means without water, and Nirjala Ekadashi is therefore considered the toughest among all as the devotees are not allowed to drink water or eat anything; however they do have droplets of water during the "aachaman" as the purification procedure.
---
Can we drink water during Nirjala Ekadashi?
During Nirjala Ekadashi, as the name suggests, no water is consumed during fasting from the sunrise of the same day till the sunrise of the next day; however, only droplets of water are taken as a part of "aachaman".
---
What is Ekadashi called in English?
Ekadashi (Eleventh) is the eleventh lunar day of each of the two lunar phases, which occurs one after the other, namely Krishna Paksha and Shukla Paksha. It is considered an auspicious occasion to worship the deity as well as body detoxification.
Yes, that was an informative and impactful ride. Wow, Hindu festivals are so damn cool, don't you think? We can imagine your faces nodding. That's if from our end, keep smiling and living a great life.
---
---