Gujarati New Year or Bestu Varas 2021: Know its Date, Shubh Muhurat and Tithi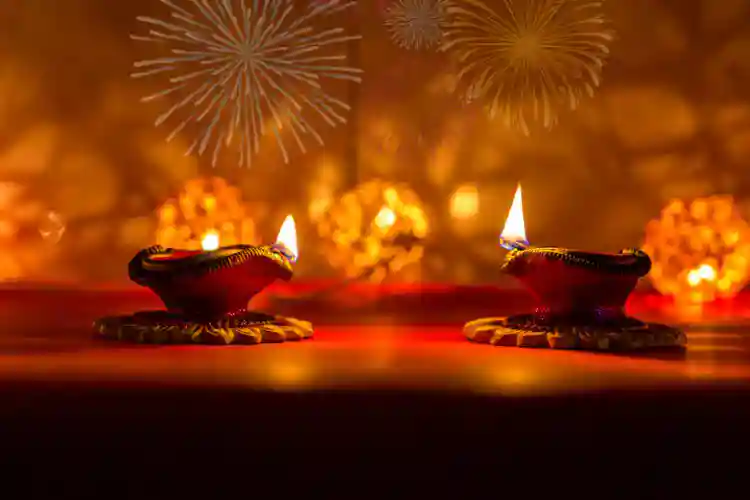 Diwali in Gujarat marks the commencement of the Gujarati New Year that is aka the Bestu Varas among locals. Gujarati New Year is celebrated with immense joy, happiness and enthusiasm in the entire state of Gujarat. Gujrati New Year coincides with Govardhan Puja or Annakut Puja.  This festival suggests the beginning of Gujarati New Year that is Vikram Samvat 2078 as it precedes Diwali.
Gujarati New Year is synonymous with sudekum of the Kartik month – it is the first month of the Gujarati calendar. Following the Hindu calendar, it falls on Shukla Paksha Pratipada of the  Kartik month. Since it is the first month as per the Gujarati calendar it marks the beginning of their new fiscal year.  Gujarati New Year is considered a highly important day for the Gujarati community who celebrate it with lots of enthusiasm and fervor. Traders or entrepreneurs wind up their account books to start afresh which is called Chopda Pujan in Gujarati culture. Business transaction registers are worshipped in the presence of Goddess Lakshmi to seek her blessings for a new profitable financial year.
Gujarati New Year Date, Muhurat and Timings
Gujarati Vikram Samvat 2078 commences on Monday, November 5, 2021
Muhurta/ Important Timings On Gujarati New Year
| Occasion | Date / Time |
| --- | --- |
| Sunrise | November 5, 2021 at 6:44 AM |
| Sunset | November 5, 2021 at 5:38 PM |
| Pratipada Tithi Starts | 02:44 AM on November 5, 2021 |
| Pratipada Tithi Ends | 11:14 PM on November 5, 2021 |
Vikram Samvat 2078
Vikram Samvat is an Indian calendar that dates back to 57 BC. The Vikram Samvat calendar/ Panchang 2078 starts half a century before the Gregorian calendar and works on an Indian calendar cycle. The Vikram Samvat calendar system is used by several communities in the Indian subcontinent especially the Hindu, Buddhist and Sikh community. It is based on the solar sidereal years and lunar months.
The traditional Gujarati calendar follows the Vikram Samvat Calendar 2078 system. Therefore instead of Chaitra Sukhladi, the Gujarati people celebrate the day after Diwali as Gujarati New Year. Thus, the Vikram Samvat 2078 considers Kartik as the first month on the Gujarati calendar and not Chaitra unlike several other Indian states.
Bestu Varas
Bestu Varas or Nutan Varsh is the advent of the New Year in the state of Gujarat. The first day as per Gujarati Calendar is the day after Diwali that is Kartik sud 1. This calendar is also known as Hindu Vikram Calendar and the year is known as Vikram Year.  Thus, with the commencement of the Bestu Varas the Hindu Vikram Year 2078 also begins on November 5, 2021. Get your personalized predictions for 2021 with the Free Yearly Report to gain useful insights to a more stable and prosperous Bestu Varas.
Gujarati New Year Horoscope
Gujarati New Year Celebrations are marked by people donning new clothes, visiting temples and exchanging greetings with family and friends. It is the day to forget the past, clear out all the misunderstandings and welcome the new beginning on an auspicious note. Celebrations bursting with fireworks, beautifully lighted homes decorated with exclusive and colourful Rangoli patterns to invite auspicious vibes of happiness and festivities all around. The Gujarati New Year is the beginning of new and fruitful ventures which may be in personal or professional relationships. Check out with your Daily Horoscope for the day.
Vikram Samvat 2078 Panchang
The Vikram Samvat 2078 Panchang or Almanac starts the year on Shukla Paksha Pratipada during Chaitra month as Gudi Padwa. Although, the Gujarati new year starts on Shukla Paksha Pratipada of Kartik month. Gujarati Vikram Samvat calendar uses a solar year but divides it into 12 lunar months, each consisting of 29 days summing up to a Lunar year of approximately 354 days. To fix the lunar months into the solar year an extra month called Adhik Mahino or Purushottam maas is added at intervals and hence it is also called a Lunisolar calendar. In Gujarati Hindu Vikram Samvat 2078 Panchang seasons are as per the sun, months as per the moon and days as per both the sun and the moon. Lunar days or Tithis may vary in length.
As we move ahead in the New Year let's pledge to keep away hurdles or impediments causing roadblocks in the way to our success. Talk to our experts who can positively help you to change the course of your life! Connect Now!
May Goddess Lakshmi Abundantly Shower You With Success, Happiness and Contentment This New Year! Saal Mubarak!
MyPandit Team.