Gujarati New Year 2023: How To Welcome Vikram Samvat 2080?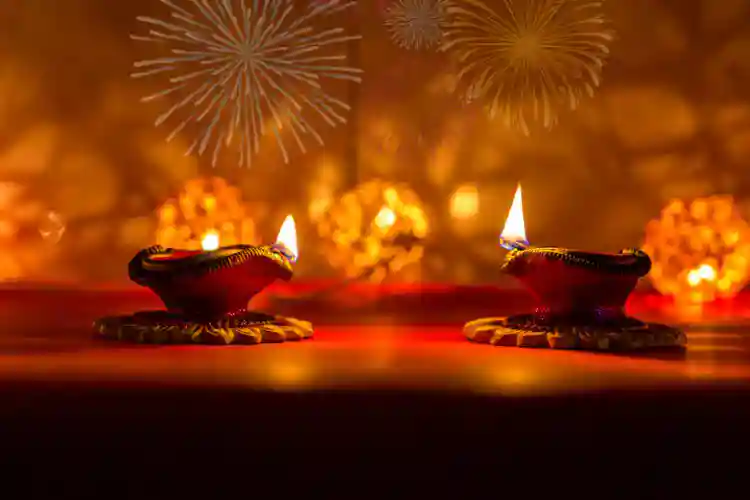 Gujarati New Year 2023: Date, Muhurat and Timings
Gujarati Vikram Samvat 2080 commences on 14 November 2023, Monday.
Muhurat/ Important Timings On Gujarati New Year 2023
| Occasion | Date and Time |
| --- | --- |
| Gujarati New Year 2023 Date | 14 November 2023, Monday |
| Pratipada Tithi Starts from | November 13, 2023 at 02:56 pm |
| Pratipada Tithi Ends at | November 14, 2023 at 02:36 pm |
| Sunrise | 14 November 2023, Monday, 06:14 AM |
| Sunset | 14 November 2023, Monday, 05:59 PM |
Vikram Samvat 2080
Vikram Samvat is an Indian calendar that dates back to 57 BC. The Vikram Samvat calendar/ Panchang 2080 starts half a century before the Gregorian calendar and works on an Indian calendar cycle. The Vikram Samvat calendar system is used by several communities in the Indian subcontinent, especially the Hindu, Buddhist and Sikh communities. It is based on the solar sidereal years and lunar months.
The traditional Gujarati calendar follows the Vikram Samvat Calendar 2080 system. Therefore instead of Chaitra Sukhladi, the Gujarati people celebrate the day after Diwali as Gujarati New Year. Thus, the Vikram Samvat 2080 considers Kartik as the first month on the Gujarati calendar and not Chaitra, unlike several other Indian states.
Bestu Varas
Bestu Varas or Nutan Varsh is the advent of the New Year in the state of Gujarat. The first day as per Gujarati Calendar is the day after Diwali which is Kartik sud 1. This calendar is also known as Hindu Vikram Calendar and the year is known as Vikram Year.  Thus, with the commencement of the Bestu Varas, the Hindu Vikram Year 2080 also begins on Nov 14, 2023.
Get your personalised predictions for 2023 with the Free Yearly Report to gain useful insights into a more stable and prosperous Bestu Varas.
Gujrati New Year Story
When Lord Krishna witnessed the annual offerings and preparations for the prayers presented to Lord Indra, it is said that he persuaded the people of Gokul that their true 'Dharma' as farmers and shepherds was in the process of undertaking the farming and preserving the livestock.
On Lord Krishna's advice, they were worshipping Govardhan Hill and the cows. This enraged Indra, the God of Rain, and the people of Gokul were forced to confront his wrath. For seven days and seven nights, Lord Indra inundated the village of Gokul. Lord Krishna used his tiny finger to lift Mount Govardhan, providing shelter and safety to the people, crops, and cattle. Lord Indra later realised his error and apologised to Lord Krishna.
Gujarati people have made it a practice to revere Govardhan Hills and celebrate this day as New Year since then. Govardhan Puja customs and rituals are conducted to welcome 'Gujarati Navu Varsh' and bid farewell to the previous year.
Gujrati New Year Rituals
During Diwali Puja, a new Chopda is opened in the presence of Goddess Lakshmi to seek her blessings. Chopda Pujan is the name given to this ritual. Account books are inscribed with auspicious letters of 'Shubh' and 'Labh,' which signify 'auspicious' and 'benefit,' respectively, during this procedure. To make the upcoming financial year profitable, a Swastika is drawn at the start of the book.
This is an important day for businesspeople in Gujarat. In the presence of Goddesses Lakshmi and Saraswati, the account books are revered.
Gujrati people clean and decked up their house in this festive season.
People get up early in the morning and go to temples to start the new year off well. Following that, they light some firecrackers, eat some sweets and snacks, and get ready to meet up with their friends and family.
Expand your business and gain profit by performing personalised live Laxmi Puja.
Gujarati New Year Celebrations
Gujarati New Year Celebrations are marked by people donning new clothes, visiting temples and exchanging greetings with family and friends. It is the day to forget the past, clear out all the misunderstandings and welcome the new beginning on an auspicious note.
Celebrations include bursting fireworks, decorating homes with lighting and creating beautiful Rangoli which invites vibes of happiness and festivities all around. The Gujarati New Year is the beginning of new and fruitful ventures which may be in personal or professional relationships.
Check out your free Daily Horoscope for the day.
Vikram Samvat 2080 Panchang
The Vikram Samvat 2080 Panchang or Almanac starts the year on Shukla Paksha Pratipada during Chaitra month as Gudi Padwa. Although, the Gujarati new year starts on Shukla Paksha Pratipada of Kartik month. Gujarati Vikram Samvat calendar uses a solar year but divides it into 12 lunar months, each consisting of 29 days summing up to a Lunar year of approximately 354 days.
In order to fix the lunar months into the solar year an extra month called Adhik Mahino or Purushottam maas is added at intervals and hence it is also called a Lunisolar calendar. In Gujarati Hindu Vikram Samvat 2080 Panchang seasons are as per the sun, months as per the moon and days as per both the sun and the moon. Lunar days or Tithis may vary in length.
Wrapping Up
As we move ahead in the New Year let's pledge to keep away hurdles or impediments causing roadblocks in the way to our success. Talk to our experts who can positively help you to change the course of your life! Connect Now! First consultation with 100% Cashback.
May Goddess Lakshmi Abundantly Shower You With Success, Happiness and Contentment This New Year! Saal Mubarak!