Ghatasthapana: Why Its Marks The Navratri Festival?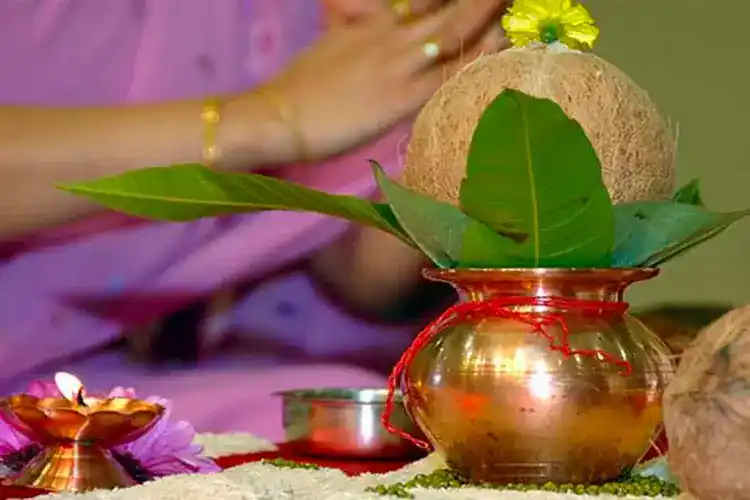 Navratri is a nine-day-long festival dedicated to Goddess Durga. It is celebrated four times during the Hindu lunar year. The four Navratris are Chaitra Navratri, Shardiya Navratri and the two Gupt Navratri. The Navratri festival begins with a ritual called Ghatasthapana or Kalash Sthapana. This tradition of setting up a Kalash or Ghat is a way to invite Maa Durga into the house. It is also believed that the Kalash represents auspiciousness, good luck, energy, and power. Read on to know the Sharadiya Navratri Ghatasthapana Muhurta, method, and other details on the first day of Navratri.
Ghatasthapana Puja Samagri
We need the following stuff for Navratri Ghatasthapana 2023.
Statue or picture of Goddess Durga

Vermilion

Saffron

Camphor

Barley

Clothes

Mirror

Comb

Bracelet

Bangle

Scented oil

Bandanavar of Mango leaves

Red colour flowers

Durva to replace Ghatasthapana or Maa Durga

Rosemary

Bindi

Betel nut whole

Betel leaves

Turmeric lump and ground turmeric

Patra

Chauki (seat)

Roli

Flowerpot

Belpatra

Kamalgatta

Lamp

Naivedya

Honey

Sugar

Panchmeva

Mace

Coconut

Sand

Clay

Cloves

Cardamom

Urn made of clay or bras

Havan material

Thali for worship

White clothes

Milk

Curd

Seasonal fruit

Mustard white and yellow

Gangajal
Now you are prepared for Ghathaspathna, but are you ready for upcoming days? Get a free yearly astrology report to know what comes next?
Conclusion
Navratri is one of the most important events in the Hindu religion. And, Ghatasthapna or Kalash sthapna is one of the most important rituals during Navratri. It symbolises the spiritual connection between a devotee and Goddess Durga. MyPandit wishes you a happy Navratri. May these 9 days bring happiness and positivity to you.
Is everything all right? If not, Talk To Astrologers for the guidance. First consultation with 100% Cashback.