Vishwakarma Jayanti 2021: Things You Should Make A Note Of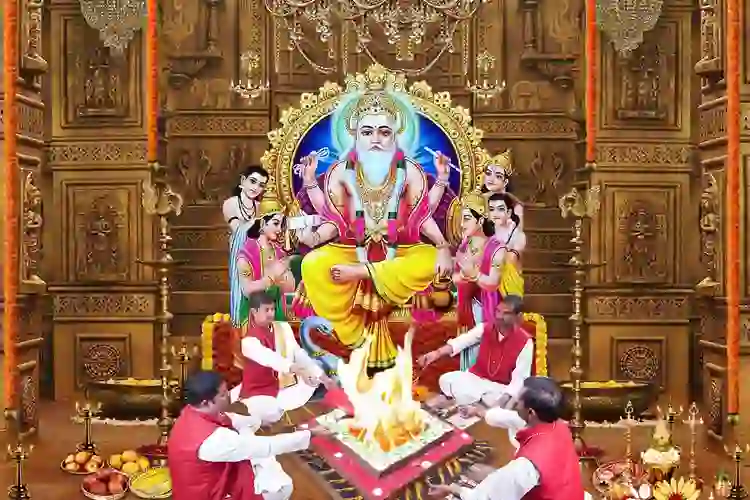 Vishwakarma Jayanti is known to be an auspicious day as it commemorates the birth of the Hindu deity, Lord Vishwakarma. As per Hindu myths, All of the Hindu Divine beings and Goddesses' mansions and their arms and vehicles were created by Lord Vishwakarma. Vishwakarma Jayanti is also commonly known as Vishwakarma Puja. Devotees perform this puja on the day of Krishna Purnima, also known as Kailash Sankramanam, on September 16th or 17th in the Summer solstice.
---
Celebration Of Vishwakarma Puja In India
Vishwakarma Jayanti is celebrated across entire India, mainly in the parts of Rajasthan. In the eastern region of The country, such as Orissa, West Bengal, Jharkhand, and Tripura, Vishwakarma Puja is marked as 'Biswakarma Puja' on the last day of Bengali Rudraprayag month. It's also known as'' Kanya Sankranti' or Bhadra Sankranti.' For skilled craftsmen all over the world, Vishwakarma Puja is perhaps the most essential and miraculous day.
During Deepawali, Vishwakarma Puja is encountered in certain regions of India, particularly in Bihar and a few northern states. According to Hindu mythology, it is attributed to the presence of Magh. Until the day of Rishi Panchami, Vishwakarma Puja is performed in Kerala's swing state. Numerous different summaries as a set and rites are offered in ceremonies and establishments around the country on this day. Laborers, carpenters, engineers, craftsmen, and another personnel embrace Vishwakarma Jayanti with zeal and zealotry.
---
How Vishwakarma Jayanti Is Observed?
Higher precision and purification rituals are performed in markets, warehouses, workplaces, and industries on Vishwakarma Jayanti. These destinations are appropriately decorated with a colorful and seasonal appearance on this day.
Devotees worship Vishwakarma as well as his 'Vahan' (vehicle), 'Bull', on this day. The statue of Lord Vishwakarma is installed in elegant fiestas, which are used for the key puja practices. All such procedures are also observed by small families. The complete environment is light-hearted and frolicsome. Afterwards, prasad is distributed to all other family members at the end of Vishwakarma Jayanti puja.
People working in the corporate office show reverence for their equipment, and the workplace is vacated for at least a week. Also, some of the devotees organize a cuisine feast on the day of Vishwakarma Jayanti. All, except the workforce and the founders, enjoy everything together.
On this day, if you look up into the sky, you may see kites flying in certain regions of India. People flying kites enjoy the moments by cutting each other's kites in a sporting spirit, and the skies turn on the appearance of a vibrant combat zone.
---
Significance Of Vishwakarma Puja
The importance of Vishwakarma Puja is to remember Lord Vishwakarma for acquiring career success or obtaining movable assets. This day is memorialized in recognition of Goddess Vishwakarma, who is the creator and architecture of the entire universe. He is also known as the son of Lord Brahma. The Rig Veda and Hyperventilation Veda, and are the theories of architectural design and robotics, mostly describe the excellence of his compositions.
Vishwakarma Puja is a noteworthy day for all devotees across the nations and therefore they celebrate this day with immense pleasure. On this day, individuals pledge to Lord Vishwakarma for good wealth and prosperity in their relevant positions, as well as for the essential items. On this day, blacksmiths revere their instruments and refrain from using them till the conclusion of Vishwakarma Puja. As a result, they dedicate this day to Lord Vishwakarma.
Vishwakarma Day is a noteworthy day for Hindu pilgrims. As said, everything is committed to Goddess Vishwakarma. The intensity of his accomplishments is represented in the Rig Veda. This carnival is enjoyed by the middle-class people as well as by the poor. All of them pray to God for excellence in their specific field.
Need help in organizing Vishwakarma Puja at your home?
Consult Astrologers now!
---
Vishwakarma Puja Time & Date For 2021
Vishwakarma Puja date: 17th September 2021 – Friday
Vishwakarma Jayanti Muhurat Timings: (from) 01:29 AM
---
History Of Vishwakarma Puja - The Legend
Vishwakarma itself was used as an ethnic slur for just about any Divine Essence, and perhaps a characteristic of Indra and the Sun. He is recognized as the main creator of the infinite cosmos and the designated founder of the Gods' cathedrals. Lord Brahma is said to be the father of Lord Vishwakarma. Below is what history tells us about Lord Vishwakarma.
Who is Vishwakarma God?
If we believe the Hindu myths, the idol of lord Vishwakarma depicts that he has multiple arms. He is holding a crown, a moisture, a journal, a tree branch, and weapons in his hands. The Rig Veda further describes him as a lord of destruction. Lord Vishwakarma is the Creator of craftsmen, metallurgists, silversmiths, secret societies, with all those talented in woodworking. Vishwakarma wields power over the sixty-four industrial arts and is said to have introduced the Sthapatya Veda, or fourth Upa-Veda. His multiple features and weapons reflect his multidimensional imaginative force as well as his unrivalled intensity.
He is the designer of the Gods' flying chariots with modeling every one of the ' divine' sailing spears as well as their axes (with divine attributes). Moreover, he is the architect behind the Gods' weapons. The Vajra, Lord Indra's spiritual arsenal, was constructed first from bones of philosopher Dadhichi, and perhaps even the Agnayestra. Lord Krishna's Sudarshan chakra comes immediately to mind. It's also the function of Lord Vishwakarma.
In Sri Lanka's golden city, Ravana was flabbergasted by the uniqueness of Lord Shiva and Parvati's domicile since he was scheduled to participate the Grihapravesh ritual at Lord Shiva and Parvati's abode, which was a golden paradise built by Lord Vishwakarma, according to Hindu scriptures. Ravana, fascinated by the elegance and opulence of the paradise, persisted for the golden chapel itself when Lord Shiva asked him to ask for everything he wanted for the Dakshina. Ravana's prayers were then answered by Lord Shiva, and so he went on to build a glorious Lanka, 'Ravana's estate'.
Why Did Lord Vishwakarma Establish The Town Of Indraprastha?
As per mythology, Indraprastha's architectural marvel and elegance is unimaginable. The everton's surfaces had such a solid result that they appeared like water, and the reservoirs and pools within the palace gave the impression of a horizontal plane with no steam in them. This structural creation is attributed with paving the way for the Mahabharata war.
Duryodhana accidentally knocked since he betrayed the reservoir for a solid surface once the Pandavas welcomed the Kauravas to explore Indraprastha. Draupadi couldn't stop giggling and mocked Duryodhana by referring him to his father, who was blind. Duryodhana grew agitated, and it became the chief cause of the conflict.
Dwarka, Lord Krishna's base, is another establishment, which was constructed by Lord Vishwakarma. As ancient saints believe, it was built in a single night at the time of Mahabharata combat. And later, it became Karma Bhoomi of Lord Krishna. At present, it is well-known as the Hindu pilgrimage site.
The Lord Vishwakarma is also the creator of Satya Yuga (Heaven), the Treta Yuga (Lanka), the Dwapar Yuga (Dwarka – Krishna's capital), and and the Kali Yuga (Hastinapur and Indraprastha)
Vishwakarma apparently means 'everything-creator' (vishwa means 'all' and karman means 'doer'). Vishwakarma is defined in the Rig Veda as the divine architect of the planet, an epitome of the Supernatural Being's creative genius.
---
Reason Behind The Celebration Of Vishwakarma Puja
Vishwakarma Event is a day of appreciation for Vishwakarma, frequently considered as Vishwakarma Jayanti or Vishwakarma Puja. Vishwakarma is performed by Hindus as the Creator of structural engineering, and Vishwakarma Puja is conducted every year on September 16th or 17th. It normally takes place on the last day of the Indian month of Bhadarva.
The custom is primarily accomplished on the manufacturing plant or on the assembly line. The seamless functioning of various devices is often cared for by the staff. Sculptors are inclined to glorifying their resources in his name while abstaining from using certain tools.
Through prior Yugas, Vishwakarma participated as a designer, developer, composer, and creator of projectiles and supernatural weapons, as well as the source of the leak of the Sthapatya Veda, that further explores technological skills and Vaastu Shastra. He is renowned for his outstanding artisanship and unbeatable reliability. Vishwakarma puja is held to acknowledge his remarkable achievements.
Pieces of equipment represent Him as Creator of resources, technology, and spiritual engineering. As a consequence, industries, manufacturing facilities, and devices are viewed as prototypes of Vishwakarma. Operating systems, communication items, systems, and networks are also admired on this day, especially with the advent of information technology.
Divinely chosen Lord on this day is presumed to promote excellent customer satisfaction, professionalism and performance in one's career, and improved profits. It also aids in the development of cognitive skills work situations, the exclusion of harmful substances that obstruct function, and the elimination of any Vaastu Doshas.
Know about your career & profession prospects, get in touch with Astro experts.
In engineering and management establishments, the day is also pronounced very noteworthy for proceedings with the project. Vishwakarma puja strengthens a philosophy of sheer determination, accomplishment, and devotion to one's task.
---
---