Know How The August Planetary Positions In 2021 Will Be?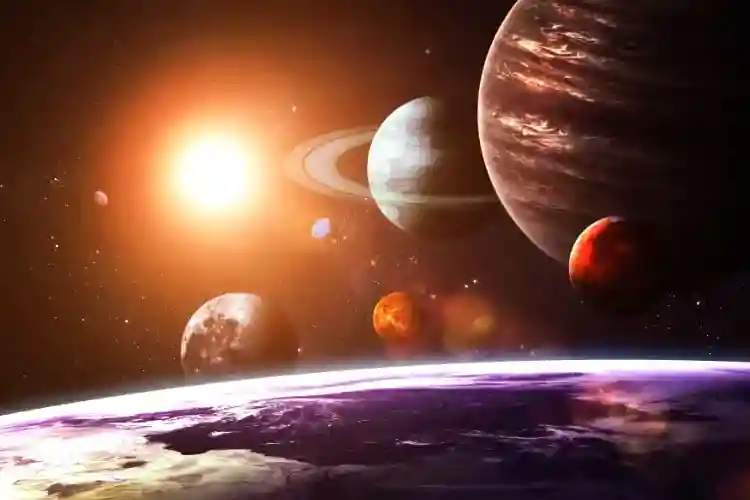 Shravan month is considered as the holy month in Hinduism as it belongs to Lord Shiva. And therefore, we see multiple pujas and yagnas organised by devotees to impress Lord Shiva.
In August, on the one hand, we dedicate this month to Lord Shiva, while on the other hand, the planetary alignment of August 2021 may script our fortune. And that is why it is necessary for us to check the timeline of the August transit of planets in 2021.
Asking about the same to our best astrologers, instead of gazing at the sky, we got to know about planetary movements in 2021. Meteor showers, asteroids and planetary position changes are over the horizon in the upcoming month. Folks, read along with us to know about the planetary changes in August 2021.
---
Must-See Astrology Events In August 2021
Entering into the next month, we will witness the full Moon in the very first week of August 2021.
Following the Mercury transit in Leo Sign, there will be the union of three planets – Mars, Venus and Mercury.
Thereafter, in the 2nd week, the Moon will reunite with Venus. Later, in mid-August, Venus will be moving to the Virgo sign, whereas the Sun will occupy the Leo sign.
Hence, we will also observe the conjunction of Sun, Mars and Mercury in the fiery Leo Sign. Soon, Sun will be entering into the Virgo sign. And 3-day later, we will see Mercury passing through the Virgo sign to unite with the Sun.
Let us discuss in detail about this planetary alignment August 2021.
---
Astrological Transits For 2021 August
Below are the planetary changes in August 2021 for you to save the dates. 
22nd August 2021 – Full Moon
9th August 2021 – Conjunction Of Mercury, Venus, and Mars in Leo Sign
10th August 2021 – Conjunction Of Moon And Venus 
11th August 2021 –

Venus Transit in Virgo Sign

17th August 2021 – Sun Transit in Leo Sign
17th August 2021 – Conjunction Of Mercury, Sun, and Mars in Leo Sign
26th August 2021 –

Mercury Transit in Virgo Sign
Full Moon
Unfolding the calendar of August moon transit 2021, it suggests that there will be a full Moon on the 22nd August 2021 i.e. on Sunday. On this day, the Moon will be visible in the bright and shining light. It is the fastest moving planet in terms of Vedic astrology. The same day the Moon will mark its appearance in the Aquarius sign before moving to the Pisces i.e., 2-day later. This would be no less than a treat for the astronomers as well as astrology lovers to observe this celestial event in the clear night sky.
Conjunction Of Mercury, Venus, and Mars in Leo Sign
The upcoming Venus transit August 2021 means that the benefic planet will join Mars and Mercury in the Leo sign on 9th August. The conjunction between these three planets states that the red planet, Mars will share the room with its enemies, Mercury and Venus. These planets positions in August 2021 may affect the native's lives. This astrological event also signifies that natives may indulge in a lot of unnecessary talks. This trio of planets would hamper your intellectual skills and love life status. During this phase, you can organise a Ganesha Puja to manipulate the negative impacts of Mars.
Conjunction Of Moon And Venus
The union of Moon and God of Love, Venus – Well, this would be the treat for stargazers. This is because it would be directly visible in the night sky. These two neighbours of Earth would be passing close to each other. This little-known conjunction between two benefic planets will take place on the 10th of August 2021. Vedic astrologers suggest that this may give a favourable time in your love life. Also, there is the influence of the Moon, so it may bring peace of mind. You may enhance your mental peace during this phase.
Venus Transit in Virgo Sign
Venus is associated with native's love life, beauty and creativity. It is the feminine planet, which rules the sign of Taurus and Libra. This benefic planet will occupy the Virgo sign on the 11th August 2021 before it enters the Libra sign in September. This is not a suitable sign for Venus and therefore, natives may get negative outcomes in regards to their marriage life. Virgo is governed by Mercury, which shares friendly relations with Venus. But moving on, you may not get full advantage of Venus transit in the Virgo sign.
Read More about Venus Transit in Virgo.
Sun Transit in Leo Sign
On 17th August 2021, the fireball of our cosmic world, the Sun, will be moving to its own sign Leo until mid-September. During this phase, natives may restore good relations with their father. They may give them the utmost respect and obey their decision. It is suggested to offer water or recite the Gayatri mantra to the rising Sun to earn the maximum blessings of the Sun. Overall, this transition of the Sun may not have any harmful effects on your life.
Read More About How Sun Transit in Leo effects on Zodiac Signs
Conjunction Of Mercury, Sun, and Mars in Leo Sign
Following the Sun's transit, there will be the union of Sun, Mars and Mercury on the 17th August 2021. Here, Sun will be the host, so it would be giving a welcome to its friend, Mars. Along with that, the Sun will also share space with Mercury. This combo of three planets would inspire the natives to accomplish their travel goals. Also, these planetary changes may result in difficulties for the couple who are planning for conception. Female natives may not have a normal delivery of their babies.
To Know More about Sun Mars Mercury Meets in Leo
Mercury Transit in Virgo Sign
The Planet Mercury will leave the Leo sign to occupy the Virgo sign in the last week of this month i.e. on 26th August 2021. Here, Mercury is itself the ruler of the Virgo sign. And this means that natives may improve their speech-related issues or sharpen their memories. Virgo's Mercury may positively influence individuals to achieve their life goals. This is a sign where Mercury gets exalted and provides positive outcomes in significant areas of life.
This planet alignment in August 2021 may bring positive and negative changes as per the strength and placement of the planets in the individual's chart. Those who have weak planets in their kundali can get gemstones to reduce their negative impacts. Moreover, if you have any queries, then you can directly connect to our best and experienced astrologers.
---
Signing Off
Now, you have a clear idea about the planet transit 2021in August. This astrology transit of the 2021 calendar of August reveals that mainly there will be transits of Mercury, Mars, Venus and Sun. Some of them will unite with their friends, while some planets may share the same room with their enemies. More or less, it would have an impact on your areas of life. That's why we suggest you to offer prayers to the Surya. You can also worship your clan-deity or Lord shiva during this holy month of Sharvan. Alright, folks, it's time to end our today's edition with a promise to bring you fresh blogs soon. So, stay updated and check out our other blogs too.
Also Read :- Read here more about how to handle rejections as per Zodiac Signs, and how to erase all the negative effects even after being rejected?
---
---