Sun Mars Meet in Fiery Sign Leo!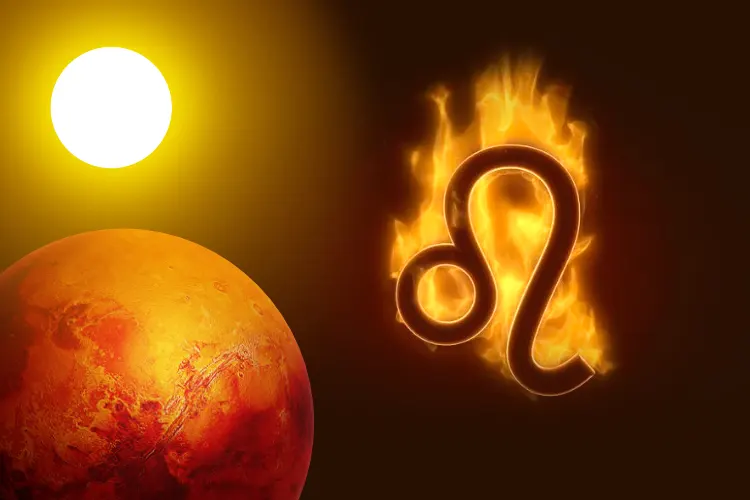 Woah! Two besties inside the same sign, will they assist you in achieving your life goals? Or do these two have some other plans? Well, it can only learn from the expert-given predictions below. Sun is the significator of soul, energy and father, while Mars is associated with aggression and siblings of natives. Mars is good enough to handle the hot rays of the Sun. Sun Mars meet in fiery sign Leo meaning two planets may positively influence the natives to accomplish their life goals.
Leo is governed by Sun itself, and so, the host would be happy to spend some time with its friend, Mars. Sun Mars conjunction in Leo 2021 effects would be harmful to the natives if Sun and Mars reduced the gap between them. This would probably be due to the Sun, which can burn the qualities of Mars. This reunion of Sun and Mars denotes that it would be a suitable time for the aspirants who are willing to appear in government exams. Such natives may boost their self-confidence and may find the path of success. Read below what are experts' say about this conjunction.
---
Pros And Cons Of Sun Mars Meet In Fiery Sign Leo
The red planet Mars is already present in the Leo sign. But, the conjunction will form on 17th August 2021, when the Sun will unite with Mars in its own-ruled sign Leo—followed by full Moon in the Aquarius sign on the 22nd of August. Later, the Sun will be moving to Virgo sign in mid-September. This conjunction may give positive results to the individuals representing Aries and Leo signs. Whereas those who are connected with Taurus, Libra and Aquarius may have negative impacts on these transiting planets. Below are Sun Mars conjunction in Leo effects on area of Life.
Impacts On Aries Moon Sign
As mentioned, the conjunction of Sun and Mars would bring a perfect time for Aries individuals. This is the Mars-ruled sign, so natives may take an interest in learning new and creative things. Aries students may have suitable time to enhance new skills. You may find new challenges in your educational activities. Singles may have a favourable time to enter a new relationship. Therefore, there is a chance that Aries singles may find their love partner during this phase.
Impacts On Taurus Moon Sign
Sun and Mars in Leo indicate that natives are likely to get mixed outcomes. You would have a good time buying your own new property or land. Those who are willing to buy a new house may get success. In this phase, you may get angry over the small things due to Mars transit. So, you should think twice before you speak or, if possible, avoid lengthy discussions. It is advisable that you should maintain distance from family conflicts. Overall, it would be a fair time for you.
Impacts On Gemini Moon Sign
Sun and Mars's union in Leo indicates that Gemini individuals may have a decent time ahead. There is a strong chance that you may go on holiday trips. You may enjoy an unforgettable time with your family members at your favourite destinations. You may quest to achieve impossible things in your life. But, you should not have a higher demand for anything, or else Mars would negatively influence your love life. Mars and Sun in Leo sign are not so good for those who are dating their partners.
Impacts On Cancer Moon Sign
Sun and Mars conjunction in the Cancer sign may bring respite for Cancerians. Those who have their money stuck can expect it back in a short time. But, on the other hand, you must learn to control your money expenditures. You may support your family members as you may give priority to them. You may have to accept a few changes in your daily life. You may need efforts to achieve your financial goals. In the coming phase, you may indulge in parties or may hang out with your friends. In short, this would be a favourable time.
Impacts On Leo Moon Sign
Sun and Mars transiting would be in the first house for those who are connected with the Leo sign. And this would bring the best results for you. This is the own-ruled sign of Sun and Mars shares friendly relations with it. Therefore, you can expect a smooth and easy-peasy relationship with your life partner. Professional workers may get that missing energy to achieve their work targets due to Sun transit. But, moving on, your egoistic attitude may hurt you in your professional life. This conjunction would be blessings for the Lions.
Impacts On Virgo Moon Sign
Virgo individuals may have ups and downs in the coming phase. Those who are willing to visit foreign land may have a chance to make a move. It is suggested that you must control your money spendings. Otherwise, you would be in difficult situations. Due to the Mars transit, you should try to control your aggression, or you may fall prey to bad things. You should learn to invest money wisely. This would be an unfavourable time to indulge in court-related matters.
Impacts On Libra Moon Sign
Sun and Mars in the same sign denote that it would be moderate time for the individual carrying the Libra sign. You are likely to enjoy more time with your best buddies. Those who are connected with the corporate world may think about changing their jobs. You may incline towards new challenges to enhance your career growth. Some of you may have to attend marriage functions or parties in the coming days. Overall, you may find yourself busy until the Sun is associated with Mars in Leo.
Impacts On Scorpio Moon Sign
Planets would be less comfortable when they are passing through Scorpio signs. But in the case of Sun and Mars, they are happy to bless natives with positive results. This is because Scorpio is ruled by Mars and it is also a friendly sign of the Sun. Those who are seeking promotion may get it soon. If natives become aggressive in their workplace, they may lose their position. However, top astrologers suggest that there be an improvement in your performance. 
Impacts On Sagittarius Moon Sign
During the transit of the Sun and Mars in Leo, Sagittarius natives may plan to visit religious places with their family members. This may affect your recognition and understanding abilities. You may take an interest in new things and may discover something interesting. Sagittarius natives may have a chance to travel abroad. Sun transit with Mars in Leo suggests you maintain good relations with your father. Otherwise, you may have arguments with him. It is the perfect time for those who are willing to give competitive exams.
Impacts On Capricorn Moon Sign
Capricorn natives are likely to get mixed outcomes due to the Sun and Mars transit in Leo. You may experience hurdles in achieving your financial goals. Your financial plan may not work according to your expectations. During this time, those who are married may spoil relations with their in-laws. This would probably be because you may show aggression. It is suggested that you should avoid aggression while speaking with others. Overall, this transition denotes that you may have a moderate time ahead.
Impacts On Aquarius Moon Sign
Mars and Sun conjunctions in the Leo sign may land you in disappointments. So, during this time, those who are running the partnership business may need to handle things with care. You may convince new clients to work closely with you. This would be a better time for those who are single. You may get opportunities to find your life partner. On the other hand, married couples may find issues in their relationship. Those who are struggling with previous issues may improve their relationship status. However, you may decide to go on a short trip with your partner.
Impacts On Pisces Moon Sign
Sun and Mars in Leo are likely to make initiative changes in your life. Pisces natives may need to follow a strict food diet and exercise regularly. Otherwise, you may fall prey to bad health. In terms of finance, you may get rid of your debts to have some respite. Moving on, you must take control over money spendings or else you may not achieve your financial goals. Professional workers may discover hidden enemies at their workplace. Pisces students may have a good time appearing for competitive exams.
---
Remedies Of Sun-Mars Meet In Fiery Sign Leo
Those natives who have weak Sun or Mars in their kundali should follow the below remedies. By doing so, you may eradicate those harmful effects of these two planets.
Offer water to the rising Sun.

Carry a red-coloured piece of cloth.

Offer grass to cows and buffalos.

Make donations for the army and soldiers.

Avoid eating meat or non-veg foods.

Perform

Surya Mangal Angarak Dosha Puja

under expert's vision.
---
Wrapping Up
Folks, this is what experts predict about the conjunction of Sun and Mars in the Leo sign. It is understandable that individuals of Aries and Leo may have an enjoyable phase. Whereas other natives of Aquarius, Libra and Taurus may have to settle for challenging days. Hope you have a pleasant time reading this. If you have any queries, talk to our experts without any hesitation. Wishing you a favourable time ahead.
Also Read:- The planetary system's conjunction of Venus and Mars will occur in Leo from 7 July to 7 August 2023, having an effect on all signs of the zodiac.
---
---