Aquarius Horoscope 2022: Yearly Prediction for Hardworking Aquarius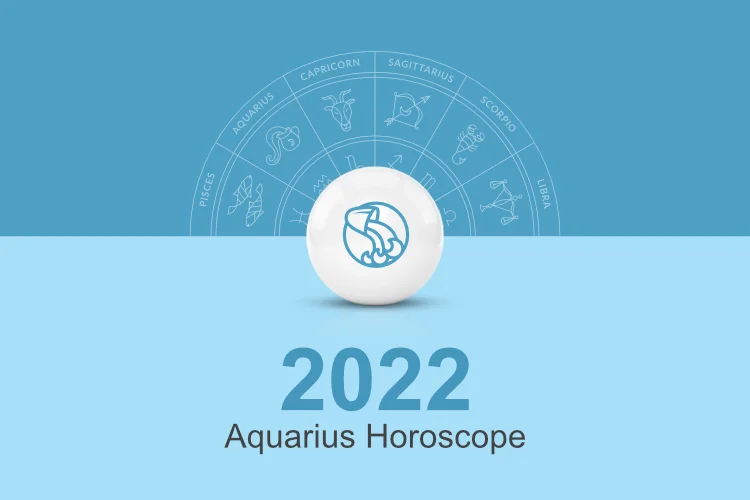 Aquarius natives will be more prepared, patient, and happy in 2022. Saturn will be in your sign for the whole year, bringing you stability but also some limitations. Jupiter in your Pisces 2nd house will improve your financial situation as well as your family life. You may have an opportunity to give your thoughts and values wings in 2022. All obstacles will vanish, and you will begin to pick up the pace, but do not be reckless about your choices. Uranus will sometimes bring a halt to your plans. You will only move forward this year if you have a foolproof strategy in place for all of your endeavours. The year 2022 will necessitate a lot of hard work and dedication on your part.
Aquarius natives will be richly rewarded in all spheres of life in 2022. The beginning of the year heralds good fortune in your workplace. However, be cautious in the middle of the year as problems abound in many fields. Without any ado, let's unveil the Aquarius horoscope 2022.
The financial prospects of Aquarius natives are expected to be fairly average this year. There will be a constant influx of money, even though you could not predict a windfall. You are suggested to be careful because your spending might get out of control. Jupiter moves into your 2nd house of finances in the second quarter bringing you some good fortune. You may be able to make several high-value purchases in 2022, such as jewellery or a landed property. Throughout the year, there might be some unexpected wealth gains. You are advised to not make any hasty or rash decisions that might jeopardise your financial future.
People born under the sign of Aquarius may face financial difficulties in 2022, as their expenses will outweigh their revenue as Saturn remains in their sign. From the beginning of 2022, natives are urged to cut back on their spending. Jupiter, the planet of finances, will visit your homestead in April, ensuring a boost in your finances. Unwanted expenditures, especially in the medical field, are expected in the final quarter of the year, as per Aquarius horoscope 2022.
Natives of Aquarius are advised to make a budget plan and stick to it throughout the year, otherwise, they may find themselves in financial trouble by the end of the year.
As per Aquarius horoscope 2022, the year 2022 will be a fantastic and favourable time for Aquarius people to pursue their career goals. Jupiter, the planet of expansion and profession, will be aspecting your 7th house at this time. There will be a steady influx of funds, and you may be promoted or get a raise in salary. However, Saturn aspecting your 10th house after mid-year can trigger issues and stiff competition from co-workers. The year 2022 may assist you in moving up the corporate ladder, but it will not be an easy job. On the way to job success for the year, you may run into a lot of roadblocks and difficulties. You are suggested to continue to work hard relentlessly and give your best.
Aquarius natives professional lives may be full of ups and downs over the year. As the year begins, you may have the full support and cooperation of your superiors and co-workers. Natives looking for a career change, relocation, or transition benefit from the first and second quarters of the year. Mid-year may bring about a job crisis, and there might be stiff competition at work as well as difficulties and hindrances from secret rivals. However, in your field of work, the last quarter of the year might bring good news, says Aquarius horoscope 2022. As the year progresses, some of you may experience considerable success in terms of services or business gains, as per Aquarius horoscope 2022.
In your love and marriage life, the first quarter of 2022 will be uneventful, says Aquarius horoscope 2022. Your love life is about to blossom when the second half begins. For Aquarius natives, things in love and marriage may get better as the days pass by. You may feel relieved, and you may be able to communicate with your partner more easily these days. If you can handle things skilfully, your love may bloom throughout the year.
As per Aquarius 2022 horoscope, Saturn in your second house may limit your ability to express love and romance throughout the year. Occasionally, a feeling of impatience may arise. You may not be able to look at your partner's behaviour in a light-hearted manner. However, by the middle of the year, you might have earned your partner's confidence. The planets aid in strengthening your love and marriage. Your love and marriage will be effective until the end of the year if you handle your relationships well. Aquarius natives' marriage prospects are bright this year. In your love and married life, the second half of the year may be much better than the first.
In 2022, Aquarius natives family life will be very successful and satisfying. Jupiter transiting to your 2nd house after the first quarter of the year will bring calm, harmony, and a tranquil atmosphere to your home. There may be a birth of a child or some new marriage proposals to add to your joy. In the year 2022, you may get the full support and affection of your siblings and family members. Natives, on the other hand, are advised to be alert about expenses related to maternal relatives. In 2022, the social status will rise as well.
Though Aquarius natives have a good family life, Rahu or the Moon's north node, which is positioned in your 4th house, could cause some havoc. Career changes may cause some Aquarius natives to be temporarily separated from their families in 2022. People who are planning to purchase their own dream home will need to relocate. Be mindful of such family obligations that may demand a significant portion of your finances this year. Some of you may face health problems with your fathers in 2022 as well as expenses related to parental lawsuits.
The year will require Aquarius students to throw themselves into their studies with all their might in order to succeed. Jupiter and Saturn will make certain that you complete all your exams and tests for the coming year, says 2022 horoscope Aquarius. As the second quarter of the year begins, the conditions are favourable for you to pursue higher education and prospects for overseas study.
As per the 2022 Aquarius horoscope, things would not be simple, and a lot of effort and dedication would be required. Many interested in scientific and technological studies would have a fairly average year. Students in medicine, information, and media, in particular, will see immediate results from their efforts.
As per horoscope 2022 Aquarius, the year 2022 will be a fantastic year for Aquarius natives to fly. As the year begins, Saturn in your 12th house may get you some international travel. Long and short distance journeys are both likely for the natives in the future. These would be a result of your profession and would bring you good fortune and pleasure. However, since both Jupiter and Saturn will be aspecting your Virgo 8th house, natives are advised to be cautious of certain accidents in travel.
Saturn will be in your sign for the whole year, bringing with it a period of low energy and exhaustion. This is everything you must go through. In 2022, anyone born under the sign of Aquarius may be able to shed several pounds. Do not put too much pressure on yourself or overwork yourself. Allow yourself plenty of rest and let go of any stress you might be carrying. However, you might find some relief in the middle of the year.
In terms of Aquarius natives health, the year 2022 is not particularly promising. You may be exhausted after a long day's work. However, with Jupiter in your Ascendant home, you may be protected from major health issues during the year. Natives are encouraged to eat healthily. Some of you will contract infectious diseases, but they will have no effect on your overall health and well-being.
Pay attention to your diet this year, like digestive problems and infectious diseases can plague you, guides Aquarius Horoscope 2022. Your health may interfere with your personal and professional life, jeopardising your progress. Prioritize minor illnesses because, for the time being, prevention is far superior to cure. Keep yourself busy and occupied with some physical and mental activities these days; do not let tension and pressure get on your nerves.
Aquarius natives should avoid confronting problems head-on. They must not impose their beliefs and values on others. It is preferable that they build good relationships for the year rather than make enemies by publicly expressing their views.
That's it from our end, hope you enjoyed reading about Aquarius Horoscope 2022.
Aquarius Career & Business Horoscope 2022
Aquarius Education Horoscope 2022
Aquarius Love & Relationship Horoscope 2022
Aquarius Health & Fitness Horoscope 2022
Aquarius Marriage Horoscope 2022
Aquarius Finance Horoscope 2022
Aquarius Wealth & Property Horoscope 2022
Know More About 2022 :